Do you struggle with creating an effective social media marketing plan that both fits in with your schedule and still provides massive value to your audience on a consistent basis?
Maybe you're just starting out and feel a bit overwhelmed (and excited) about all of the potential possibilities but you just can't figure out where to start or how to put the pieces together.
Well no worries because in today's post, we will be sharing our top advice for creating a highly effective marketing plan that works no matter which social media channel you primarily use for your business.
[Step 1] Determine Your Vision & Goals
Do not approach your social media strategy blindly. Without knowing where you want to go or what you want to accomplish, how will you ever get there?
You need to set aside time to truly figure out exactly what it is that your business needs and how social media can help fill that need.

One of the best things you can do before even getting started is to sit down and really map out exactly what it is you want to accomplish. It is incredibly easy to get lost in the sea of social media and you want to be sure you use your time and efforts wisely.
Are you looking to generate more leads? Do you plan to use social media for customer outreach? Or maybe you plan to use it to increase brand awareness?
The main thing you want to keep in mind is that your goals should be measurable in some way. If you want to generate more leads, what is your daily, weekly, or monthly goal? If you plan to use it for customer outreach, will you use a feedback or rating system to measure results?
Or if you plan to grow your audience and brand, you might measure your results through the amount of new fans or followers to your page or clicks to your website.
Focus on 1 to 3 main goals to start, get some results, and scale up from there.
[Step 2] Define Your Audience & The Solution To Their Problems
Defining your audience and truly understanding who you are creating your content for will help determine where you should be promoting, create more engagement, and increase conversions. This is because you are creating congruence in your messaging.
Some of the questions you might want to ask yourself about your ideal customer include:
How old are they?
Where do they work? What do they do?
What is their income level?
What kinds of interests do they have? Personal and business?
What are some of their struggles or pain points?
What kinds of obstacles or objections might they have?
What are their habits, likes, and dislikes?
What motivates them?
The more clear you get with your answers, the more you will be able to fine-tune a marketing plan that perfectly suits their needs. This helps you determine the perfect type of messages to put in front of your audience as well as gives you great information about where these people tend to hang out online.
You may even find that you have a few different types of avatars for your business, which is totally fine. Just try to focus on one or two main types to begin with and work from there.
[Step 3] Choose the Social Media Channel(s) You Want to Leverage
This is a step where many people start to unnecessarily overwhelm themselves by believing that they need to market across every platform. Believe us, we want to jump in on everything as well, but early on we learned the importance of focus. While it is awesome to have a presence on all of the social media channels, it is really important to keep your focus to one or two strategies at a time when first starting out. You will find it is far more effective to really learn and master one way of marketing before moving on.
As you continue to build your business and grow your audience, you can always add the other social media strategies at a later point.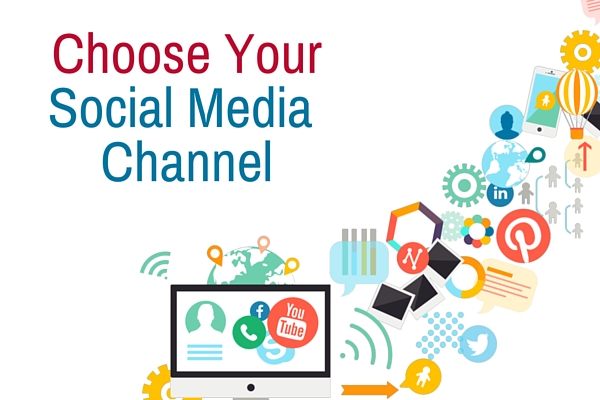 One big thing to think about when choosing your social media channel is where your target market likes to hang out online. If they spend a lot of time on Facebook, it would benefit you to start there. If your target market is a teen or 20-something group, you might find Snapchat to be an effective marketing channel. You want to factor in both YOUR personal preferences and the preferences of your ideal prospect to find a winning channel. If it's something you enjoy doing, you will be much more likely to stick with it.
[Step 4] Create Social Media Content Strategy
Now that you've researched and brainstormed, let's move on to the next step in your social media marketing plan. It's time to map out a social media content strategy. Creating content without purpose is a lost cause. You might get some likes and shares but if you want to create measurable results, it is crucial to create and post with purpose.
In step 3, which social media channels did you choose to focus on and master? Now choose some leaders in your industry who rock that strategy effectively and start to follow and engage with what they do on their channels.
How often do they post?
What kinds of content does their audience love?
What kinds of images or videos do they share?
Take note of anything that stands out and use what you learn as inspiration for choosing and creating your own unique content for your page (whether it's Twitter, Instagram, Facebook, etc).
Another thing you can do is actually plan out your topics for the week or month. Do you have any special promotions happening that month? Is there a certain marketing strategy that you want to share on a training?
One great thing about the MLSP system is that you can always leverage the back office, live training, and wake up calls to help come up with topics.
You can listen to a wakeup call and turn part of the message into an image quote crediting the speaker.
You can watch a recorded training in the back office and write a blog post or make a video on what you learned to share on Twitter
You can look ahead at the week's training schedule and create promotional material for the webinars coming up
By knowing the social media channels you want to master and exactly how often you want to post, it will make it very simple for you to just map out a large amount of content ideas in one sitting.
This will allow you much more time for actually promoting your content and building relationships.
[Step 5] Set Up a Workflow To Get Things Done
This is an area that many people struggle with simply because we often feel like we need to do something the same way other people are doing it. But the reality is that we don't all have the same schedule, lifestyles, and responsibilities. It is most important for you to figure out a workflow that suits you and your family, even if that doesn't fit the mold of everyone around you.
Do you have a job that takes up good part of your day? Or children at home who keep you busy? Do you find your work best when you have uninterrupted long stretches of time? You might be someone who benefits from doing batchwork and scheduling out your content daily and weekly.
If you work from home full-time and find you work better on small projects or work best at a certain time each day, you might find it's easier for you to create your content fresh daily. This also works well for someone who really knows how to maximize those extra pockets of free time in your day.
Or you might be like us and find that a little bit of both works best.
What we do is create a master list of all of the tasks we need to do get done for the week (in regards to our social media marketing plan) and we divide up the tasks based on batchwork and daily tasks.
Here is an example of a daily/weekly checklist you might use to keep track of your tasks. You would simply just "X" out the tasks as you complete them. Some might be daily and others you might find you only need to do a few days a week. But the more organized you get with your plan, the easier it will be to execute!
For example, if you plan to post on Facebook 6 times per day, you know that you need 42 Facebook posts for the week. You can then separate those posts into different types such quotes, images, promotions, videos, blog posts, and more depending on your niche and then you can create the posts all in one sitting.
Whereas tasks such as promoting our blog posts, connecting with new leads, or growing our Twitter following are things that tend to happen daily as opposed to batchwork.
[Step 6] Measure & Track Your Results
Remember in Step 1 when we talked about setting MEASURABLE goals? Well in Step 6 it is all about tracking and optimizing those metrics.
If your goal was to get 50 new fan page likes per week, you can easily use Facebook's data to ensure you are reaching that goal. The same thing is true for all more social media platforms that provide data for your business. For example, Twitter, Instagram, and Pinterest all make it super simple to see your growth and analytics.
However for things like website clicks, new leads, and sales conversions, you want to make sure you already have the proper tracking in place before going into full blown promotion mode. As an MLSP member, what's great is that all of that is already included. Whether you use custom links or system campaigns, you are able to track the impressions, clicks, leads, and sales.
If you are using your own links or sites, you can use link trackers (such as Bitly) in order to gather your data. If you plan to use Facebook marketing as one of our primary methods, you can also utilize pixels on your site in order to track all of your visitor data so that you can optimize your campaigns and get better results.
The main thing to keep in mind is that much effort is wasted without tracking. Know exactly which actions are producing the best results and put your focus there!
[Step 7] Engage, Convert, Maintain, & GROW!
As your systems are set up and you are releasing content consistently you can start to focus your efforts more on engaging with prospects, increasing conversions, being consistent with the tasks that are working well, and figuring out new ways to grow from there.
Remember that creating content in advance or scheduling your social media posts is in no way meant to replace human interaction. In fact, the goal is to free up more time to make that engagement stronger. As your posts go out each day, be sure to pay attention to comments, messages, or engagement from your audience so that you can actively respond to them.

Another benefit of getting your content created in advance is that you can also spend time optimizing it for conversions. As you start to get some tangible results, you can then use those results to determine if you need to change anything in your content or funnel in order to get more leads or sales.
Social media can be an extremely powerful tool to grow your business online IF you equip yourself with the right plan, right tools, and right mindset! We hope these 7 steps help get you started in the right direction and defeat any overwhelm you may have been feeling.
Remember that no plan needs to be permanent. A social media marketing plan will always evolve and change as your business grows and you learn what does and doesn't work, but having the plan in place creates a strong foundation from which to build. The more clear and strategic you are, the better your social media results will be!
– Dustin and Tracy Wisnowski
Got value from this post? Then we would LOVE for you to comment below and share on FaceBook…Research has shown that as you share this MLSP blog post & comment below, the universe will bring amazing things to your life