Engagement is critical when it comes to FaceBook. It doesn't matter if you have 100,000+ fans on FaceBook if nobody is engaging with your posts!
The more engagement you get, the more your post stays up top in their newsfeeds…
The more you stay up top in their newsfeeds, the more the viral your posts go…
The more viral your posts go, the more EXPOSURE you (and your brand) get.
And the more exposure you get, the more traffic, leads, and sales you get… all FREE, from FaceBook because of increased engagement on your posts!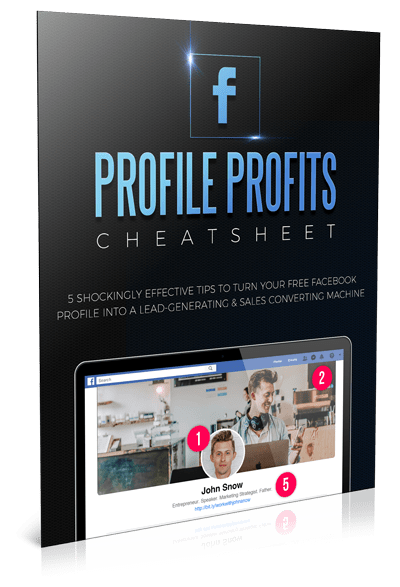 GET THE PROFILE PROFITS CHEATSHEET!
5 Tips to Turn Your Profile Into a Lead-Generating & Sales Converting Machine !
DOWNLOAD THE 6-PAGE PDF!
Today is a quick read, and will help you get some traction on FaceBook with your status updates…
5 Tips to Get More Engagement on FaceBook with Your Status Updates
Pictures:

Images can say a thousand words when used with your status updates on Facebook. You can even get more engagement on your page when you are using pictures of yourself. Pictures of you performing some type of action in the photo tells a better story. Here's a few examples: Working on your PC, talking on the phone, pictures related to your product, opportunity or service etc… Also, feel free to ask for the "share" or the "like".  For example: If you love this picture click "like" or If you agree with this be sure to "share" with your friends.

Videos:

My favorite type of content to promote on Social Media. Uploading videos in your status updates get higher levels of engagement, Likes, Shares and comments. You can make all kinds of videos that will increase your overall engagement to get leads & sales. Facebook Live video is all the rage right now, and for good reason! This is the closest you can come to visiting your audience in person and the impact this can have is gigantic.
Fill In The Blank:

Let people engage with you by letting them share their perspective with you. Example: When I'm make my first 6 Figures in business I will _______.

When you ask the right questions, you will get your fans talking on your Fan Page. While you do want to be entertaining (it's one of the main reasons people go on Facebook, to be entertained) there is a right way and a wrong way.  The right way is to ask simple questions that can be answered quickly by your fans. Always remember that people love to talk about themselves and feel as if they are helping. When you engage with your fans correctly using these examples you will see a significant increase in your fan engagement.

Adding Quotes:

People love seeing quotes however take it a step further. When you copy the quote in your status update field, add your own thoughts about that quote a couple of spaces down. This really helps with getting more exposure…

Value Updates:

Share updates that describe your best practices you've used to generate leads and sales. Most people tend to struggle generating leads online and when you share great tips it increases your engagement.
There are many kinds of post to increase your exposure to get leads and sales. The main thing to remember is to be consistent with your activity on Facebook.
Think of you page as a community of people all hanging out for the same reason or another.  Whatever your brand is make sure to build upon that brand.  Be specific so your fans know what they can expect by becoming a fan of your Facebook Fan Page.  For example: Create a welcome video on your application tab of your Facebook Fan Page stating, who you are, what you are passionate about, what will your fan get from being a part of your Facebook Fan Page community, and encourage feedback from them once they click the "like" button.
– Steven Rachel
MLSP L4 Leader & EMT Member
Got value from this post? Then we would LOVE for you to comment below and share on FaceBook…
Research has shown that as you share this MLSP blog post & comment below, the universe will bring amazing things to your life. 😉