Facebook is one of the largest advertising platforms in existence today. What I love about Facebook is it's ease of use and the simplicity for newbie marketers to get started on. Even for veteran marketers its only becoming easier to use. The targeting is becoming more advanced and the platform is providing a great user experience. 75% of Brands today are advertising on this platform and 79% of it is mobile. If you are new to Facebook Ads today I want to give you a brief overview of the 6 most important elements of a Facebook ad so you can know what your looking at when you get started with Facebook Ads. These elements will be for the advertising objective "clicks to website" and can be found in the Facebook Ads Manager.
6 Elements of Facebook Ads
For these elements I will be using the standard editor and not the power editor. Save power editor for when you get comfortable using the regular Ads Manager tools.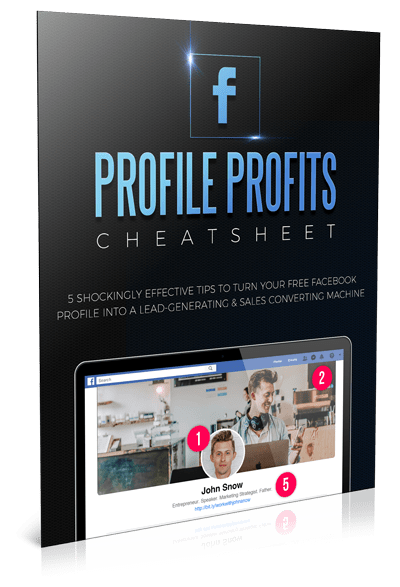 GET THE PROFILE PROFITS CHEATSHEET!
5 Tips to Turn Your Profile Into a Lead-Generating & Sales Converting Machine !
DOWNLOAD THE 6-PAGE PDF!
Image – Your image is the most important element of your ad
• to be Recommended image size: 1,200 x 628 pixels
• Image ratio: 1.9:1
• Your image may not include more than 20% text.
• See how much text is on your image at https://www.facebook.com/ads/tools/text_overlay
Call to Action – This is where you tell people what to do. Some examples of Calls to action are here: Apply Now, Download, Learn More, Watch More, etc.

Headline – Four to Nine words. Your goal here is to create curiosity. You have 40 characters to create a headline.

Description (optional) – 20 Characters – Use this to to further share what happens when they click on your ad. Destination URL is simply the website you would like to send them to.

Text – You can put more copy here and tell people what they are going to get for clicking through to your link. I average around 18 -24 words here and I try to write a very curiosity producing sentence. What I find effective is to ask questions to your target audience's needs that get them to say, "yes." Here is a link description example example for a network marketer: "Would you like to recruit 3-6 people per week but don't have enough people to talk to? Click Here To Learn How Get Leads in 3 Easy Steps."
Display Link – Find this under "Show Advanced Options." The display link is where you can post any link you want. It is really a "vanity url." Or you can use this section to put in some extra text like "Click Here to Learn More." If I have a long link or an affiliate link I prefer to use this space to make a shorter link to make things look cleaner and friendlier for a user to click. The Display link will send them to the "Destination URL" regardless of what you write here in the "Display Link."
When you create ads you want to keep in mind that Facebook's biggest concern is the "user experience." Your ads need to entertain, inform, invite and preferably be share-able. A great question to ask yourself is, "would I want to see this in my newsfeed if I was part of this target audience." Keep these concerns in mind when creating ads to stay in Facebook Advertising's rules.
Did you enjoy the 6 elements of Facebook "Clicks to Website" ads? If so, please leave a comment below and share on social media.
~ Ron Gelok

Got value from this post? Then we would LOVE for you to comment below and share on FaceBook…Research has shown that as you share this MLSP blog post & comment below, the universe will bring amazing things to your life. 😉