ULTIMATE GUIDE to ATTRACTION MARKETING
MLSP'S ATTRACTION MARKETING FORMULA 3 Critical Frameworks to Create a Successful Online Business
Welcome to chapter 2 of the ultimate guide to Attraction Marketing!
99% of business owners stay broke because they don't know this Attraction Marketing Formula... MLSP's proprietary 'Attraction Marketing Formula' will get you more leads, prospects, customers, clients, sales and sign-ups for ANY business in ANY industry. (YES, even yours - and you'll SEE PROOF HERE!)
I think you'll agree after reading this article, that every single successful business and brand you see online today uses this proven 3 step attraction marketing formula, period.
And if you are struggling with your business it's probably because you're missing one (or more) of these three steps.
This Attraction Marketing Formula is the foundation of MLSP's decade of success in an ultra competitive marketplace. It's what founders Brian Fanale, Norbert Orlewicz, and Todd Schlomer have been teaching home business owners since 2008...
These 3 Steps make up the most effective attraction marketing formula around:
Step 1: Build Your Audience
Step 2: Engage With Your Audience
Step 3: Sell to Your Audience
We'll dive in to how to achieve each step with case studies and simple step-by-step instructions below!
FACT: If there is somebody you love, adore and follow online who's creating massive success with their business… they are unequivocally 100% most definitely using Attraction Marketing to grow their audience, influence, and income.
COMPANION VIDEOThe Video Below Will Give You a Quick LOOK At Some of the Faces That Have Created Massive Success Because Of Our Proprietary 3-Step Attraction Marketing Formula...
We wanted to lay out our secret formula so that you could see what the top earners have been doing online for years... and now you have access to the same marketing formula to grow YOUR business today.
Why Do People Struggle to Grow a Successful 6-Figure+ Home Business?
It's simple...
INFORMATION OVERLOAD!
It's so easy to get overwhelmed because there's an overwhelming amount of info being thrown at us everyday about how we should be building our businesses. Like a boxer walking into a flurry of punches, it can disorientate and confuse you every time you sit down at your computer.
Where do you start? What do you do next?
Start a blog?
Facebook LIVE?
Facebook Ads?
Email?
Twitter?
Instagram?
SnapChat?
So many options! They're all good. And they've all been proven to work for our students. Leads and fortunes have been made with all different marketing strategies.
But it's like drinking water through a fire hose... It's too much all at once especially if you're just getting started online!
When you stop, breathe, and look at the simple context of every successful business... then the confusion disappears.
So that's what we're going to do now as we walk you through the MLSP Attraction Marketing Formula to help you get clear, and get results.
Let's dive in together...
CHAPTER 13 Activities to Focus on Every Single Day for Success With the Attraction Marketing Formula!
Whew! Just 3 activities is what you need to think about, and everything starts to fall into place. In fact EVERY successful online business focuses on these 3 activities. Feel better? Good so let's get into them...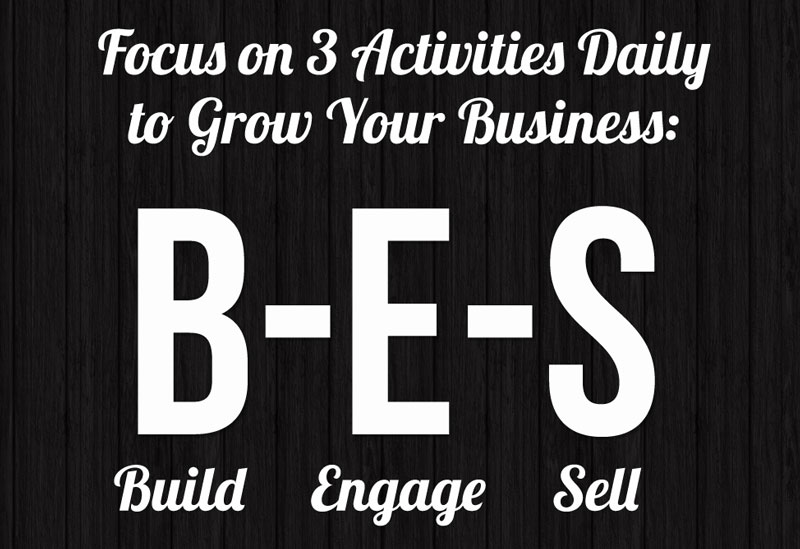 We have a step-by-step system that shows you EXACTLY how to build your audience, get an unlimited amount of leads, and attract laser-targeted buyers to you 24x7. If you want to apply Attraction Marketing instantly into YOUR business today...
---
ACTIVITY #1: Build Your Audience
Your audience is the key to making everything else in your online business move forward. Inside the audience you are building is where you will find your soon-to-be leads, prospects, sales and sign-ups. And they're waiting for YOU!
You must constantly be building your audience every single day.
What does an audience look like? Here are some examples:
Facebook Fan Page Likes & Followers
YouTube Subscribers
Twitter Followers
Instagram Followers
ManyChat Subscribers
Your e-mail list of subscribers
IMPORTANT NOTE: We recommend picking ONE audience above to build in addition to your e-mail list of subscribers... and focus only on building that ONE audience. Don't try to build more than one audience at first because you'll overwhelm yourself, spread yourself way too thin, and get mediocre results at best.
Focus your actions on building ONE solid audience every single day until you're up to 10+ leads per day from that platform, and you feel you have mastered that particular platform & strategy.
(Your e-mail list is so vital that you should pick one audience, PLUS an email list, and start moving forward!)
If you're audience isn't growing, your business isn't growing, Period! This is what we've been teaching our students and now industry top earners since we opened our doors back in 2008.
COMPANION VIDEOMLSP Co-Founder and $8-Figure Earner Norbert Orlewicz Explains Activity #1 - Building Your Audience
ACTIVITY #2: Engage With Your Audience
When you engage with your audience you begin building relationships. When you begin to build relationships with your tribe you start to build what we call the Know, Like, and Trust fact...
And it is CRITICAL if you want people to want to do business with you.

You engage by creating valuable content that serves your target audience, which makes your tribe want to engage with YOU (and your content)!
You engage by interacting with the people who engage with any & all of your content...
You engage by following, interacting with, and connecting with people in your target audience (and engaging with THEIR content) on the platforms you want to build...
Ok, so what does that really mean?
It depends on the audience you're building. If you're building an audience on Facebook, then you'll want to post valuable content there such as text posts, quote images, Facebook LIVES, etc...
And you'll want to create valuable content that is share-worthy, comment-worthy, and creates engagement because it's valuable to the one consuming your content.
And YOU must do the things you want your audience to do... are YOU engaging with people on Facebook? Are YOU sharing, commenting, and liking stuff from the leaders in your industry?
A few quick questions to answer and actions you can start taking if you feel like nobody's engaging with YOUR content on Facebook... Another quick thought is are you asking people to comment, like, and share the content you want commented on, liked, and shared?!
GIVE THEM A SIMPLE CALL TO ACTION TO ENAGE and you will be surprised at what happens 😉
If you're on YouTube you'll obviously create videos and ENGAGE with YouTube influencers in your niche.
Using Instagram? Create content that engages your Instagram followers. Post Instagram content that your audience would want to like and share. Find your Instagram influencers and leaders in your industry, and engage with THEM and THEIR followers and commenters.
You get the point.
PROMOTE your content... ENGAGE with people who interact with your content... Find relevant content & leaders in your industry that others are engaging with, and ENGAGE WITH YOUR TARGET AUDIENCE, build relationships, serve your audience by only creating quality content, and you will get the engagement you are seeking.
ATTRACTION MARKETING CASE STUDY:
Take a look at the infographic below for a case study on how you can (and should be) engaging with and building your audience like the top earners do!

Add this infographic to your website! All we ask is that you keep the attribution.
ACTIVITY #3: Sell to Your Audience
This is the fun part. This is where you start making some money and building your empire. You've built an audience, you've created engagement, you've built relationships and the know, like, and trust factor...
Now it's time to ask for the sell.
Unfortunately too many people start at this activity. They don't build the foundational framework with activities one and two, and they start asking for the sell right away.
This is what we refer to as 'pitching' instead of 'leading with value.' Doing this is what gets good people labeled as spammers.
COMPANION VIDEOMLSP Founders Brian Fanale & Norbert Orlewicz Go Over What Actions #2 and #3 Look Like in Detail in the Video Below!...
BUILD-ENGAGE-SELL
This is What Makes Up the Context of an Effective Attraction Marketing Formula!
COMPANION PDF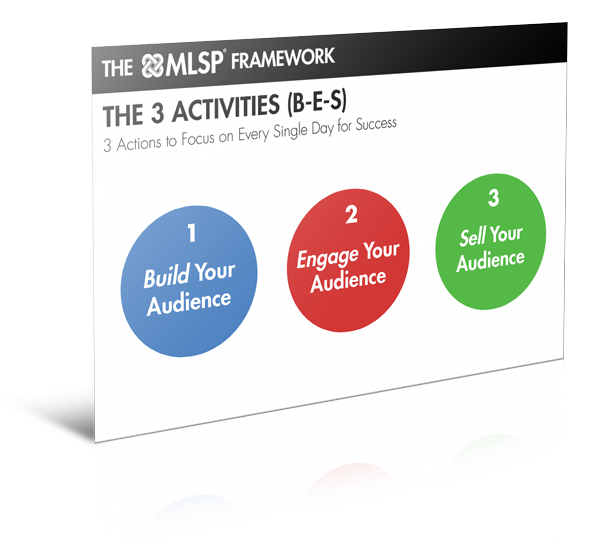 Download the 'MLSP Framework & 3 Activities to Grow Your Business' cheat sheet. Keep it in front of you at all times to remind you of what you should be doing on a daily basis to GET RESULTS! (you got this!)
---
This is the 3-Step Attraction Marketing Formula that every successful business online embraces.
The great thing is that you can refer to these activities anytime you need to get back on track. If you ever feel lost, or don't know what you should be doing daily, simply refer back to this 3-Step Formula of Build - Engage - Sell.
If things aren't going well, you're likely missing one of the above.
Let's break this all down even more to guarantee your business is being built on a rock-solid foundation!
CHAPTER 2The 6 Pillars – The Foundation of Your Online Marketing Business
Every successful business has these 6 Pillars in place that help SUSTAIN success. Below are the pillars for online success that you can start using today to move your business forward.
These 6 pillars are the cornerstone of the attraction marketing formula!
Pillar #1 – Vision & Personal Development Strategy
This is the key to EVERYTHING else working.
This is where you dig deep, and truly figure out what you want your business to look like. What is the business you want to build?
You must get this so clear in your mind that you can taste it. So that this vision seeps into your bones and lights every cell in your body on FIRE! It's essential that you have such a clear vision that you can create the feeling of being there NOW.
Next you must be honest with yourself about what's holding you back. We all have those things and they usually start with FEAR. Fear of putting yourself out there (video or webinars, for example), fear of failure, maybe even fear of success.
Your Limiting Beliefs about who you truly are will kill your chances of success before you ever step foot onto your journey. What is the limiting story that you're running in your head day in, day out. You must rewrite this story so that it serves your forward motion!
If you're struggling to get where you want to be, and you find yourself procrastinating constantly, we need to work on your VISION. You need to craft a VISION ASAP of who you want to be… A VISION of your ideal self who is no longer restricted by limiting beliefs and fear…
It has nothing to the with the resources (time, skill-sets, money, etc), and has EVERYTHING to do with you becoming the person who's emotions make you resourceful (tenacious, passionate, committed). As you become the version of your best self, you will find yourself taking ACTION because that's what the ideal YOU would do!
When you've got this part right, everything else begins to fall into place, doors start to open, and obstacles melt away like butter on a scorching hot summer day!
COMPANION VIDEOMLSP CEO Brian Fanale Explains Pillar #1 Better Than Anybody Else. Watch the Video Below…
Pillar #2: Personal Branding Strategy
Why should someone do business with YOU? It's vital that you get clear on this.
You must understand that not everyone is a prospect for your product or business. If you're marketing to everybody, you're marketing to nobody.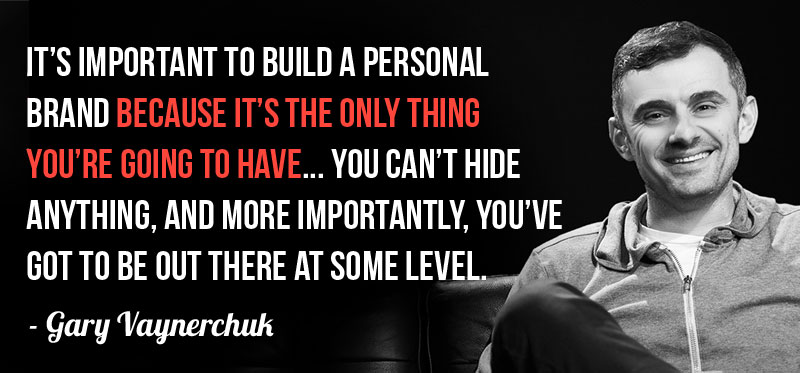 Think about your personal brand...
Who are you? What do you stand for? Who do you serve? And what are THEIR biggest problems & challenges?
If you're selling steaks to vegetarians, you're fighting an uphill battle. But if your audience and target market wants a medium rare steak, and you've got the best steak in town (and you know how to market it), then you're in business.
You must know understand what your audience wants, and simply give it to them.
COMPANION VIDEOAttraction Marketing "Hack" to Get Leads, Sales & Sign-Ups in YOUR Business Today
Are you in netork marketing? This video above may ring true for you then... unfortunately!
Look, "Attraction Marketing" is a way to attract interested prospects & buyers to you without having to chase, convince, cold-call, or get rejected.
And YES, there is an 'Attraction Marketing Formula' that is proven to help home business owners get customers and build their dream businesses.
We had a lot of fun making this Attraction Marketing spoof video above, but the sad reality is that 97% of the profession is failing - We don't think that's right.
Want to join the 3%?
WATCH THIS FREE TRAINING NOW TO SEE HOW TO ATTRACT LEADS, SALES & SIGN-UPS INTO YOUR BUSINESS EVERY SINGLE DAY:
Pillar #3 Monetization Strategy
We all start a business to make more money. But you'd be surprised how many people don't have a monetization strategy in place.
How much money do you want to earn? Most people have that magic number of $10K/ month in the beginning. What's your plan to get there? How many sign-ups, sales, customers, and clients do you need to hit that point?
You must know exactly what that number is so that you can create the strategy to go after it... Or you'll likely fall short!
The great part is that when you're creating your brand online like we talked about in Pillar #2, then it opens up various avenues of multiple streams of income. The leaders that you look up to now are building passive income from many different streams...
They refer valuable affiliate products and services like MLSP, they offer coaching services, they create their own products, and they run a real business (they aren't just a sales rep for a particular organization... they have built a brand by creating VALUE and solving problems).
Once you build your personal brand, you can earn money even when 95% say no to your primary opportunity, product, or service. The bigger YOUR brand, the more you have to offer, and the more money you can make!
COMPANION VIDEOThis Video Reveals What Pillars #2 and #3 Look Like In Action...
Pillar #4 – Content Creation & Content Marketing Strategy
This is where you serve your audience. They say content is king, and that's halfway true... QUALITY content is KING!
The truth is you don't get to become the $10K per month business owner, without first doing the work that gets you there. Online, that work is content.
Creating quality content is the part that puts you in the leadership & authority role in the eyes of your prospects, which makes them want to follow you and buy your stuff.
Your content is the core of Attraction Marketing, because it's exactly what attracts the right prospects to you.
Again, the type of content that you'll create depends on where you're building your audience. Blogging, videos, Twitter, Instagram, YouTube, FB LIVE, free reports, etc. Like we discussed earlier, you don't have to create all types of content on all the different platforms (NOT recommended), but you MUST pick at least ONE platform & marketing strategy and do it CONSISTENTLY until you get the result!
COMPANION PDF
Download the MLSP Framework 6 Pillars | The Foundation of Your Online Business cheat sheet now!
---
Pillar #5  – Follow Up & Engagement Strategy
Once you start pulling people in with your content, you'll begin to get leads. These are your most targeted prospects who are giving you permission to stay in contact with them.
The follow-up process is usually done through email, phone, text, and more recently can also be done through the powerful Facebook Messenger and ManyChat! And it really comes down to you following up with your prospects and consistently creating more value for your people than anybody else in the marketplace.
The fortune is most certainly in the follow-up! Things move very fast online. There's always some new shiny object trying to get your prospect's attention. If you're not following up, connecting with, and engaging with your leads to see how you can serve them... somebody else is, and THEY are making the money.
---
Pillar #6 – Traffic Strategy
Now you've got to get people to your content, your websites, your capture pages and offers, etc. This means you must build your traffic strategy.
There are different kinds of traffic, but they mainly fall into either FREE or PAID strategies.
Paid is more immediate, and the sooner you can get there the better... but it's perfectly fine to start with FREE strategies such as social media, blogging, video marketing, etc.
The important thing is to get eyeballs to your content!
COMPANION VIDEOWant More Details on Pillars 4 Thru 6 of this Attraction Marketing Formula? Watch Below...
CHAPTER 3The 3 Growth Phases of Your Attraction Marketing Formula!

We've now established the context of all successful online businesses. Build - Engage - Sell! If you're focused on doing these 3 activities every single day, then you're on the right track.
The framework & foundation of every successful online business starts with these 3 Activities, the 6 Pillars, and this Attraction Marketing Formula.
Let's simplify this even more so you can get start getting results RIGHT NOW, as the one final piece of the puzzle are the 3 Phases of Growth that ALL entrepreneurs progress through on their entrepreneurial journey...
COMPANION PDF
Download the MLSP Framework 3 Phases of Growth cheat sheet and keep it in front of you at all times so you always know where you are at in your business!
---
Growth Phase #1: Social Media Networking & Prospecting
This is simple. Just take what you know about prospecting and networking, and bring it online to social media. This is what you'll focus on to initially grow your audience and network.
Instead of networking one-on-one like you would offline, this is where you can leverage the power of social media and network with 10, 20, 50, even 100 people at once. At home in your pj's even. 😉
If you're not using social media right now, you're leaving money on the table. Plain and simple.
However, 99% of network marketing companies (yes even yours) are teaching you the wrong ways to use social media. And what they don't realize is that what they are teaching you gives the profession a very bad rap... and keeps YOU broke.
You should not be selling your product or your biz opportunity on your personal profile. This turns you into a spammer!
Here's the cool part…
Some people build their business so well in this 1st growth phase by prospecting on Facebook, that they really don't ever need to run paid ads. They start recruiting and making sales so well that they can earn a full-time living from the 1st phase of growth.
---
Growth Phase #2: Personal Branding & Content Marketing
Once you're comfortable building your audience on social media, then it's time to move forward and start creating your own content and building your own brand!
This is where you create your own content that brands YOU as a leader. And it's through this valuable content YOU create that people become attracted to you, want to work with you, and buy your products & services.
We like to get people to Growth Phase #2 as quickly as possible. The sooner you jump here, the sooner you start creating real, lasting results.
You position yourself as an authority, you build your brand, and your business takes off.
---
Growth Phase #3: Paid Advertising for Rapid Growth & Scaling (Optional)
Once you're building your brand, and you're ready to really scale things up, this is where you do it. Paid advertising grow and scale your business.
Paid marketing is 'optional'... but we here at MLSP recommend getting into paid advertising as quickly as possible. And with our paid advertising blueprint, you can start running targeted traffic to your offers with as little as $5 per day.
How big do you want to grow your empire? How fast do you want to build it? Paid ads can definitely help get you there faster than any other form of marketing IF you know what you're doing! (and if you're in MLSP, we teach you 😉 
COMPANION VIDEOHere's What the 3 Phases of Growth Look Like When You Put Them to Work In Your Business Starting TODAY!
CONCLUSIONThe Official Attraction Marketing Formula Has Just Been Completely Unveiled!
You've now seen just how the biggest names online today are building their businesses! Using the 3 activities of Attraction Marketing (Build - Engage - Sell), the 6 Pillars of Business, and the 3 Phases of Growth!
Now that you have the formula, let's take a look at a case study! The next section of this ultimate guide to attraction marketing will cover 7 Attraction Marketing Strategies to Get 3 to 5+ Sales Per Week, along with videos, walkthroughs and infographics!
Ultimate Guide to Attraction Marketing
MLSP has been providing entrepreneurs with innovative solutions, tools, and trainings to brand you and take your business to the next level since 2008