You're about to get some insanely powerful blogging tips for beginners from some of the most prolific and successful bloggers in the home business profession.
If you haven't started blogging to build your brand, your credibility, and your authority in the marketplace, you'll certainly question that decision once you've gone through this guide.
It doesn't matter if you're a network marketer, affiliate marketer, or if you're selling your own products and service (or all of the above!) Blogging is one of the best things that you can do for your business period!
Why Blogging?
With so many marketing platforms out there on the internet, WHY should you start blogging?
It all starts with a simple concept called branding and attraction marketing. Basically the goal for any marketer is to become an authority in the marketplace.
This builds your brand and attracts your best prospects to YOU!
Most certainly the fastest way to become an authority in your marketplace is to teach.
We look to those that teach as authorities simply because the teachers have the info and knowledge that you need.
Blogging happens to be one of the easiest ways to teach online. It's the perfect platform in fact.
Unfortunately most people hold back from blogging... especially in the beginning... because they don't feel as though they have a resume that's impressive enough to teach something.
They have thoughts like "Who Am I to Teach?"
"Who are you NOT to teach?!"
But $8-Figure earner,  and living legend in the home business profession Ray Higdon asks the more important question which is "Who are you NOT to teach?!"
If you're one of those people who feel like they have nothing to teach, there's actually a way that anybody can have something to teach RIGHT NOW...starting TODAY!
The truth is that if you're dedicated to your business, then you should be constantly studying & learning. There are paid training courses, live events, webinars, and even free trainings that teach tons of things in your marketing niche.
IMPORTANT NOTEMLSP has been hosting the longest weekly webinar program in the industry, every Wednesday, since 2008. Click the button below to see what this weeks training will be covering!
What most people don't realize is that when you invest in information to grow your business...you immediately have something to teach.
Simply Teach what you've just learned.
It's very simple. Invest, Learn, Teach!
COMPANION VIDEOIn the Quick Video Below Ray Higdon Explains How Simple It Is to Become an Authority in YOUR Niche with Blogging!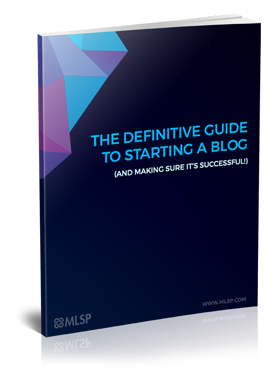 DEFINITIVE GUIDE TO STARTING A BLOG
Download the free 32 page PDF today and avoid the 3 most critical mistakes most bloggers make!
GET INSTANT ACCESS
2 Blogging Challenges That Will Keep New Bloggers Broke!
Your blog is a powerful tool, but you must not let the two most common obstacles block you from succeeding.
So let's cover this topic right now, so you never have to worry about it again.
Challenge #1:  The thought of "Why would anybody listen to me?"
Challenge #2: The thought of  "I've got nothing to talk about!"
Both of these obstacles are FEARS that new or would-be bloggers experience. However it's important to understand exactly what happens when you think like this.
Clearly it stops you dead in your tracks! It keeps you from putting your foot on the gas, and moving forward. It keeps your foot on the brake!
Now here's the thing that might offend you.
These are actually selfish thoughts.  
You see, what you're NOT thinking about is what YOUR MARKET wants. You're thinking about YOU instead.
You must get out of your own head, and get into your target market's head. Start thinking about what your potential prospects want. What information do they need to move their businesses or their lives forward?
Once you switch into that mindset... you go from a selfish thought process, to one of serving your market. And people will start listening because you're bringing them the value that they want and need.
And like we said above, it's important that you start blogging, BEFORE you start building your resume. In fact it's exactly the other way around.
Ray Higdon says it best about his very own blogging journey (which is now an $8-Figure blogging empire!)
---
It is the blogging that helped me create massive success...I didn't create massive success and then start blogging!
---
Boom leave it to Ray Higdon to drop that on our heads. So profound!
COMPANION VIDEOWatch the Quick Video Below As Ray Higdon Himself Explains How to Get Over Your Biggest Blog Challenges!
Now, let's move on to blogging tips for beginners in regards to content creation!
7 Simple Tips to Improve Your Content Creation!
---
What Should YOU Blog About? (How to Never Run Out of Blogging Ideas!)
Before we get in to the tips to help you with your content creation, let's dig deeper into another one of the biggest obstacles you'll run into, and get it out of the way forever. What to blog about!
It's one thing to just say you're being selfish. However we're not going to leave you hanging like that.
Instead, we're going to show you how to never run out of blogging ideas!
It can be intimidating sitting down, staring in panic at the blinking cursor on the blank screen.
But when you have a way to come up with endless content ideas, that blank screen can actually become quite welcoming.
We want to help you get to that point! How's that sound?
First thing is first though.
You can't just blog to everybody! Blogging to everybody is blogging to nobody. You must first decide exactly who YOUR target market is.
Let's put it this way...If you have more than one target market/niche/marketplace...then you should have more than one blog. (Which we DO NOT recommend when getting started. It's hard enough creating just one successful blog!)
You must pick 1 target market, and then figure out exactly what they want and need, and then simply fill those needs with the content from your blog!
For instance, as you can see, the MLSP blog is dedicated to helping home business owners get leads, sales, and sign-ups online.
That's our target market. Home business owners like you who need more leads, sales, and sign-ups! And that's the exact type of information we give here.
COMPANION VIDEOMLSP Co-Founder and $8-Figure Earner Brian Fanale Explains The Importance of Figuring Out Your Target Market.
COMPANION PDF
To get you started with defining your target market, you can download this Customer Avatar Worksheet that should get the mind working on figuring out exactly who your content should be targeting. These are just a few of the questions you should be asking, but once you get these down, you are well on your way!
Creative Ways to Think Outside The Box For Blog Post Ideas
While Ray Higdon already gave you an easy way to get started blogging with "Invest, Learn, Teach" you might need some more ideas as you commit to consistently build your blog.
Let's get rid of the blank screen forever. In fact, when you're done with this list, you'll probably have more topics than you'll have time to cover.
1 - Pay Attention to Magazines
The magazine industry is a GOLD MINE for content topics and blog post ideas! Think about how much time, energy, money, and overhead goes into putting a magazine into print. They are not going to release just any type of content. They hire the best of the best to craft the perfect messages and headlines that attract a loyal following of buyers. This creates a HUGE opportunity for you to learn and apply the same types of marketing (and copywriting) for your audience.
Study and learn from the best magazines in your niche. Look through the pages and make note of what you see.
What kinds of headlines are being used?
What types of images do you see?
Do you notice a trend or specific target audience?
What types of language or jargon is being used?
All of these questions will help you start to understand the psychology behind why people buy and what types of content they want to see.
NOTE: Pay SUPER CLOSE attention to the way they structure their headlines! Magazines have a split second to grab your attention, so those headlines need to be INCREDIBLY eye-catching.
2 - Put Together a Series Post
One easy way to start being consistent and have a plan of action is to put together different series for your blog posts.
This can be something like a daily theme (Motivation Monday, Social Media Saturday, etc). The blog topic for each day or week would center around that theme making it simple to streamline your marketing efforts across multiple platforms.
Another idea is to do a series focused on a specific marketing method or niche topic (Facebook, Twitter, Video marketing, Prospecting, Mindset, etc) and plan out all of your blog post ideas that week around the theme. This makes it super easy to map out the topics and allows you to walk your audience all the way through a certain topic from start to end.
TIP! If you are an MLSP member, you could even intertwine promotions to MLSP campaigns or products within your posts depending on your blog topic choice.
For example, this week you can focus on a Twitter marketing series. One day you might make a blog post showing someone how to set up their brand on Twitter and another day you could show them how to get followers for their brand. Within the videos or blog post, you can let them know about the free Twitter training (in your back office of MLSP) where they can learn how to get 15 leads daily. Give massive value and build your list at the same time.
TIP! If you create a weekly series on different topics, you can also then turn those 4-5 blog posts into a FREE OFFER to generate leads once you've finished.
3 - Subscribe to industry leader blogs
One of the best ways to become a great blogger is to always remain a great student and learner. There are so many incredible blogs out there in just about any niche. Plug into some of the top blogs in your industry that most resonate with you, and be sure to subscribe to these blogs so  you keep up to date with their posts.
I personally wouldn't focus on more than 10 or so at first to not get overwhelmed. Focus on subscribing to blogs that are updated frequently and consistently with great engagement and high-quality content. Take notes, engage, apply what you learn, and blog about your own experiences on a similar topic.
TIP! Download an RSS Reader app on your phone (like Feedly)
so that you can get fast, easy access to any new blog posts published.
4 - Repurpose Your Old Blog Posts and Content
Often times you can go through your old content and you'll notice that you have A LOT more to share on a topic now than you did when you first created the original blog post. Look through and read your old headlines with a pad and pen in hand so you can write down anything that jumps out at you as you go through each post.
This provides a great opportunity to share new insights or build upon what you have already learned in a previous video or blog post. You can also use it as an opportunity to rank old, existing content in the search engines for your specific term/keyword so people can see your most up-to-date information.
5 - Browse around on Pinterest for Blog Post Ideas
Pinterest is seriously a search goldmine now! Add in the visual aspect and it is a really powerful way to absorb great information and come up with new ideas for your blog. What you can do is type a broad keyword related to your niche in the search bar (network marketing, weight loss, Facebook ads, etc).
Pinterest will not only pull up tons of images for that search, but they will also suggest long-tail keywords for your search as well. For example, let's say you type network marketing into the search bar. You will immediately see a bunch of awesome pins related to network marketing pop up that you can now browse through, like, pin, engage, or save for inspiration.
But another thing to check out are all of the related search terms that Pinterest suggests. You can see from the photo that they suggested to add keywords such as quotes, tips, success, and recruiting to your keyword network marketing in order to get even more specific and better results.
You might have to set a timer on this one though or you can get sucked in for days going through amazing content.
6 - Attend Virtual Live Streams, Webinars & Hangouts
Live streams, hangouts, and webinars are an awesome way to find out exactly what people are wanting to learn. Remember, your blog post ideas should cater to your target market. What are their needs, concerns, questions, etc.
In this case, I am not only referring to the content being taught. You already expect that to be great and are prepared to take notes. (Those notes you take should also be made in to new and exciting ACTIONABLE blog content)
A unique spin is to also pay attention to the viewers comments and questions. Often times during a live stream, the audience is able to ask questions or make comments directly while it is being recorded.
Of course, you can immediately engage right then during the chat to help answer the question, but another thing you can do is keep a list of all of the different questions you see scroll by.
You will notice people ask questions from "How are you generating 10 leads a day on Facebook?" to "How do you handle family or friends who criticize what you do?" Either jot it down or take a screenshot of the question and use that as a topic of inspiration for another piece of content.
The great part about live streams is that they tend to have a much more personal and casual environment so the questions and comments you see are real-life scenarios that people are actually dealing with. This is even more powerful than ONLY creating content around hypothetical situations or blog posts based on theory.
So whether it's a team meetup on Google hangouts or a Facebook livestream of an industry leader, you are bound to leave the session with tons of specific questions (i.e. problems that people are looking to solve).
7 - ASK! Simply Talk to People in Your Target Market
Your conversations with others can be your greatest source of content inspiration. The more you get to know people and talk to them about their fears, desires, pain points, and dreams, the more you will uncover how you can best serve them, and specifically how you can do that through your blog content topics so that your blog helps even more people.
One thing we started doing recently is taking any questions people ask us personally in chat and writing them down on a list. Then we go through the list and make a piece of content for each question that was asked.
MLSP PRO TIP
Here is a great example of not only providing VALUE to your community, but being able to take notes of the questions that are asked, and writing a blog post detailing the answers! Now, in this case, Antonio is an expert with Manychat and Messenger Marketing, so he's hosting a LIVE Q&A on that topic. This is super simple way of helping your audience while at the same time gathering a ton of information on questions that audience has!
Remember that if it is something that ONE person is struggling with, it is likely a topic that can help a lot of other people as well. You might even find that one question leads to a whole series of blog post ideas rather than just one piece of content.
8 - Visit sites with trending topics
Another simple thing to do is leverage sites with trending topics in your niche. This will help you see exactly what people are asking. Two great free sites for content inspiration are Alltop and Quora.
Alltop is basically a directory of pages that links to a ton of different feeds for different niches. You can choose a topic in your niche, like Social Media Marketing for example, and it will pull some of the most popular blog posts and websites in that niche. Now you have a live look at some of the current trending topics that your audience would likely enjoy.
Quora is an awesome resource that we use to come up with content based on live questions asked directly from our target audience. You can go to the website and type in a specific keyword (niche related) and get a populated list of questions that people have already asked.
Here is an example of Quora in the Social Media Marketing niche:
You can even subscribe to different topic lists to be updated whenever a new question is posted. Do this regularly and you will have lots of topics to blog about.
9 - Start with the keyword and work backwards
Sometimes it's easier to start backwards if you're not quite sure what you want to blog about yet. You can do this by letting Google give you some good keywords to check out.
Go to Google Keywords Planner and look up a keyword in your niche to first make sure it gets any kind of traffic or volume monthly. Now remember that the results are all based on paid advertising but think of it like this:
Why would someone be willing to pay x amount of dollars to have their ad seen if it did not bring them traffic or sales conversions from their target audience?
Obviously they wouldn't. So this gives you a clear idea of the best keywords you can center your blog topics around that actually bring in traffic.
All you do is type your broad keyword into Google Keyword Planner and then simply look at all of the suggested related search terms. You can sort these terms by relevancy or volume depending on your goals.
Once you find some good keywords, you can then save that list to research and work on at a future time. You can get thousands of niche-specific topics just from here!
These days there are some really great keyword research tools around - many of which are free. We cover some great keyword research tools in our Definitive Guide to Starting a Blog.
10 - BONUS - Spy On Your Competition!
If you're struggling with what to blog about, it may be time for a little espionage activity!
You'll want to find those who are already creating the results YOU want to create with their blogs and content. Success leaves clues.
Don't worry that it's been done before. The beauty of this is that you don't need to re-invent the wheel. You only need a small piece of the pie to make an impact in your target audience.
There are many authority blogs that already exist and get top ranks in your niche. Create a spreadsheet to keep track of all the top sites you find.
Who's ranking in Google? Who's getting a lot of engagement? Who has active Facebook pages with tons of followers and engagement? 
All you need to do here is open up Google, and search for terms that YOU WANT TO BE FOUND FOR! What is your target market putting in to Google when they have a question or concern that needs answered?
Look at the top search results - they are there for a reason. What are they writing about, and which of the articles are getting the most engagement. Pay attention to what stands out.
What are people reacting to? What are people commenting on? Are they asking questions? Write those questions down. This will help you see exactly what the market is interested in.
There are some sneaky tools you can use to help you spy on your competition, Buzzsumo/
This tool will show you what content performs best for any topic or competitor when it comes to social sharing.
In order to provide the content that people want, you need to know what it is they want. What are they looking for? What are they sharing? It can take hours scanning all the various social sites to find out what people are talking about, what their concerns and needs are, and what they are sharing. Being able to input certain search criteria and keywords, analyzing content and finding out what is already working in your area can be priceless to a marketer. A BuzzSumo search will find the most shared content across all the main social networks.
---
How to Get Traffic to Your Blog Posts
When you start your blog, you're going to need to get eyeballs to it. Otherwise your post is like the tree that falls in the forest when nobody is around to hear.
More specifically, you want the eyeballs of the people who are in YOUR target market, who want and need the info and knowledge that you're providing !
This is the part of the equation where many people panic, and get lost. This is the part where people have trouble.
Why?
One of the biggest misconceptions about blogging is that you can simply create content, publish it, and people will beat a path to get it. WRONG! While you might get lucky and pull in a few visitors that way, it surely won't be enough to sustain your business.
So you're going to have to proactively get traffic to your blog.
---
Here are 3 Ways to Get Traffic to Your Blog Posts (Both Quickly and Long Term!)
#1 Facebook Ads
What if you could spend just $5 a day, and get your post in front of 1000's of highly targeted people who want info on your blog topic? That's what Facebook Ads can do for you.
You can get eyeballs on your content quickly, and get it right in front of your top prospects.
Some different ideas for who to target in your ads include:
Think in terms of leaders, company names, industry terminology, books, or other relevant topics in your niche in order to come up with the best keywords to target
The first three targeting options include people that you likely already have a bit of rapport with which can help bring your conversion costs down if those audiences are engaged. The fourth option is to branch out and reach new people in order to continue expanding your audience.
BIG TIP
Be sure to take advantage of Facebook's highly advanced pixel tracking software by placing a pixel on your blog so that you can track all of the visitors to your posts. This is super powerful because now you are able to
RETARGET people who have expressed interest
in your work with even more targeted ads. Exposure is key!
#2 YouTube
YouTube is the second biggest search engine in the world. Second only to Google. (which owns YouTube)
Video Marketing is one of the most effective marketing strategies online. When you combine the two, it's a match made in heaven.
You can simply create videos that get ranked, and drive people from your videos to your blog post. Simply add the link to your blog post in your description, agitate the problem in the video, and indicate that the solution is in your post.
Or better yet, link to your post from congruent videos. Your post could be step #2, so that you're adding value in your video as well. Double whammy!
As videos get ranked, this strategy will have you hauling in long term traffic!
#3: Optimize Your Blog Posts for the Search Engines
Ranking blog content on the search engines involves both on-page and off-page optimization.
Although it can take longer for brand new blogs to rank in the search engines, it's worth it to optimize correctly from the beginning. Search engine rankings can bring you leads residually, for years and years after you've posted them.
As you start to accumulate more and more posts on your blog, the authority status of both your brand and your blog will continue to grow. This only perpetuates the traffic, leads, and sales machine that your blog can be!
Rather than get too deep in to search engine optimization, we're going to point you to a terrific article by our buddy Brian Dean over at Backlinko who will show you some great tips on on-page SEO.
BONUS: Combine Video Marketing and Facebook!
Video is powerful on nearly all marketing platforms. When you add engaging videos to your Facebook ads, you can get a more immediate return on those videos.
In other words you don't have to wait for your video to rank. For $5 a day, you can drive traffic to the video, and therefore your blog, using Facebook ads.
(Hint: Upload your video directly to Facebook. YouTube is a direct competitor with Facebook, so they're not too fond of you driving traffic away from their platform to YouTube!)
COMPANION VIDEOMLSP Top Affiliate Keysha bass is going to share with you how she leverages Facebook to get unlimited eyeballs on her posts.
10 Blog Post Hacks That Generate 15 to 20+ FREE Leads To Your Offer Daily!
This article may be blogging tips for beginners, but these next hacks are important to business owner building a blog.
MLSP L6 leader and industry rockstar Lisa Torres has mastered the art of getting leads from her blog posts.
YOUR blog can be a lead machine if you do a few things correctly. Lisa knows exactly what those things are.
Here's some of Lisa's Top Blog Post Hacks for Getting Daily 20+ Leads Daily...
Hack #1: Add Your Top Lead Magnet in Your Header Or Sidebar 'Above the Fold'
Your offer should be the first thing that your visitors see when they land on your blog. (Above the fold!) Lisa Torres adds her lead magnets right in her header to make sure that happens.
You can have an image or teaser video, plus the lead magnet headline that tells your visitors what you're offering them. Using a tool like Funnelizer you can add your link to your capture forms.
It looks like this on Lisa Torres' blog...
Once they click the "Let's Get Started" link, then they go to the capture page which pops up a form for the user to fill out and 'enroll' in her free training…
And then...you've got yourself a brand new, highly targeted lead!
Hack #2: Footer Lead Magnet
This is very similar to Lisa's 'Header Lead Magnet', only this one is on the bottom of your blog posts as they scroll all the way down.
Why would you do this? Because this gives you an extra way to capture your lead on your blog.
Visitors may not take you up on your free lead magnet offer right away, but once they've read through your posts, and saw the value that you're providing within these posts…. they may be more inclined to take you up on this offer.
Here's what the Footer Lead Magnet looks like on Lisa's blog…
Hack #3: Your Blog Sidebar Lead Magnet
This will be just another chance to grab their attention, and give them the opportunity to become a lead. It will be a lead magnet (usually the exact same one in the header and footer).
Hack #4: A Link-Phrase in the Second Paragraph!
If you want to grab a lead while they're engaged in your blog post, you can add a link-phrase to a capture page in your second paragraph.
This is high enough where it's above the fold, but not obnoxiously in the first paragraph.
You'll want to make your link is a phrase that's action oriented. This will be more enticing for them to click since they see a benefit for clicking the link…
The underlined portion in the image below is Lisa's link. Notice the phrase that she uses as her link!
Hack #5: Call to Action Under Videos
If you use videos within your blog posts, you'll want to add a call to action link right below that video.
As visitors are engaged in your video content, or after they've just gotten value from your video, they'll be much more compelled to click a link with a call to action congruent with the video content!
Want 5 More Hacks Like This from Lisa Torres? Watch the Video Below As She Details ALL 10 of Her Best Hacks for Getting Leads from Your Blog!

Start Using These Blogging Tips for Beginners to Get Leads, Sales, and Sign-Ups for YOUR Business!
As you can see, even if you're a beginner, blogging isn't as difficult as you may have made it out to be in your mind.
Once you get past knowing what your target market wants, and how to come up with ideas that will keep them interested and grateful for your value...it actually becomes quite fun.
It's one of the fastest ways to build your business, build massive authority, and get leads and sales for YEARS to come!
If you're ready to start a blog, on one of the most powerful platform available, with lightning fast and reliable hosting… MLSP SITES is available to all members in the back-office.
You could be blogging within the next hour, with tons of tools and training to grow your business to $6-Figures a year!
---
Did you get something out of this definitive guide to starting a blog? Have questions? Disagree with anything I said? Just want to say hi!? I'd love to hear from you in the comments below!
ACKNOWLEDGEMENT: We want to acknowledge and honor our dear friends and marketing rockstars Ray Higdon, Lisa Torres, and Dustin & Tracey Wisnowski for providing the video trainings above so that we could serve YOU, our beloved audience. These guys are some of the sharpest marketing minds in the business, and are true business & marketing geniuses.