Wondering what the cashflow quadrant is? If so, then you're starting to ask the right questions that could lead to your financial freedom.
'Most people' have no clue what the cashflow quadrant is... Nor will they ever discover the different types of income creating assets anyone can embrace to build wealth.
YOU are not 'most people' - and we know that just from the sheer fact that you are interested in learning more about the 'Cashflow Quadrant.'
As an entrepreneur and business owner YOU are progressing through this cashflow quadrant right now, which is great!
However, many entrepreneurs and business owners suffer because they settle with the type of income that gives them the least amount of leverage, and the least amount of cashflow.
But it doesn't have to be that way once you're armed with the knowledge of the rich... which YOU are about to receive in this blog post.
The Cashflow Quadrant was made popular by author and financial teacher Robert Kiyoasaki in the second book of his best selling Rich Dad, Poor Dad series, "The Cashflow Quadrant - Guide to Financial Freedom." (we highly recommend you buy this book and study Kiyosaki's work!)
RECOMMENDED READING
RICH DAD'S CASHFLOW QUADRANT
Rich Dad's Guide to Financial Freedom
Rich Dad's CASHFLOW Quadrant is a guide to financial freedom. It's the second book in the Rich Dad Series and reveals how some people work less, earn more, pay less in taxes, and learn to become financially free.
Kiyosaki's Cashflow Quadrant theory opened a lot of eyes, and made people critically think about how they wanted to earn money and create financial freedom (and how the rich do it).
Kiyosaki's first book, "Rich Dad, Poor Dad," focuses on life lessons from two men that raised him. It is about the differences in the mindset between his real dad (the poor dad, surprisingly) and his best friend's dad (the rich dad).
As you can imagine both dads taught him very different rules and belief models about money, how it's earned, how to create a healthy relationship with money, and how these two drastically different money mindsets affect your ability to build wealth.
These are the priceless financial lessons they unfortunately do not teach in school... but YOU are about to receive in today's blog post.
What is the Cashflow Quadrant?
Let's dive into the Cashflow Quadrant's 4 letters together (E, S, B, and I) so you learn where the ultra rich place their focus, energy, and attention... you just may learn a thing or two that will shift YOUR money paradigms so you too can start building the wealth you and your family deserve!
Warning: Once you're armed with this knowledge, you'll never look at money the same again.  These letters will most certainly affect your income, tax bracket, and lifestyle.
E = Employee
This is the quadrant 95% of people live in (or at least start out in)... and that's okay!
There's absolutely no shame in being an employee so that you can pay your bills and feed your family.
Employees have the mindset of getting a well-paying secure job with good benefits. We all need security to survive.
Being an employee can help you fulfill the two bottom foundational tiers of renowned psychologist Abraham Maslow's 'Hierarchy of Needs' Pyramid!
Focusing on getting a good job can provide consistent money for enough food, water, and shelter - some of our basic needs as humans.
IF you so desired, you could leverage your job to get to one of the other quadrants IF that's a goal of yours... and if not, that's ok too.
So what's the problem with this section of the quadrant?
None (if you're happy there). And some people absolutely are, and they stay in the 'E' quadrant their entire life.
However, NONE of the wealthiest people on the planet stay in this quadrant... a lot of them start here, but ALL progress through it.
If you want to model and mirror the wealthiest people on Earth, then it would make sense that you too probably want to focus on progressing through this quadrant as quickly as possible.
We've found that people who find their way to home business, entrepreneurship, and MLSP aren't satisfied hanging in the 'Employee' quadrant. And it's not hard to see why...
Employees trade time for money. 8, 10, 12 hours of our day... 5 - 7 days a week... are spent working FOR someone else. In most jobs there is a cap on the amount of money you can earn, you're lucky if you get two weeks of vacation per year, and there is ZERO leverage...
If you don't show up, you don't get paid - and if you don't show up a few times,  you get fired.
Not to mention, the owner (or owners) of the company you are working for are getting rich off your labor, your time, and even your ideas... and employers very rarely pay you what you are worth.
There are some good benefits to being in the 'E' quadrant for sure, but as you can see there are some very serious cons as well... the biggest one being YOU WILL NEVER BE FREE if the 'E' Quadrant is home base.
If you are 'psychologically unemployable,' there's a very good shot that you have progressed to and spent some time in the next quadrant...
S - Self-Employed or Small Business Owners
By being 'self-employed' you are starting to take control of your financial destiny... which is great!
Most home business owners fall into this category as well... however, the most success home business owners progress through to the next quadrant - we'll get to that in a second.
Self-employed entrepreneurs can range from Joe the Plumber down the street with his van full of plumbing tools... to the guy or gal who cuts your hair... to the entrepreneur running the food truck you frequent for lunch.
Or it could be the leader who works solo from home selling products, services, health & wellness supplements, beauty products, courses, coaching, info-products, affiliate products, or even some type of network marketing opportunity.
Most self-employed people can't stand the thought of being under someone else's rule. Most self-employed would rather work 80 hours per week on their own goals and vision than work 40 hours per week for somebody else's dream... even if they were earning the same pay!
Self-Employed CAN be a much better place to be IF you are passionate about your project, and you are ready to do the work. However, self-employed people are often caught off guard by some of the realities...
It takes much more discipline without a boss to hold you accountable…
There is some RISK and STRESS that you will inevitably have to endure.
You MUST continually stretch, learn, and grow to create cashflow.
In the 'S' quadrant there is nobody to pick up your slack - you are a solo-preneur, so it's all on you.
Without systems in place you are still trading time for money. (your business can quickly own you)
You will have to become an entirely different person - the person you were meant to become.
Of course, if you've got a bigger vision for yourself, the 'S' (self-employed) quadrant is a great alternative to the 'E' (employee) quadrant because you're making your own way, creating your life by design, and taking personal responsibility for your results in life.
Nobody else is setting an income ceiling for you. You can earn as much as you want depending on how much VALUE and how many solutions you create for your marketplace.
If you build a solid brand for your business with a good reputation you can charge premium prices.
Not to mention, you can become self-employed on a smaller (sometimes even shoestring) budget... a few hundred bucks can sometimes get your business up and running!
And being self-employed allows you to leverage many more tax benefits than being an employee, which means more of YOUR money stays with YOU... to put in your pocket, or expand your business.
Being 'self-employed' can definitely help you create financial freedom for you and your family... but it's only YOU in the 'S' quadrant... and because there's only YOU in this quadrant, the business can only go so far.
When you start to develop people, systems, processes, LEVERAGE, and residual income... then you're starting to progress to the right-side of the 'Cashflow Quadrant' (the B & I) where the ultra-rich hang out... let's go there now...
B = Business Owner
Many people confuse self-employed (S) with business owner (B). However, they are VERY different.
---
In the Cashflow Quadrant, the business owners are the ones who hire the employees and leverage systems so that the business can run with or without the owner being there.
---
The business owner can be the person who owns your favorite restaurant in town with a staff who does most or all of the leg work.
Or it can be the BIG business folks like the Jeff Bezos of the world.
The business owner has much more leverage to build massive wealth.
Sure it takes work and sometimes much more capital to get the machine running, but the benefits range from dramatically more time freedom to a much higher potential for profits.
Then there's the tax benefits of owning a business. Businesses and corporations get considerable tax benefits that most people never get or see. The tax benefits vary from corporation to corporation (talk with your certified tax professional), but check out this recent headline about Amazon...
The Difference Between Self-Employed and Business Owner!
Of course at MLSP we live and operate in the world of online marketing. So let's touch on how that works...
Online business owners utilize systems to run their businesses for them 24/7... things like autoresponders, blogs, capture pages, manychat, etc...
The successful business owners quickly pinpoint their highest income producing activities (the $5,000 - $10,000 PER HOUR activities) in their specific business, they focus on mastering these activities, and they outsource everything else.
Those who are self-employed do NOT run on systems, teams and people, assistants, automation, outsourcing, nor leverage to build their business... they stay a one-man (or woman) show, and in doing so dramatically lower the IMPACT they could make on the world.
For instance at MLSP we teach home business owners the B-E-S framework.
Build Your Audience
Engage YourAudience
Sell Your Audience.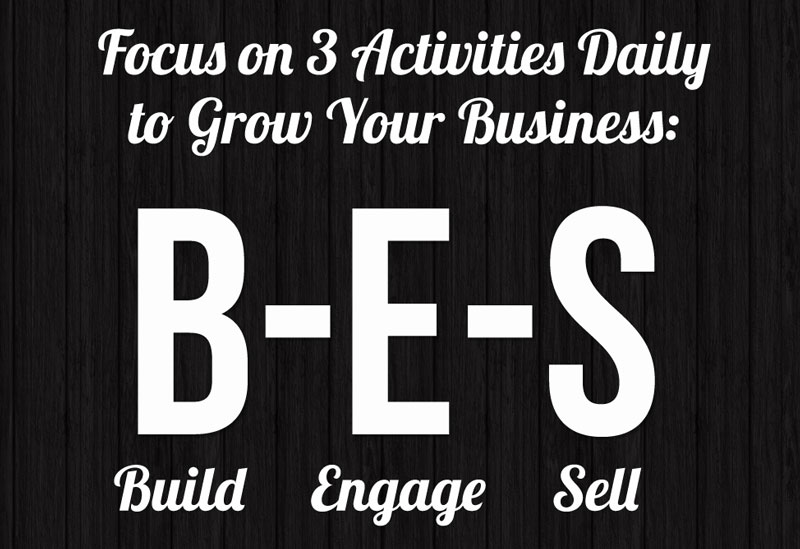 When a home business / business owner is set up correctly, all three of these things can eventually be done by leveraging systems, employees, or outsourcing.
With a content marketing strategy, you can BUILD YOUR AUDIENCE night and day with paid ads, blog posts, videos, social media updates, and Facebook LIVES (recorded). Your content can even be created by outsourcing, guest authors, ghost writers, or hiring someone to create it.
Or you could still create your content... and once it's created and promoted all over the web... it can attract prospects and leads for your business over and over, day and night, for years on end.
Therefore your content can be leveraged for many years to get leads to build your business for you, with or without you... Much like an employee helps to grow a business!
Using a marketing funnel, an email auto-responder, and even the ManyChat app and Facebook, you can ENGAGE WITH YOUR AUDIENCE even when you're not there (AMAZING!)
And with a high-converting sales mechanism:  sales pages, sales videos, recorded webinars, and e-mails... you can SELL TO YOUR AUDIENCE... you guessed it... even when YOU aren't there!
All with automated systems that act as employees. A.I. can be a glorious asset to create time freedom and cashflow for YOUR business! And in time you can even hire a CEO to manage all of this and keep it running like a well-oiled machine.
That's how you go from self-employed to home BUSINESS owner! And there's one more piece in the quadrant for the mega-rich...
I = Investor
The Investors are the category of people who use a system where your money starts to work for YOU to create even more wealth.
As an investor you get to leverage many of the other quadrants to build your wealth. In other words, you can have the employees, and the businesses, building your wealth for you 24 x 7 even while you sleep.
When we think of investing, many of us automatically think of the stock market. But that's only one place where you can use the power of investing to create massive wealth.
In the Cashflow Quadrant, the Investment (I) quadrant means you start to invest in private businesses, real estate, minerals, commodities, and of course public companies through the stock market that can pay you dividends on your money without you having to be involved at all...
Your Money starts to Make You More Money - i.e., the Rich Get Richer.
The Cashflow Quadrant Is Essentially About Active Income VS Passive Income!
It's a battle between the left (poor) and the right (rich) sides of the quadrant…
"Active" Income Earners to the Left of the Cashflow Quadrant!
The active income earners are the people who have to trade their time to earn their income. Unfortunately these people have very little (if any) leverage what-so-ever... and there is always a cap to their income.
Active income earners have to pray that they don't get sick because if they don't show up... they don't get paid! Their time is essentially owned by an employer, or by their business itself, which makes it difficult to squeeze in any type of vacation or time freedom.
Sadly, these are the people who spend a great deal of time away from their family because on this side of the quadrant - time is money... you have to trade your hours for dollars. And typically, if you want to earn more money on this side of the quadrant, you have to trade more hours.
"Passive" Income Earners to Right of the Cashflow Quadrant!
Passive income earners leverage systems, other people, and money to earn their income... which has no ceiling.
If you've ever heard someone complain that "the rich just get richer," you now know their secret equation.
They don't have to be there to earn. They can earn while they're recovering from a cold, or while they're vacationing with their family. They can earn from anywhere they want to live, and their business can run itself.
YES, it takes time to develop the skill-sets so you can move from the left-side of the quadrant into the right-side of the quadrant... but as you are probably feeling right now, IT IS WORTH IT!
And starting a home business is a great first step.
Here's What's Brilliant About the Cashflow Quadrant!
The Cashflow Quadrant is an extremely simplified guide to show you exactly where you are NOW, and where you could grow into. Notice we said 'could grow into' and not 'should grow into' because where you want to hang your hat in the quadrant is entirely up to YOU.
The four quadrants show you that you have choices available to YOU.
You're not stuck in any category, and you can play in any category you choose (or many at once.)
For instance, an employee could take their earnings, educate themselves on investing in real estate and stocks, and build massive wealth on the side.... which opens up their world of choices and avenues of cashflow.
Or an employee who simply wants more out of life could spend a few hours each night after work, and build a profitable home business online part-time.
Using attraction marketing and tools and training here at MLSP, they could build a business that eventually runs on it's own... one that could be generating leads and sales for them even while they're still working at the day job.
And like many of our happy, successful students and MLSP members, this could lead to making the transition from employee to full-time home business earner rather quickly.
For instance, with a simple Instagram Marketing Strategy, home business owner April-Marie Tucker went from overworked, underpaid cocktail waitress who never saw her kids (even on holidays)... to a full-time home business industry leader and six-figure earner.
She jumped from employee to self employed to business owner by leveraging a SYSTEM to work for her from wherever she was in the world with the Instagram app on her cell phone!
The sky's the limit for YOU!
With a vision, the right mindset, and the willingness to do what most others won't... you can grow into any quadrant of Kiyosaki's Cashflow Quadrant you desire to live whatever kind of like you choose...
In gratitude,
- Your MLSP Team
P.S. - If you want to develop the skill-sets to create massive success and cashflow with YOUR business so that you too can go from self-employed to business owner to investor... MLSP has been creating the biggest mega-rich home business leaders & success stories since 2008... CLICK HERE for the 'Top Earner Framework,' and we can help you progress through the Cashflow Quadrant too!