UPDATE! 12 Life Saving Wells Built with MLSP Community 20K!
Back in December 2010 we launched our first altruistic campaign. By partnering with charity: water our community was able to conveniently donate to raise funds that would aid impoverished countries receive clean drinking water through the construction of a local well.
In one month alone the community raised $10,000 and MLSP Co-Founders, Norbert
Orlewicz, Todd Schlomer and Brian Fanale matched it and put up another $10,000. That $20,825 total went into building four wells in Ethiopia in towns that previously had naught.
Charity: water thanked us for our contribution, we thanked our community for their support and then we waited and waited.
With much gratitude extended to our community for their support we now celebrate the campaign's fruition. Only last week did we receive word that the four wells have been built and the communities they serve are now finally able to get clean drinking water from a local source. 1041 people in those communities are experiencing the effect of MyLeadSystemPro community generosity.
Take a look here: http://mycharitywater.org/mlsp. The donations of the MLSP community not only went to building wells in Ethiopia, but were used in Cambodia, Mali and other areas around the world. If you zoom in on the plaques at the base of the wells you'll see our campaign name: MLSP Giving.
We are grateful for you. Enjoy the time with your families and friends and community knowing that you are part of an incredible group of people. It's your generosity and support of one another that makes it so.
---
At the beginning of December 2010 MLSP set a holiday fundraiser goal to raise $20,000 in support of building wells in developing nations through the organizational efforts of charity: water.  The added bonus was a promise from MyLeadSystemPro Co-Founders, Brian Fanale, Todd Schlomer and Norbert Orlewicz to match donations dollar for dollar up to $10,000.
What a ride it's been.  Every day we watched the numbers on the counter go up, sometimes slowly, sometimes  fast.  We sent out email blasts, we updated our social media accounts, we promoted the fundraiser on our calls, suggested marketing strategies and reached out to our community for support.  Day by day we moved closer and closer to our goal set to end December 31st.
With only $1488 needed to hit the $20K mark the final hours of the campaign on December 31st were met with great anticipation and a charity: water server glitch! The glitch didn't allow anyone donation access to our charity: water campaign after a certain point on the final day!
We woke January 1st facing the fact that although it was certainly gratifying nearly hitting our goal; variations of the idiom, "CLOSE BUT NO CIGAR!" ran though our heads.  Many in the MLSP community informed us of their efforts to donate in the final hours with no avail.  Following a flurry of corporate skype conversations and emails sent to charity: water we were able to extend our campaign for 10 more days.  MLSP reached out to its wonderful community again and within just 2 days of the campaign's extension the goal to reach $20,000 was hit!!
THANK YOU!! Donations from $3.00 to $1000 were made.  Every penny counts and everyone who helped is part of this great effort in recognizing the benefits of our lives and in giving to those who are in need.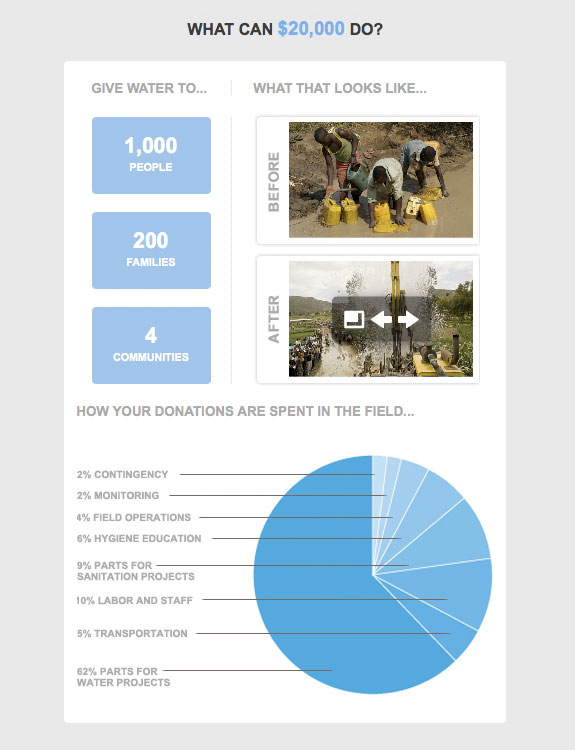 What happens to the money after it's raised?  How does it get from the campaign to the village?
Charity: water interior operations (buying paperclips, paying for office electricity, etc) is  funded by sponsors and philanthropists.  Therefore 100% of your campaign donation, yes, all of it, directly funds projects for people in need. When your campaign is finished, the money is sent to charity: water drilling partners so the work can begin.  When the work is complete, in 18-21 months, all who donated will receive GPS coordinates and photos of the communities you helped.   How cool is that?
Congratulations MLSP members, friends, and colleagues for taking part in such a generous, united effort of community and charity.  The world is a better place because of your donations.  Literally.
Keep up the great work,
Brian, Todd, Norb & your
MLSP Team
P.S. Thank you to those who submitted their "Cheers for Water!"
---
Below you will find the original announcement about our charity endeavor: Charity Water
---
"For it is in giving that we receive." St. Francis Assisi
The giving season is here and MyLeadSystemPRO has chosen to provide the essential element of life: WATER, as its gift to those who don't have the luxury of clean drinking water.  Together we can a make a huge difference and we invite you to be part of this process.  Read on and see why we chose charity:water and learn how you can capitalize on this effort of generosity.
Before we get started check this extra bonus out!!! The Co-Founders of MLSP will match DOLLAR FOR DOLLAR up to $10K in honor of your donations – what will you do?!  Everything counts – especially when it's doubled!!
See the campaign here: http://mycharitywater.org/mlsp
Why charity:water?
You're encouraged to get your business moving by building momentum… charity:water has built global recognition through its momentum and proven itself to be a major force in helping the world. At MLSP we stand behind organizations that rally the support of a global community for a cause as important as providing clean water to those less fortunate.  Although there are countless charities with great purposes, we decided on charity:water for a few top reasons: its main goal of providing clean drinking water to those without, the fact that 100% of proceeds benefit the cause, their donation platform easily recognizes individual donations and because it's currently drawing tremendous amounts of media attention.
Which leads us to this next extremely important point.
As you already know, MLSP is all about supporting your marketing efforts.  The massive attention charity:water is currently drawing is a win win situation in helping you get more media attention.  Let the world know about your generosity and align your marketing efforts throughout the holiday season with MLSP's campaign and with charity:water's.
Here are a few marketing titles to get your ideas flowing:
"What Will Smith and I Have In Common" (answer: charity:water!)
"How MLSP Co-Founders and I are Giving Back."
"Leaders GIVE."
"Putting the Abundance Mentality into Action."
"How to Spread $20 over 20 Years this Holiday Season." ($20 donation means one person can get clean water for 20 years.)
Don't forget to add the link: http://mycharitywater.org/mlsp.
Get creative, make the most out of those keywords and round out the year with a tax deduction!
We appreciate your efforts in supporting this great cause. This is pure GIVING – MLSP does not make a penny on this effort!   Let's make a global impact and show the world what a strong, giving community MLSP is.  The more attention MLSP gets the better it is for you; a rising tide lifts all boats.
Remember the Co-Founders of MLSP will match DOLLAR FOR DOLLAR up to $10K in honor of your donations.  Let's hit it!!
Give here: http://mycharitywater.org/mlsp