FACEBOOK LIVE FOR BUSINESS5 Simple Steps to Instantly Get Targeted Prospects to Talk to with Facebook LIVE!
If you're not using Facebook LIVE for business building, then you're leaving tons of prospects and profits on the table.
Leads are the lifeblood of your business. And these days it's becoming increasingly harder to not only convince a prospect to give you their email... it's also become darn near impossible to actually REACH your new subscriber and have them actually open what you send them!
In the walkthrough below, we are we going to guide you on how to schedule your Facebook LIVES to grow your business... And how to hook-up Facebook Messenger to your Facebook LIVE so you can INSTANTLY generate leads and start talking to interested prospects in REAL-TIME about YOUR business...  (this is a game-changer).
Sound too good to be true? Keep reading...
Before we jump too far into the how, let's quickly go over the WHY! What are the benefits of Facebook LIVE for business? 
It's actually pretty simple. When you build a business you want to go where your audience is, you want to target them, you want to provide valuable content to them that makes their lives better, and you want to engage with them.
With 2 Billion active Facebook users, and 1.5 billion of those being active DAILY users (with the same amount on Facebook Messenger) it's almost impossible NOT to find your audience there.
Better yet, Facebook makes it extremely easy to target your best prospects with INSANE accuracy. And Facebook LIVE is exceptional for engaging with your audience in real time so that you can display your value. Not to mention the fact that you can 100x your results using simple Facebook Ad strategies (we'll show you how a little later in this post).
In this article we are going to be talking not just about Facebook LIVE, but also one of our favorite services to smack a rocket booster on this strategy... Manychat!
ManyChat is a bot that you can use right alongside Facebook Messenger to easily build a list of subscribers ON Facebook... so that your prospects never have to leave Facebook to subscribe to YOUR 'list' and become YOUR 'lead.' In fact they can do that simply by commenting on your Facebook LIVE... but more on that later!
Combine all of this together, and you've got yourself a way to use Facebook LIVE for business that's never been available before.  
We're  about to show you exactly how to put it all into action so that YOU can start getting more leads, making more sales, and getting more sign-ups very quickly.
Let's get right into the meat and potatoes of this strategy so you can start to use Facebook LIVE to build your business.
STEP #1Establish Your Target Market
One of the biggest mistakes people make when they market their products or opportunity is that they don't have a crystal clear defined 'target market.'
This is ALWAYS the first step in any marketing or business strategy.
Because if you make the critical mistake of not establishing this from the get-go, you'll never be able to put the right product in front of the right people.
3 Question You MUST Ask to Establish Your Target Market
What are their goals, wants, and desires?
What are their problems and struggles?
How can YOUR product or service help them through it?
Now your job is to simply put the right message in front of the right people, and help solve their problems. And that's exactly how empires are built.
Our goal here of course is to leverage Facebook LIVE to turn prospects into leads for your business.
There's a process for that, and it's relatively similar to email lead generation... but much simpler.
COMPANION PDF
To get you started with defining your target market, if you haven't already, you can download this Customer Avatar Worksheet. This worksheet will get your mind working on figuring out exactly who you (and your content) should be targeting. These are just a few of the questions you should be asking, but once you get these down, you are well on your way!
The Lead Generation Process
Traffic -- Send Targeted Traffic to a Targeted Offer
Capture Page -- Exchange something of value (lead magnet) in exchange for your prospect's contact information and permission to continue communication.
Follow Up -- You continue to give value to your leads
Sale is Made!
The beauty of using Facebook LIVE for business building, and using ManyChat to follow up, is that they'll never have to leave Facebook for this process to take place.
STEP #2Create an Effective Lead Magnet
What is a lead magnet?
Very simply put, a 'lead magnet' is an irresistible offer (or lead bait) that gives value to your prospects in exchange for their contact information (their name, e-mail address, and possibly a phone number).
However in this case, we're looking to get ManyChat subscribers! And you'll see that this is MUCH easier than asking for their e-mail.
This is basically the 'Law of Reciprocation" in action. You give somebody something of value, and they give you something back... which is permission to communicate with them further.
What Makes an Effective Lead Magnet?
Your Lead Magnet Must Be Valuable -- This is where you over deliver. Your lead magnet should probably be something that people would buy if you were selling it... except in this case you're not selling it - you're giving it away.
It's important to note that you're not giving it away for FREE... but in exchange for your prospect's contact information. and their permission to keep in touch. That's extremely valuable. Below are some examples of lead magnets we have here at MLSP...
NOTE: Don't forget that you have plenty of free trainings and lead magnets you can give away right inside MLSP. So you don't even have to create anything before you can apply this strategy.
Your Lead Magnet Must Help Them Achieve Results Toward Their Long-Term Goals
Your prospects have goals and desires just like you do. If you can show them how to get just one step closer to their goal, then they'll become loyal to you and buy from you. You are building the know, like, and trust factor!

NEED HELP CREATING YOUR LEAD MAGNET?
Get this free download today - A step-by-step PDF + Video to Create Your 1st E-Book & Lead Magnet, Even if You're Brand New (free tools included)
STEP #3Use Facebook LIVE to Snag the Attention of Your Audience
Okay now we dive into the FB LIVE section of this strategy, which is where you capture the attention of your prospects.
And to do that we'll have to get some things right.
The Secret to Planning a Successful Facebook Live
1: Decide what you want to talk about!
You can't just go LIVE without having some value to give. What topic will you choose for your LIVE? You should know your target market and what they want by now... and if that's the case it isn't hard to figure out what to talk about on your LIVE!
You can use a skill that you're already proficient at, and teach that. Or if you're new, you can spend a few minutes getting good at something your target market would see value in! Go Learn something in the MLSP back office, and then simply Teach it and Share it with YOUR audience!
Simply share a few nuggets from what you learned in your research and BOOM... there's your Facebook LIVE topic!  🙂
You then become like Oprah: an "Usher of Information."
MLSP PRO TIP
Want a Shortcut to An Immediate Lead Magnet? If you're an MLSP member, you have access to 24 different MLSP System Campaigns ranging through various topics that anyone with a home business would want (and need).
Each campaign has a done-for-you lead magnet and capture page that is ready to go to work for you immediately.
2: Use a Proven Outline for Your Facebook LIVE!
What will you talk about on your LIVE? The training you choose for your LIVE will have some main topics that you'll want to cover.
Remember you're not giving away the farm here. You're just giving a piece of the puzzle. A bird's eye view.
You'll save the more nitty-gritty details for your lead magnet. Your LIVE will simply be to the wet their whistle and get them wanting more (while STILL providing value they can walk away with today!)
3: Create Engagement!
You want people commenting and engaging when you do your Facebook LIVES! This is crucial for this strategy to work.
How do you do that? It's very simple. You ASK them to engage.
You can do this in the description of your LIVE itself on Facebook. For instance, one of our top affiliates 'Mark Harbert' would use something like: "To get instant access to this training, throw the word "training" below and I will private message it to you right away!"
You can also ask them to engage during the LIVE broadcast. Get them to ask questions, or get them to comment on something you've said, etc.
You'll see why this is important when we get more into the ManyChat section of this strategy in a second...
COMPANION VIDEO FOR MLSP MEMBERSIn the Video Below, Mark Harbert Walks You Through The Process of Taking an MLSP Training and Turning It Into a Facebook LIVE for Your Business!
How to Set Up & Schedule Your Facebook LIVE!
So obviously we want to get people watching and engaging with your Facebook LIVE. 
The best way to make this happen is to schedule your LIVE broadcast ahead of time. This gives you time for people to see it on their news feed, as well as for you to announce it, and promote it.
Essentially, your FB LIVE is like mini-webinar. Using webinars for marketing a home business works like crazy because people commit ahead of time to be there... and they show up.
So it's good to create that same effect with your lives.
SUPER IMPORTANT NOTE: At the time of this training, you MUST use a 3rd party software to actually utilize the scheduling capabilities of Facebook Live!
There are a few different options out there. We are going to be covering 2 of them.
Open Broadcaster Software (OBS) - This is a FREE program that is available for both MAC and PC. You can download it from the OBS website. We have a walkthrough video below showing you how you can schedule a Facebook LIVE and then hook it up to OBS to go live at the scheduled time. It is simple to do, and the videos below will guide you every step of the way.
JustBroadcaster - This is a MAC ONLY program. If you have a PC, you'll want to stick to the option above. JustBroadcaster is extremely cheap ($20 for a year) and actually allows you to schedule a Facebook LIVE directly inside the program. If you have a Mac the $20/year is well worth it, and it has some pretty cool features that can make your LIVES look amazing. We've included a video walkthrough below on how to use JustBroadcaster as well.
Now let's get to scheduling YOUR Facebook LIVE!
COMPANION VIDEOS FOR OPEN BROADCASTER SOFTWARE (OBS)In the videos below we are going to show you how to schedule a Facebook Live inside of your Fanpage, and then, hook it up to OBS so that when you are ready, you can use OBS to actually run your Facebook Live!
This is a 2-part walkthrough if you are using OBS - The first one, we will cover how to schedule your Facebook Live inside of Facebook. The second part will show you how to connect that live to OBS so you can use that when you are ready to actually GO LIVE at the scheduled time.
VIDEO 1: SCHEDULING YOUR FACEBOOK LIVE
VIDEO 2: HOOKING UP WITH OBS & GOING LIVE
COMPANION VIDEOS FOR JustBroadcaster (MAC ONLY)In the Video Below, We Will Walk You Through the Basics of Setting Up JustBroadcaster For Your Facebook Live!
STEP #4Set Up Facebook Messenger & ManyChat to Start Generating Leads!
Okay so we've got the Facebook LIVE scheduled and ready to go. At your scheduled time, you'll hop on and do your thing. The point of all of this of course is to get leads for YOUR business, and we are going to use ManyChat to supercharge this strategy.
Want to know how you can get subscribers simply by having them COMMENT on your Facebook LIVE? Yes, you read that right. Well, the process is detailed below - so let's get to it!
A couple of quick points about ManyChat...
Getting people signed up to ManyChat is super simple. Just one click on a link can sign them up as a subscriber to YOUR ManyChat bot.
Even cooler is that when someone simply leaves a comment on your FB LIVE... they can get them subscribed to your 'Facebook Messenger ManyChat List.' How cool is that?
With this strategy, we know that our goal is to give away a free training to get people to subscribe. That free training is our lead magnet. So how do we get people to raise their hands and say they want it? With comments!
Setting Up Facebook Comments Tool to Get Leads / Subscribers Into ManyChat...
---
Step 1 - First, head over to ManyChat and go into your Growth Tools.
Login to ManyChat (If you haven't yet, be sure to set up a new account - free with limits - and connect it to your Facebook Fan Page)
Click on 'Growth Tools,' and then in the top right, click 'Add New Growth Tool'

The growth tool we want to add is the Facebook Comments tool - so click on that

---
Step 2 - Fill Out the Information Needed for the Facebook Comments Tool, Shown Below
Click on the 'Select a Post' button. This will launch a window that will show you all of your available posts that are on your fan page. So - IF you've been following along, you should see the post for your scheduled Facebook LIVE.
(NOTE: After you select your post, you will have to agree to the specific terms that will show up just below that button - They just want you to confirm that the users will KNOW that if they comment on that post they will be contacted)
The next option is 'Track first-level comments only' - This is up to you, but it basically is an option to ONLY use first-level comments, rather than 2nd level replies - or 'nested' comments.
Just under that you have the option of 'delaying' the first message that is sent automatically, but in this example, we are going to send it immediately.
This is where people basically let you know they want your lead magnet by commenting with a word that you choose (which you'll tell them that word during your live!)

Examples of words you can use are "Training," "LIVE," or whatever you choose that is relevant. When people type the particular word you choose in the comments, they'll receive an automated message thru FB Messenger

After you've got this set up, go ahead and click 'Next'
---
Step 3 - Create the Message That You'll Send Automatically to Those Who Commented With Your Trigger Word!
Now that you've connected your post and set the trigger word, it's time to set up the actual auto-response that will be sent through Facebook messenger when someone comments with the trigger word.
IMPORTANT: You must be sure to include something like: "Before I send it to you, I need you to confirm you want it sent here. To get ACCESS simply type YES and I will send it over!"
If you notice, directly under 'message' field here, you see an alert from Manychat:
Think of this as a 'double optin' feature that is required from Manychat and Facebook, where they have to confirm that they want what you are offering. So, taking this in to account, in our autoresponse message, we want to make sure we write something that gets them to REPLY to our message! Here is an example of a good message:
"Hey Friend! I am excited that you wanted to grab the free Facebook Messenger training! Before I send it to you, I need you to confirm that you want it sent here in messenger.
To get access, simply type YES and I will send it over."
Once you've set up the initial response, click 'next' and we'll finish up the message!
---
Step 4 - Setup Your Opt-in Message
Once somebody types in YES (or whatever you asked them to reply with in the first auto-response), then as promised you've got to send them the training they just opted in for.
First thing you'll want to do is select the option to send this 'optin-message' ONLY to users who reply with a keyword.

Important: For the "Sending Options," be sure to check the "Send only to users who reply with a keyword" option.This will allow only the people who ask for your lead magnet, and confirm, to actually get your lead magnet so you don't get into hot water with Facebook for spamming.

You could also select "Send to everyone who replies" as long as you know, that THEY KNOW, when they reply you will be sending them messages! Super important.

Remember in the previous step, we wrote 'Before I send it to you, I need you to confirm you want it sent here. To get ACCESS simply type YES and I will send it over!' - so, in this step, you're telling the ManyChat bot that when they type the keyword 'YES,' you will send them their lead magnet gift (or again, whatever keyword you asked them to reply with).
It's now time to actually edit and construct this message (BEFORE YOU CAN DO SO YOU'LL WANT TO SAVE - so just click the save button in the top right) - When you are ready, click EDIT in step three in the picture above.
The 'Add Subscriber to Sequence' is a bit more advanced than the scope of this post, but if you want to learn more about the powerful things ManyChat can do, be sure to check out our full walkthrough of Manychat.
---
Step 5 - Set Up the Opt-in Message to Deliver What They Asked For!
Now it's time to deliver on what you promised. Let's set up this final message, and then we are ready to publish!
Let's first set up the actual message that will be sent. Below is a good example of what to write. Thank them, tell them to click on the button to access (which we will cover in the next step) and tell them to get back with you after they've gone through your AWESOME training. (Also, 'cause we care about our users, let them know that they can 'unsubscribe' at any time - it's the nice thing to do)

Awesome! Here is the training. Once you take a look, let me know what you think!

To access, just click the button below.

P.S. If you ever want to unsubscribe, just type "stop".

Next, click on the "Add Button" button so that you can actually create the button they'll be clicking on.
Under 'Button Title' - write what you want the button to say. You have to keep this pretty short, so something like 'Click Here to View' will work.
Click on Open Website, because this is what you want the button to do! Once you do that, you'll see a field asking for the 'URL' - this is the link to the training you are giving away... whether it's a direct line to an ebook or a video, or if you are using an MLSP campaign, a link directly to the free training you promised.
CLICK DOOOONNNNNEEEEEE!
YOU ARE DONE! - well, pretty much. Just click Publish, and then after it's published you'll want to make sure it's 'Active' - So the easiest way to do this is click on it's current name. Once you do this, re-name it to something so you will know what it is, and then on the right, click 'ACTIVE'.
AWESOME! There is a video below walking you through this process as well if you want to see it done live. 
NOTE TO MLSP USERS:  For your link to the 'free training,' you'll want to use a direct link and not an opt-in link here. For instance if you're using an MLSP Campaign System Campaign lead magnet, you'll use the "Thank You" link to send them directly to the training. Remember, they aren't opting in with a form on a capture page - they are going to be opting in via Facebook Comments in to your ManyChat Messenger Subscriber 'list!'
COMPANION VIDEOWatch the Video Below For a Full Demonstration As Mark Harbert Sets Up ManyChat to Automatically Give Away His Lead Magnet!
STEP #5Supercharging This Strategy with Facebook Ads
Now let's fast forward a bit to after your Facebook LIVE is finished. Does that mean that it's over, and that you can't keep getting leads from this FB LIVE forever and ever?
NOPE! Not by a long shot.
Don't forget, a finished FB LIVE becomes a recorded training that you can re-utilize over and over again for more leads, more sales, and more sign-ups. And the way you do that is by using Facebook Ads!
This means that you should start thinking long-term about your business, your marketing, and your Facebook LIVES.
When you use the power of Facebook LIVE for business and lead generation, it does not have to be a one-and-done thing. Especially because now you are creating your LIVE broadcasts with the intent of giving highly valuable content that serves your target market!
Then if in 3 weeks, 3 months, or even a year from now whenever you want a boost in fresh leads for your business, you can simply setup a Facebook Ad campaign and send them right over to the recording of your previous Facebook LIVE. Which also means you don't have to constantly be churning out Facebook LIVES daily in order to get fresh leads for your business
Your ManyChat integration & automation is already set up... so besides setting up your ad, your lead generation will basically be automated... #POWERFUL!
Not sure how to set up your first Facebook Ad? Take a look at our brand new 'Social Ads Made Easy' course!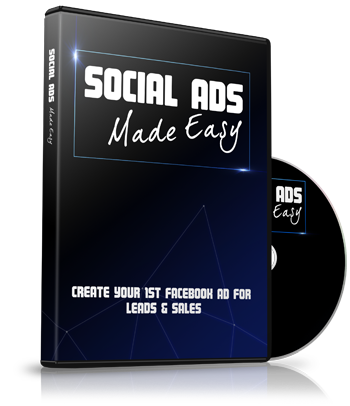 PROFIT WITH FACEBOOK ADS!
Simple 3-Step Formula to Create Your 1st FB Engagement Ad - Get Red-Hot Targeted Prospects INSTANTLY for YOUR Business!
---
Got value from this post? Then we would LOVE for you to comment below and share on FaceBook… Research has shown that as you share this MLSP blog post & comment below, the universe will bring amazing things to your life.  
ACKNOWLEDGEMENT: We want to acknowledge and honor our dear friend and top affiliate Mark Harbert for providing some of the trainings above so that we could serve YOU, our beloved audience. Harbert is the go-to video guy in our profession, and probably the kindest guy you will ever meet.
We also want to acknowledge our in-house MLSP creative director, user experience expert, and wordpress master James Fanale for providing some of the amazing tutorials above so so that we could put this step-by-step pillar blog post together for YOU! Fanale is one of the leading authorities on blogging, SEO, and wordpress.
Thank you for all that you do Mark & James to help the MLSP Community get better and better every single day!
MLSP has been providing entrepreneurs with innovative solutions, tools, and trainings to brand you and take your business to the next level since 2008