If you're not using Facebook Retargeting Ads to get back in front of your website visitors who leave your site without buying... then you're leaving leads, sales, sign-ups, and a TON of cash on the table.
Most people who come to your website will leave without taking any action. And once they're gone, they're gone. Unless you have a way to ethically 'retarget' and follow them around online until they buy your products & service. Well, after this blog post, you will!
You start with a retargeting pixel so you can then create Facebook retargeting ads to re-engage with your visitors (and soon-to-be buyers) who have abandoned your website.
This is the HIGHEST converting form of marketing that yields one of the highest returns on ad spend because they have already seen your brand, your website, your offer. And staying in front of your now warm target audience is crucial.
The fact is most people will need to see an offer 7+ times before they buy, which is why 'retargeting' your website visitors can be so profitable to your bottom line.
In this blog post you're about to get a step-by-step blueprint to put this 'retargeting' in place for YOUR business to track, measure, optimize, and scale your marketing like the biggest brands in the world! (this is Amazon, Apple, and Nike's marketing secret… and soon to be yours).
Let's dive in to this post with step-by-step pictures, images, and videos to EXECUTE Facebook Retargeting Ads in YOUR business today…
What is a Facebook Retargeting Pixel
Have you ever looked up a product on Amazon (or any site), left without buying the product you were looking at, and suddenly see an ad for that exact product the next time you go to Facebook (Maybe even just minutes later?)
It may have left you scratching your head wondering "How the heck did they do that?"
What just happened is you were pixeled, tracked and retargeted… and it works like gangbusters!
This amazing technology used to only be available to the major corporations with high-traffic sites. That's because it was complicated and only for the high-paid tech savvy with deep pockets and advertising budgets.
Now anyone can quickly and easily apply this technology to their own sites. And it doesn't matter if you have 10,000 visitors a day to your site, or 10 (or less)!
In a nutshell, Facebook retargeting allows YOU to follow your blog or website visitors around until they decide to become a lead, buy your products and services, join your business, become a coaching client, etc.
How a Facebook Retargeting Pixel Works
A Facebook pixel is a simple piece of code that you add to your website. It's copy-paste-simple in fact.
Once you've added this code to your site, anytime someone visits your website or blog, the Facebook pixel will then begin to track their behavior.
You'll get to see:
When they visit your site
How many times they visit your site
Which pages they've visited
What they may have searched for if you have a search feature on your site!
Of course that in itself is pretty cool, but that's just the beginning. Because once you're armed with this information, you then have the ability to create unique Facebook ads that will ONLY be seen by these previous website visitors.
Furthermore, you can create audiences within your visitors to drill down even further.
For instance let's say you have a page on your website around coaching services. If you have a pixel on your website, you can now create Facebook Retargeting ads that only those people who have visited that specific page on your website will see… LASER TARGETED, HIGH CONVERTING, AMAZING STUFF HERE!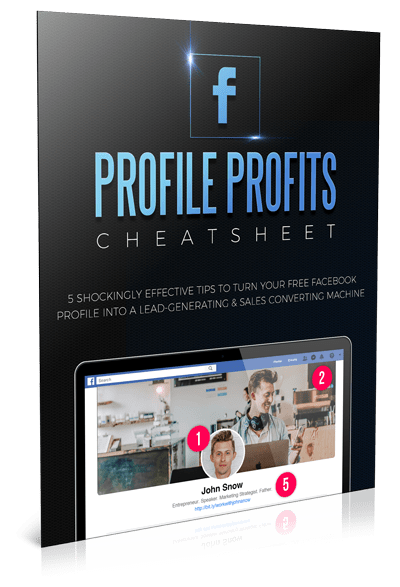 GET THE PROFILE PROFITS CHEATSHEET!
5 Tips to Turn Your Profile Into a Lead-Generating & Sales Converting Machine !
DOWNLOAD THE 6-PAGE PDF!
MLSP's resident Facebook expert (and the guy we trust most with our own Facebook campaigns), Jesse Jameson, calls this 'marketing insurance'.
Your biggest marketing cost of course is to get new visitors to your site.
However once a visitor leaves your site without taking action (which 90% do) then you've usually lost that visitor forever. Which means you've lost a potential customer and dream client forever….
They lose because you don't get to impact their life with your message… you lose because you don't get paid… everybody loses!
Until now!
Facebook retargeting ads lets you continue the conversation in a subtle way once they've left, and you get to keep yourself front and center on your visitor's radar (and mind).
This allows you to bring them back to your site & offers until they take action and buy your stuff. BRILLIANT!
COMPANION VIDEOWatch the Video Below Where Jesse Jameson Explains Why You Must Start Using Facebook Pixel Ads On Your Website(s) TODAY!
---
Where to Find Your Unique Facebook Pixel
Now that you know all the good things that Facebook pixels can do for your business, it's time to get started.
Let's get over to Facebook so that you can find your pixel, and then we'll show you how to stick it on your site so it starts working for you.
Log Into your Facebook Account and onto your homepage.
On the top right-hand corner you'll see a small triangle / arrow. Click that and a drop down menu will appear.
Scroll down to the "Manage Ads" tab (if you haven't set up a FB ads account yet, you'll see the tab that says "Advertising on Facebook," which is where you can setup your ads account!)
As soon as you click "Manage Ads" you'll come to the Ads Manager screen.
On the top left-hand corner you'll see a menu titled "Facebook Ads." Click it.
Once you click you'll see a series of columns. The link that you're looking for is under the "Measure and Report" Column called "Pixels".

Once you click on Pixels, you'll be taken to the Pixel Management Home Page. (Shortcut: Going to https://www.facebook.com/ads/manager/pixel/  will take you to the exact same place!)
The way to find your pixel code is once you're on the Pixel Management Page you'll look for a tab that says "Set up."
Clicking on that will give you a pop up menu with a few different options on how to 'install your pixel.' (We're going to be walking you through how to do it manually, so to get your actual pixel code, select the 'Manually Install the Code Yourself' option.
Scroll down to 'Step 2' in this popup and you'll see your pixel code! Just hover over it and click on it and it will automatically be copied!
---
Place Your FaceBook Pixel Code on ALL of Your Sites!  (It's easy, NO TECH REQUIRED)
Now that we've found your Pixel Code, it's time to add it to your own blog. We're going to show you exactly how to setup Facebook retargeting.
The easiest way to do this if you're using a WordPress Blog is through a plug-in called "Header Footer." This is a reliable plug-in that's updated frequently, so you shouldn't have any problems.
MLSP MEMBER PRO TIP
Important note - If your are an MLSP MEMBER - Adding the Facebook Pixel to your MLSP Sites blog and MLSP system and product campaigns is EVEN EASIER! Login to your back office and in your Training Library and access the Facebook Pixels & Tracking course.
---
COMPANION VIDEOIn the Video Below, You'll See Exactly How to Install the Header & Footer Plug-In On Your Custom WordPress Blog!
IMPORTANT NOTES: You can access the 'header footer' plugin here. MLSP Sites users DO NOT need a plugin to add the pixel. Follow the Facebook Pixel walkthrough in your Sites Training Portal.
---
Creating Custom Audiences for Dirt-Cheap Laser-Targeted Traffic
Here's where things start to get exciting. This is the part where you get to follow your website visitors around Facebook, and stay in their faces... even though they just left your site without buying.
The unfortunate truth is that about 99% of the people who come to your site will leave without taking an action.
That number becomes less devastating once you learn how to create ads that specifically target these visitors who don't buy at the first touch... and you now can ethically follow them around on Facebook until they actually buy!
You now have a chance to re-engage with them, stay at the front of their mind, be everywhere all the time, and subtly spark up the conversation again.
So as a quick recap…
Person visits your pixeled website (doesn't matter how they got there)
They now get tracked and their behavior analyzed by Facebook
They next time they head over to Facebook, they see YOUR ad that's been targeted specifically at them! (Continuing the conversation!)
What Kind of Ads Can You Use to Re-Target Your Visitors?
There are various ads that you can use to get their attention and re-engage with them over on Facebook. Here's a few ideas...
The Same Ad that got them to your site in the first place.
A Testimonial Ad about your product, service, or opportunity.
Feature / Benefit Ads that show them what they'll get when they buy your product or use your services.
Q & A Webinar Ad where their questions will be answered (Value!)
An offer for a similar product that they were already looking at on your website.
An offer for a BONUS.
Free-Trial Ad.
Video Ad.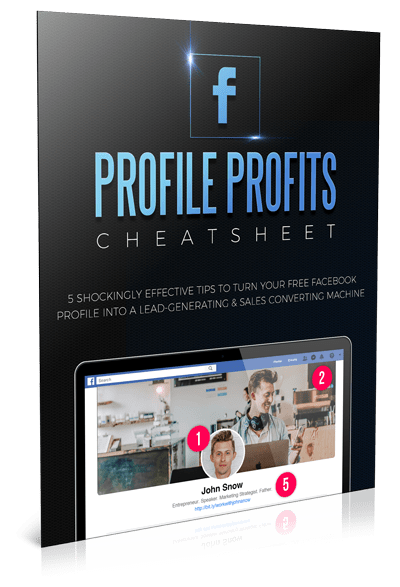 GET THE PROFILE PROFITS CHEATSHEET!
5 Tips to Turn Your Profile Into a Lead-Generating & Sales Converting Machine !
DOWNLOAD THE 6-PAGE PDF!
The sky's the limit here. You can be as creative as you want with your Facebook retargeting strategy. And the fact that they were just at your site, and now they're seeing an ad from you again, will most certainly capture their attention!
The great thing is that even if they don't click on your ad, they're still seeing that ad. If you're paying for your ads per click, you're gaining tons of mindshare with your visitor for FREE! (or for pennies!)
That's huge.
COMPANION VIDEOWatch the Video Below to See Some Examples of the Types of Ads You Can Create to Retarget Your Visitors...
---
6 Steps to Create Your Custom Audience Based On Your Website Traffic
Now it's time to create your audience(s), so that the right ads are shown to the right people.
Again you're tracking which pages they've gone to, and even what they may have typed into a search bar, so you know exactly what they're interested in.
Step 1. Go back to the Ads Manager Page
Step 2. On top left hand click the Facebook Ads Drop-Down
Step 3. Once you click that, in column number 5, under the heading 'Assets' you'll see "Audiences" as the first choice. Click that.
Step 4. Once you're at the Audiences page, you'll see a blue button that says "Create Audiences". Click That. In the Drop Down Menu select "Custom Audience"
Step 5. The next screen will give you options, select "Website Traffic".
Step 6. You'll be taken to a small box on your screen that will look like this…
You'll be able to create a custom audience around any of the following:
All your website traffic.
People who have visited certain pages.
Or even time spent on your pages!
In the beginning, you may want to simply select "All Website Visitors."
However, as you get more advanced with your retargeting efforts, you may eventually start creating audiences around specific websites, searches, or various custom combinations.
COMPANION VIDEOWatch the Video Below As Jesse Jameson Demonstrates Step-By-Step How to Create Your Custom Audience!
---
You Are Now Ready to Create Facebook Retargeting Ads!
It's time to Target Your Website Visitors… and Turn Your Visitors into BUYERS!
You now have a custom audience of read-hot prospects you can send laser-targeted ads to.
This will be the highest-converting most cost-effective marketing you will ever unleash.
Happy Marketing, and go retarget your website visitors for pennies on the dollar to create more sales and cash in YOUR business today!
Committed to YOUR Success - in gratitude,
Your MLSP Family
P.S. - We've created an insanely valuable and FREE Step-by-Step Facebook Ads Tutorial to Help You Quickly and Easily Create Your First Facebook Ad!  (no opt-in required… enjoy!)
---
Got value from this post? Then we would LOVE for you to comment below and share on FaceBook… Research has shown that as you share this MLSP blog post & comment below, the universe will bring amazing things to your life. 🙂