"Unlike any other", was the intention set forth when the Co-Founders of MyLeadSystemPRO, Norbert Orlewicz, Todd Schlomer and Brian Fanale set the wheels in motion to host their first international event titled, "Live the Dream."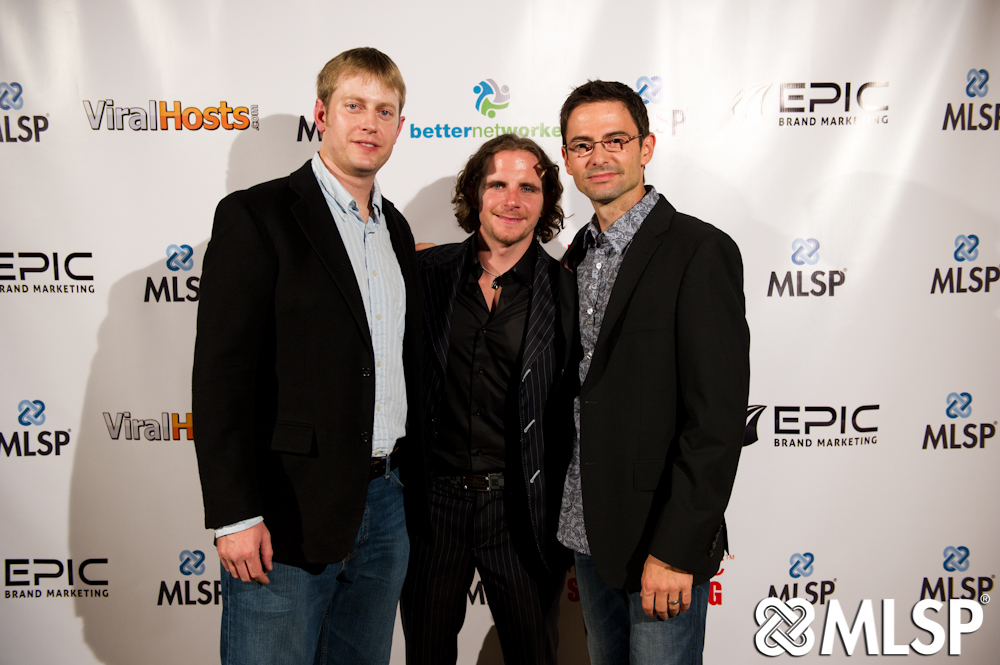 The "Live the Dream" event came out of a necessity and a desire to physically bring together the ever-growing group of staunch supporters, members, leaders and alliances alike that form a structure built on positivity, belief, determination and innovation.  Warmly referred to as the "MLSP Community."
This community has been developed from the hard work and foundation built by Orlewicz, Schlomer and Fanale of MyLeadSystemPRO (MLSP).  MLSP is an affiliate system complete with an internet marketing and training platform for those seeking to expand their internet marketing knowledge, brand themselves and increase online lead flow for their businesses.  From this platform and from proven testimonies the beginner to the advanced internet user can succeed online where they had fallen short in previous business ventures.
The increase in members' business productivity due to MLSP is the impetus for the strong bond and loyalty found within the community.  Hence the desire to put in motion an event, "unlike any other", to exceed all expectations and deliver, just as MLSP does on a daily basis for its members.
"Live the Dream" was held in Las Vegas at The Venetian Resort Hotel.  The opulence of the Venetian exterior facade and interior décor and bragging "all suite" rooms was the perfectly appropriate setting.  The interior of the ballroom where the main event commenced was rich with golden filigree wall trim, giant chandeliers and deep golden carpet reminiscent of ancient Italian Renaissance architecture.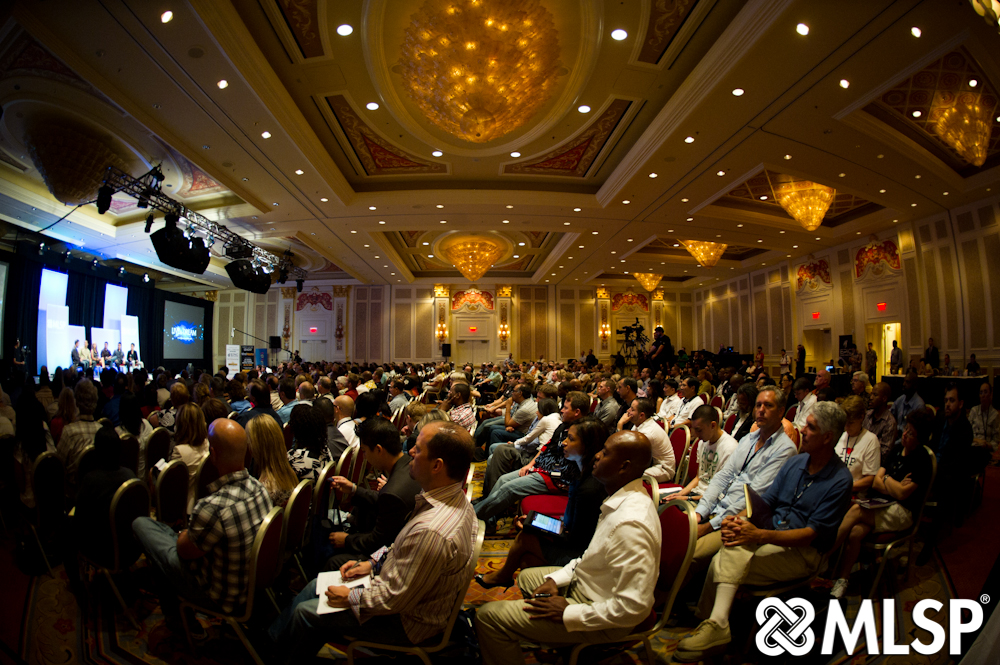 MLSP's stage design stood out from the historically designed space and formed a stylistic contrast with modern rectangular wide pillars projecting off the platform highlighted by projections in cool blues, greens, purples and sparkles of light.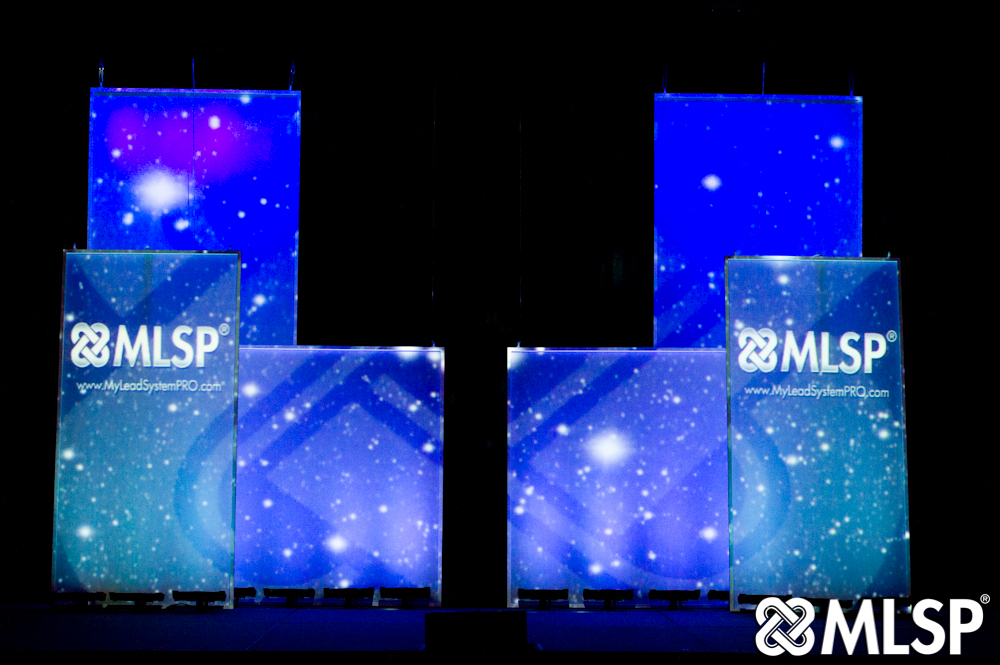 The ultimate stage was created as a backdrop for the line-up of top quality speakers to complete the setting.  MyLeadSystemPRO prides itself on providing real value for its members; without self-aggrandizement displayed by companies unsure of their future.
Speakers included Todd Falcone, Nicole S. Cooper, Cedrick Harris, MJ Durking, Daegan Smith, David Wood, Tracey Walker, Jerry Clark, Mike Dillard and MLSP Co-Founders Brian Fanale and Norbert Orlewicz.  Each speaker was greeted upon arrival in their suite with a gourmet cheese and fruit platter with bubbly Italian Prosecco to start their visit off just right.
Each speaker had the opportunity to share their wisdom with event attendees as well as hold a private forty-five minute session in an intimate breakout room at the end of the day.  When asked of the speakers to provide feedback and suggestions after the event, response came in as follows:
No suggestions, you guys killed it! – Mike Dillard

I do lots of events…and I mean LOTS…and let me say this…FIRST CLASS.  FIRST CLASS ALL THE WAY.    – Todd Falcone

You guys put together and pulled off a Top Notch event.  It was certainly First Class.  Relevant and Impactful.                                   – Jerry Clark

…this event was by far LIFE CHANGING for so many.  Bravo MLSP! – Tracey Walker

I'm totally honored to be in the company of an emerging empire.  – Nicole S. Cooper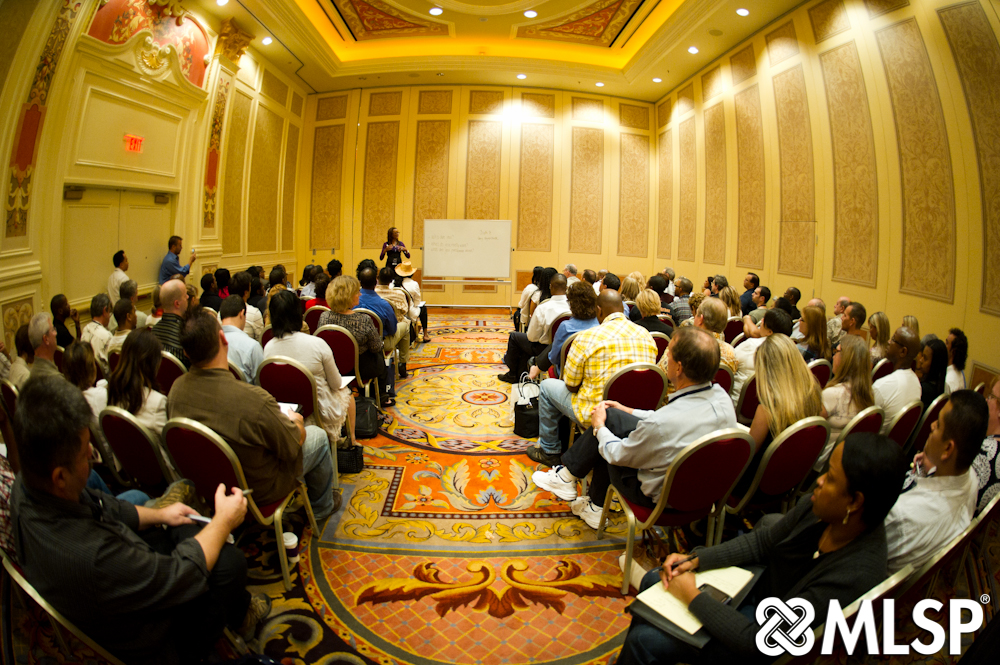 With the speakers carefully taken care of MLSP turned it's attention to providing its VIP ticket holders with an exclusive "All Access" pass for multiple private functions celebrating prosperity, leadership and forward momentum and of course, the MLSP community.  MLSP hosted 4 private parties full of champagne toasts, drinks, buffets and hors d'oeuvres.
The goal was to give VIP event attendees an opportunity to mingle and rub shoulders with the leaders within MLSP, the speakers, and Co-Founders.  Smiles were plastered on all and warm regards were shared.  Most importantly, the memories and photos will last a lifetime as well as the new found business alliances, partnerships and friendships that were solidified and formed.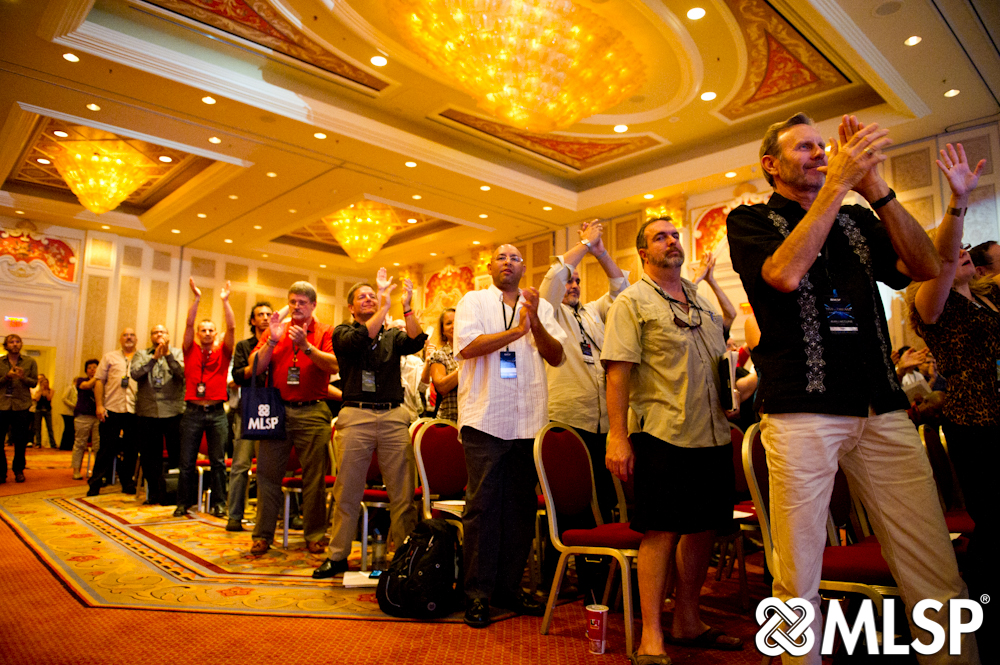 With the successful completion of the first of many events to come MyLeadSystemPRO keeps moving forward to provide its member base with the best in internet marketing training, branding and lead generation.  New products and tools to help marketers build better and stronger businesses are continually introduced as well as providing support and a strong community to rely upon.
Live the Dream Testimonials & Takeaways
We frequently get asked this question in regards to multiple members using MLSP sales templates.  That's a perfectly valid question for a newcomer to ask until they realize this: your marketing is about YOU.  MyLeadSystemPro is the vehicle to assist in getting your message out to the millions who are looking for opportunity and solutions.  Under the umbrella of the uniqueness that is you the ability you have to attract people boils down to your leadership positioning, the clarity of your message, the confidence in your mannerisms and frankly your 'look' – this is not to say you have to look a certain way – just be you and soon those who relate to you will reach out.
We asked attendees of LtD to submit their best takeaways from the event.  Originally this article was simply going to be a post about the best takeaways however after reading the submissions the essence of each came down to how people relate and connect with those they pay attention to in MLSP.  An essential ingredient in Network Marketing is about connecting and from the submissions chosen one can easily see how each member relates to a different person, leader or speaker from the event.
Point being: take what MLSP gives you and make it your own so you can continue to build your brand and attract the people who are out there waiting for someone, someone just like you to show them the way.
---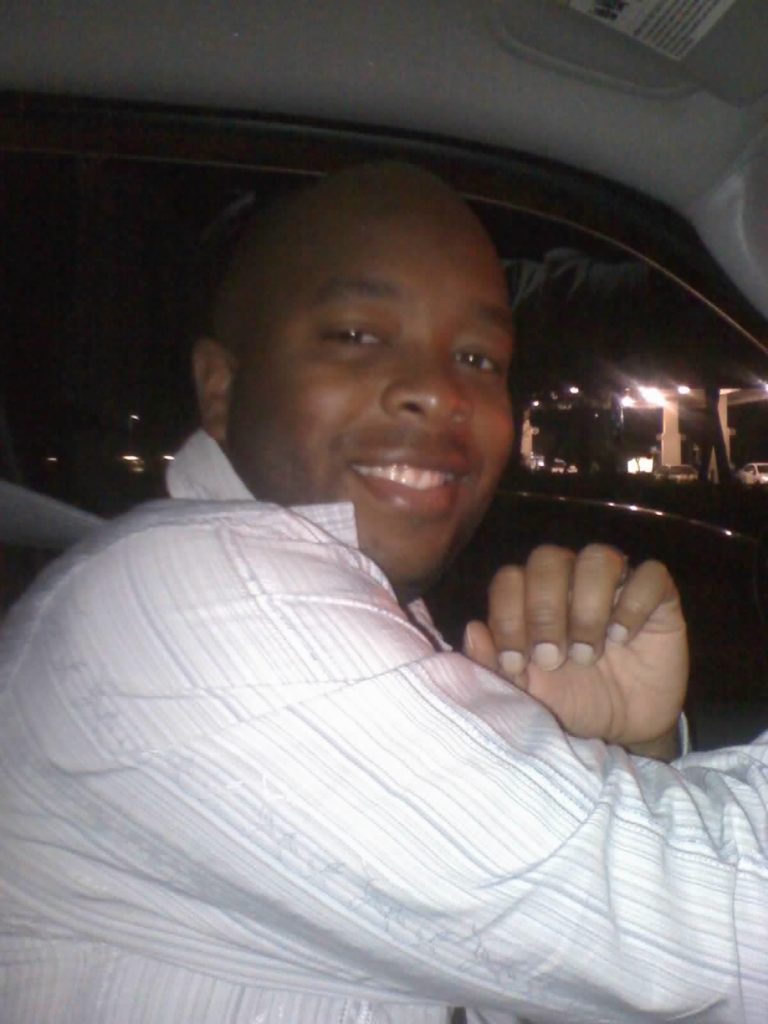 Billie Bernard Josie
Wow! (that's what I think when I relive the event in my mind)  🙂
Takeaway #1
MLSP always over delivers the value and content.  And the first event was no different.  The chance to hang out and have a conversation with Daegan Smith (one of my 1st mentors that exposed me to Internet network marketing) on the way up to my suite one late night.  That was priceless.
The opportunity to have lunch with Norbert and hear him share his thoughts and be so transparent and open up about this industry.  That was priceless.
To meet Nicole Cooper for the first time ever and she knew who I was.  Amazing.
To meet Everett Smith and him think I was a superstar. We'll I don't know about that one but I am a rock star in training looking forward to walking across the stage next year as an L4 leader.
To meet Norbert and Monica as me and my wife were leaving the hotel headed to the airport.  To have him hug me as if he was saying, "Hey my friend, thanks for coming. I believe in you. Now go home and create the success you want in your business and in your life!" Powerful.
Takeaway #2
Choose techniques or strategies in your business that fit who you are. If you love connecting with people over the phone don't try to be a super article marketer, SEO strategist, s1 s2 keyword strategist, unique blogging article wizard strategist (ok I don't know where I was going with this but I hope you get my point).
If you love the phone pickup the phone and connect with your leads. Be unique. Be who you are and use those strategies that work for you.
Takeaway #3
"It's never a matter of If but When." -Mike Dillard
So my thinking is not IF I become an L4 leader it is WHEN I become an L4 Leader.  My thinking is not IF I reach the top level in my network marketing company. It is WHEN I reach the top level in my network marketing company.  So I'm not thinking IF I will be able to retire my wife …I'm thinking WHEN I'll be able to retire my wife! I'm not thinking IF I become successful I'm thinking WHEN I become successful!  Any Questions?
Thanks again MLSP for a wonderful and amazing event. I'm already having visions of "Live the Dream 2".
In the words of Brian Finale- You Guys Rock!
Billie Josey- "The New Generation Network Marketer"
---
Kim Tarr
My BIGGEST take away from the MLSP Event was definitely, hands down the connections I made with people.
Obvously, it was so powerful meeting people from my own mlm team, and Norbert, Brian, and Todd, but it was just as exciting meeting people in person that I had met and connected with on Facebook. It was really neat to have never met someone in person, you have only seen them on Facebook, but when you see them in person you already know who they are and so much about them.
This is my favorite take away: I was sitting in one of the break out rooms behind a lady. She was in a casual conversation with someone. I peeked down at her name tag and I shouted (interupting her conversation), "You're Val Taylor?!"  She said, "Yes" and she saw who I was and she said, "You're Kim Tarr?!" We were both so excited to have met each other in person.
And it is great for your confidence because people knew who I was and it is great knowing that the content that you put out there on the internet helps and inspires people.
Being at this event was more exciting than being in Hollywood meeting celebrities. I have met people that I admire, look up to, and knowing that they busted their butt to achieve great things – that is something that I admire.
As far as the event itself. It really made me posture my business in a different way and really think outside the box.  It inspired me to become more creative in my blog posts, be a little crazy and have fun!
This was my favorite saying by Cedrick Harris, "If you are not crazy, then you are average and who wants to be average?"
So, Thanks to Cedrick, I have officially declared myself, "crazy!"
Thank you from the bottom of my heart for the LIVE THE DREAM event!
Kim Tarr
---
Cheeto Lee
Btw, I'm a huge fan, my biggest takeaway from the event was meeting the leaders, taking pictures and videos with them.
I definitely came back a leader being in the industry for only 3 months.  As a result from the event, I now have killer content and branded myself as the up-comming video marketing contender in the ranks of more experienced in the field. I've made connections with other champs in the industry and rubbed shoulders with the best of the best.
My strategies are clear, focused, and laser targeted. Shortly after the event I created a blog with tons of valuable content, flooded the internet with videos from the event, learned and implemented SEO to get on the 1st & 2nd page of Google, had a consistent flow of friend requests on facebook, developed a reputation as a video marketing expert. I now hold the secret weapon …
Cheeto Lee ( a.k.a. Chi-Tao Li )
---
Everett J Smith
Live The Dream 2010 was absolutely astonishing! It felt like I was at an event for the stars. It transformed me from the inside out because it gave me the FUEL to stay in this game for the long haul.  I was surrounded by so many success stories and people that made their dreams into realities. Each day was packed with so much value that I had to actually pack some away for a rainy day! LOL. The two biggest takeaways for me were:
1) Ms. Tracey Walker spoke of the concept of "Dribble, Pass, & Shoot".  It is a brilliant concept on her behalf and it made it clearer to me that I have to first take baby steps in the beginning before I can roll with the pros.
2) Mr. Jerry Clark demonstrated the concept of Internal Communication and how to challenge our belief systems in order to get to mastery.
There were plenty more, but these two were really powerful! I thank MLSP again for helping me to become a leader in this Industry!!
Sincerely,
Everett J Smith
---
Joannes "Joe" Hotagua
The biggest take away I got from the Live The Dream Event was getting to see how far MLSP has come and also knowing that I am part of a 1st class community.
Everything was done with the best attention to detail and it was really an amazing event. The award that I was given, was truly the best I have ever received in my entire life!
On top of that I was able to forge new relationships with other members and make deeper connections with those who I already knew. I want thank you guys again for being who you are and creating an amazing event and I am looking forward to next years event!
Joannes Hotagua
(Joannes is wearing his I (heart) MLSP t-shirt!) 🙂
---
Take these genuine messages from MLSP members to heart.  Stay connected to MLSP's training, build your relationships within this amazingly supportive community and be active with your business!  You are worth every minute you put into your marketing…we think so anyway.  MLSP is your platform to brand YOU.  Go for it!
Thank you to those who put forth the effort and submitted their best takeaways and those beautiful photos
As this event was a momentous occasion culminating the first two years in business, the Co-Founders of MLSP requested the presence of the best of the best to present the real life stories, beliefs, motivations and possibilities available to everyone. Take a first hand look at the speakers MLSP invited to present on stage for their first international event.
MIKE DILLARD
From waiting tables, to millionaire in less than 18 months, Mike Dillard is one of those rags to riches stories that are known to spring from network marketing, and his techniques have revolutionized the industry.
After struggling for over 6 years, going into debt, and even pawning his possessions just to eat, he finally "cracked the code" when he discovered the art and science of "Magnetic Sponsoring" which teaches anyone, in any company how to attract endless new prospects and customers to them, with credit card in hand.
Today, Mike is considered the industry's top authority on attraction marketing, internet marketing, and personal branding within the Network Marketing industry thanks to the ground-breaking strategies found in Magnetic Sponsoring and the MLM Traffic Formula course.
Over 500,000 entrepreneurs from over 65 countries have subscribed to his Video Boot Camp Newsletter, which he provides for free.
He is the #1 Distributor in his primary network marketing company, and personally sponsored 4 of the top 5 earners using his "Magnetic Sponsoring" techniques.
He has made over $11,000,000 and as much as #1.4 Million in less than 7 days.
On average he produces 500+ leads per day for free using the strategies taught in his infamous "MLM Traffic Formula Course".
He is the creator of the industry's largest social network and community, BetterNetworker.com.
His personal websites get more traffic than most Fortune 500 companies.
His ground-breaking course and lead generation system, "Magnetic Sponsoring", has been the #1 training course in the world since it's debut in 2005.
You can learn more about Mike and his personal life at www.MikeDillard.net.
DAEGAN SMITH
Daegan Smith is a NCAA division #1 wrestler and ex-bike courier from Washington, D.C. turned home business entrepreneur.  He's made millions online growing organizations with the push of a button at lightning speeds in all types of home businesses using the power of the internet.
His records include growing his first successful organization to 8,502+ in less than 2 years to recruiting 3,619 in 13 days, and having that duplicat into over 15,715 in the same time span.  He's known for his ability to generate up to 2,673 leads per day passively as a one man show.
Daegan created the internet's first "generic" but fully branded prospecting system called "Power Prospecting System," and now teaches home business entrepreneurs from his home in sunny Maui, Hawaii how to create exceptional results in their lives by applying Maximum Leverage to their businesses.
JERRY CLARK
Jerry Clark became a self-made millionaire while still in his 20's. Today, through his company Club Rhino, Inc., he conducts personal and professional development seminars around the world.
The topics covered range from peak performance training, effective communication strategies, and how to increase your productivity and profitability in your Direct Sales or Direct Marketing Business.
As a Peak Performance Coach, Entrepreneur, Author, Educator, and Professional Trainer, Jerry's training programs have impacted hundreds of thousand of people in over 35 countries World Wide representing dozens of Direct Sales companies.  Some of his students have gone on to produce 6 and 7 figure annual incomes as a result of Jerry's teachings.
Jerry has been described as amazing, delightful, empowering, magical, and unforgettable.  His ability to transform lives is truly and brilliant and unique.  Jerry has credited his own rags to riches story to dozens of people, who through their, audios, video, seminars and in some cases personal mentoring enabled him to go from poverty to prosperity, from survival to significance, literally from the inner city ghettos to the beaches of the World.
Jerry is the producer of over 100 of the most empowering audio programs available in the Direct Sales / Direct Marketing industry.  Many of which he is also the author, such as The Magic of Colors, Creating Magic, and The Magic of Influence.  Jerry's training products are currently being used by dozens of companies in over 35 countries worldwide.
Jerry recognizes that change occurs at the individual level, and he's committed to training others how to improve themselves by teaching peak performance strategies that get results.  Jerry has shared the stage with industry leaders such as Tony Robbins, Jim Rohn, Brian Tracy, Denis Waitley, Charlie "Tremendous" Jones, Les Brown, Robert Kiyosaki, Robert Allen, Florence Littauer, Mark Victor Hansen, and many others.  His articles have appeared in many publications such as Success Magazine, Money Maker's Monthly, Wealth Building Magazine, Working at Home Magazine, Networking Times, and many others.
Jerry is the Founder and Owner of several companies – including Club Rhino, AMG Business Group, Rhino University, and many more.
Jerry is a Certified Professional Coach, and he graduated Summa Cum Laude with a Bachelor's degree in Business Communications; has an MBA in Organizational Leadership, and is currently pursuing a PhD in Organizational Performance and Change.
If you want your business to grow, then be sure to allow Jerry to assist you in increasing your Productivity and Profitability…"Go, Go, Go!!!"
MJ DURKIN

Selling for twelve years at the kitchen table, M Durkin built one of the most profitable and record breaking water treatment dealerships in the country.  It was here that he refined his strategies on prospecting.  After selling his ten year old service business for $250,000, he started cold calling on corporations and small businesses to build a speaking and sales training business.
In 2005 after successfully training many Fortune 1000 companies, MJ Durkin was approached by several top distributors in a well known Network-Marketing company.  Impressed with his emphasis and strong message on prospecting, they encouraged him to write a book for their industry.  They provided the details about their industry and MJ combined his techniques with Network-Marketing and the book, Double Your Contacts, was born.  To date, over 97,000 copies of the book have been purchased by network-marketers all over the world.
MJ Durkin has been a keynote speaker and presenter for some of the world's largest sales organizations.  "North America's Prospecting Coach", is known for is irreverent, humorous speaking style, as well as his ability to connect with an audience and keep them engaged.
He is the author of four other book: Double Your Contacts: What Every Network-Marketer Need To Know About Making Contacts and Booking Appointments, Selling from the Heart: Weekly Visualizations, Inspiration and Strength for those that Sell, Own Your Home – Own Your Life!: Beat the Bankers and Credit Card companies at their Own Game and Retire Debt Free and Double Your Downline: Unlocking the Secrets of Network-Marketing Success.
TODD FALCONE
Todd brings well over a decade of in-the-field Direct Sales and Network Marketing experience to the table and candidly shares his insights, thoughts and strategies for those looking for peak performance in their Network Marketing and Direct Sales careers.
He is a multi-million dollar earner and has made his way to the top in four leading Network Marketing companies.  Mr. Falcone is a highly recognized trainer, personal coach and mentor to thousands of top-performing home business owners.  His stories, teachings and articles have been featured in several magazines including Six-Figure income, HBC (Home Business Connection), Zig Ziglar's book Network Marketing for Dummies, Conversations on Success, Networking Times, and dozen of other online publications.
He has shared the stage with Mark Victor Hansen, Jim Rohn, Les Brown and other top motivational speakers and trainers sharing his strategies for success.
Todd hosts a nationally recognized prospecting clinic and is the author of The Fearless Networker, a newsletter providing expert advice on success in Network Marketing.
His candid, in-your-face approach to teaching success principles has captured the attention of literally thousands and thousands of distributors worldwide who swear by his trainings and his "no-frills" approach to teaching success.  Todd is considered on of the hottest rising superstars in the training and developmental arena of network marketing.
CEDRICK HARRIS
Cedrick Harris started in the Direct Sales arena at the tender age of 15, and always had a passion for sales.  Having been successful in numerous sales and networking companies, Cedrick entered the Mortgage industry in 2001 where he led a team of loan officers to over 1 billion dollars in mortgage revenue in less than 18 months!
The success catapulted Cedrick to become the youngest President of Marketing for his former mortgage company in their 67 year history.  Cedrick is a known authority on the topics of Direct Sales, Prospecting, and Internet Marketing.  Every week Cedrick hosts a live prospecting call here 100's of people join to listen to his dynamic prospecting style.
If you want to learn how to become a master in Direct Sales & Internet Marketing, Cedrick has your road-map.
TRACEY WALKER
Tracey Walker is an expert internet Network Marketer and Coach.  In just a little over 2 years online, she has become a leading force in the MLM training industry and is a top recruiter and income earner in the #1 Attraction Marketing System on the planet for Network Marketers: MyLeadSystemPRO.
Prior to joining the home-based business arena, Tracey was a highly influential and successful real estate investor specializing in pre-foreclosures and negotiating short sales.  It was the downturn in the market that was the catalyst in her being exposed to and participating in the network marketing industry.
During her first years in MLM, Tracey was an offline presenter for her previous network marketing companies.  In this role, she not only led her own organization, but also trained the core team in Chicago of over 2000 distributors.  It was here where she honed in on coaching and training serious network marketers to be successful.
In the spring of 2008, Tracey turned her focus to building her business online and within 3 months, was offered a book deal where she was a featured co-author in The Power of Leadership Series.  This opportunity gave Tracey the ability to appear in print amongst the ranks of many New York Times best-selling authors such as Ivan Misner and Ben Gay III.
In October of 2008, Tracey was introduced to MyLeadSystemPRO.  Within 10 months, she became the #1 female producer and recruiter of all-time in the system and now holds an Executive Leadership role where she is responsible for coaching system members and ssisting the MLSP team determine the direction f the company/system.  As a direct result of the skills and training obtained from MLSP, Tracey utilized her internet marketing knowledge to personally enroll over 150 distributors in her network marketing company.
DAVID WOOD
David Wood got started in the Network Marketing industry in 2002, and went through YEARS of failure following advice of well meaning upline leaders who didn't have a clue.
In 2009, he ventured his new business out into the "land of the internet" with a marketing budget of less than $200, no expertise whatsoever, and nothing but a burned out $150 laptop without a web-cam that he bought off E-bay.  Within 90 days, he had his first week where he made more than $25,503.50 in less than 70 days, within six months he had sponsored more than 250 reps into his personal MLM company, and in under one year he became the #1 producer inside of MyLeadSystemPRO.
Since then, he's moved from Alaska to the beach in Costa Rica, has more money in the bank than he ever made previously in a year, still generates 100+ leaders per day on autopilot, and sponsors 2 people per day into his company, regardless of whether he picks up the phone.  His primary expertise is in moving people to take action, content marketing, and recruiting.  Quite frankly – you've got to see this guy, he's off the hook.
NICOLE COOPER
From broke and bankrupt to now living the American dream, Nicole S. Cooper has painted the picture of survival, drive and determination.  As a Realtor by trade, Nicole knows all too well what it's like to build a successful and flourishing business all to have the walls come crashing down and losing everything.
The turn of the economy would claim the winning title over what was once a thriving real estate and investment career.  With her back against the wall and bills mounting higher than a mountain, network marketing would serve as Plan B for Nicole in hopes of saving it all.  Unfortunately, the offline marketing techniques weren't doing enough to bring in an income to win the fight.  And with news of a baby on the way, decisions had to be made…and fast!
The road to recovery became more daunting as she found her and her family, homeless, on welfare and in no hopes of finding a job.  However, the Internet would serve as her saving grace as she curiously searched the keywords "make money online", opening Pandora's Box of the secret society of wealth building Internet marketers.  The one keyword search ultimately led Nicole to her mentor who introduced her to MLSP community, which was the turning point of her challenging story.
After 5 months of being in MLSP, Nicole went on to become a top earner in her company, earning over 5 figures per month, and building an organization of over 100,000 people in less than 10 months all while sitting on her couch!
Nicole has now mastered the secrets of social media and personal branding by using Attraction Marketing techniques.  Everyone that has attended her training has shared testimonials of a life changing experience as she breaks down the simple step by step methods of converting leads using free social media sites.
Nicole's mission is to encourage everyone to find their niche and their passions as she desires to teach them how to turn their passions into profits using Internet Marketing and Affiliate Marketing!
NORBERT ORLEWICZ
After 5 years and 6 companies making less than $200 per month in MLM, Norbert made over $250,000 in his first 12 months marketing online, using the strategies that are now available to anyone inside MLSP.  One of the top 5 earners in his company, Norbert personally sponsored 140 people in 18 months with an average of 50-100 leads per day.
Norbert's passion for sharing knowledge and assisting others to achieve freedom led to the creation of MyLeadSystemPRO in 2008, and quickly established MLSP as the premier internet marketing solution for network marketing distributors looking to use the internet to build their business.
Norbert is motivated by the hundreds of incredible stories that have come out of the MLSP community and is driven by the desire to inspire and teach people how to finally have success in their home based business.
In this photo Norbert is showcasing his first book written with MJ Durkin titled, Zero Rejection Prospecting: How to Avoid Rejection Using Online Strategies to Build a Massive Downline.
BRIAN FANALE
Brian has 5.5 years of internet marketing experience under his belt, but the first 3 years of his career were spent in zero profit because he was not branding himself.  After learning and implementing the secrets he's put inside of MyLeadSystemPRO, Brian's achieved a top earner position in 2 different companies, one of which he held the #2 position in a top tier-direct sales company, personally sponsored over 160 reps, has generated 150+ leads per day consistently, and his best month in the industry has been just under $100,000.
Brian couldn't be happier watching the MyLeadSystemPRO community take over the internet, which has become his true passion.  With literally hundreds of success stories across the globe and thousands more to create, MLSP has established itself as the dominant force it the network marketing arena.  Fanale truly cares about the success of his members and will do whatever it takes to ensure they succeed, and it clearly shows through the passion he's poured into MLSP.
And there it is.  MyLeadSystemPRO brought the attendees of the "Live the Dream" event the best speakers who have tried and true experiences.  Each speaker was unique in their own manner, methods and training.  Some of the speakers have made their ascent within MLSP and some have made it outside and came to speak as true alliances of great value to this industry.  Attendees were able to see how not only online but offline success can be achieved and hear firsthand from each speaker in the intimate breakout sessions immediately following the days' General Session.  MyLeadSystemPRO believes in providing their loyal member base a variety of training because after all, just like the variety of speaker styles, MLSP supports the growth and development of each individuals' unique brand.
Of course, to our speakers – THANK YOU for your amazing leadership, positivity and great spirit.