UPDATE: Steven & Lanacia Rachel have been members of the MLSP Executive Mastermind Team (EMT) for years now and have become an integral part of the MLSP Community. They have provided hours of training, created their own products in MLSP and have become experts at Facebook & Video marketing, particularly using Facebook Live. They are also regular contributors to our blog.
---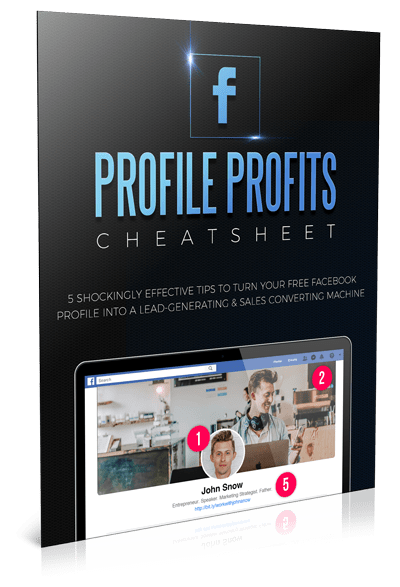 GET THE PROFILE PROFITS CHEATSHEET!
5 Tips to Turn Your Profile Into a Lead-Generating & Sales Converting Machine !
DOWNLOAD THE 6-PAGE PDF!
First, we want to say thanks to the entire MLSP staff for all that they do for us. MLSP has truly been an important part of our online business.
We are honored to be MLSP's featured member of the month for October 2013. Thank you for developing such an amazing system for people to use for achieving success.
It was about 2 years ago when we came across My Lead System Pro. My wife, Lanacia, and I had been part-time network marketers for years but never really had any major success. We started seeing certain individuals online that were earning HUGE amounts of income with their MLM businesses just using the Internet alone. That really intrigued us, so we started studying their strategies.
Through our research we found that many were apart of this system called MLSP. When we visited the website, we were so impressed with the level of training, tools and motivation MLSP provided. We just had to members!
What we discovered after attending various training webinars and watching countless recorded training videos was that, we had been doing our businesses all-wrong.
Around June 2012, we made the decision to take massive action and start experimenting with several marketing strategies we learned from MLSP. Our goal was to get a handle on all the steps needed to move forward in a business we just started.
Several months later, we were both in a position to quit our jobs using the video marketing strategies MLSP taught us.
Since then, MLSP has taught us how to brand ourselves online, create our own products, generate 25-40+ leads a day and how to be effective leaders. We have also seen major results with everything we touch using the "Attraction Marketing" strategies MLSP teaches.
It's been over a year now since we became full-time Internet marketers. It's truly been a blessing to have been able to generate over 12,000+ leads, and thousands of online sales.
Our passion is to continue to support, motivate and inspire others wanting to achieve their dreams.
A HUGE Thank You goes out to our TEAM whom we are extremely grateful for and we'll continue to help you with achieving all your Dreams & Goals. We believe in you…
We also want to thank Brian, Norbert, Todd, the entire MLSP staff and everyone behind the scenes. MLSP Rocks!!!
Steven & Lanacia Rachel