TOP EARNER SECRETS REVEALED5 Simple but Critical Skills for Network Marketing Success
How close are you to network marketing success? How close are you to hitting your goals?
Many people are failing at their network marketing business, also known as multi-level marketing (MLM) due to outdated antiquated training, myths and misunderstandings.
Answer these two questions:
Are you getting fresh prospects and leads to talk to every single day
Are you then turning those prospects into sales and sign-ups for YOUR business?
If not, let's you and I change that up today… forever.
I think you'll agree with us that achieving success in network marketing isn't easy (even though you may have been told that...) But, here's the good news (and YES, there's hope)…
If you're struggling with attaining network marketing success, OR maybe you're already succeeding and you want the next level... we have pinpointed the 5 Key Skills ALL top earners in the network marketing profession develop.
These 5 skills will help you get more interested people to talk to about your business on a daily basis, and help you close them into customers and reps fast.
Which is exactly what you're going to get in today's exciting training.
Let's dive in to Chapter 1 now...
NOTE: We've included 4 BONUS chapters in this training to help you ensure success in your network marketing business!
CHAPTER 1The 5 Key Skills to Create Network Marketing Success
5 KEY SKILLS FOR NETWORK MARKETING SUCCESS: CONTENTS
Key Skill #1: Audience Growth
There's a reason this is skill #1. If you're not growing your audience of interested, fresh people to talk to every single day… then you're in trouble.
Building an Audience is the first critical part of the BUILD-ENGAGE-SELL MLSP Framework (B-E-S!)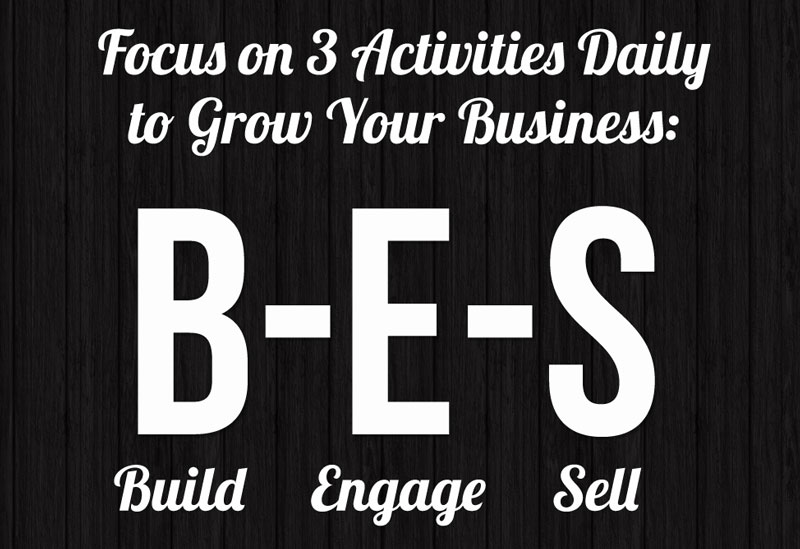 Building your audience is crucial to every other skill that we'll talk about. In a nutshell, when you consistently build an audience, you'll never run out of people to talk to about your business.
Do you have an audience? Are your daily actions focused on adding to and growing that targeted audience every single day, week, and month? How much are you wanting to grow for example your 'Facebook' audience on a weekly basis… 5%? 7%? 10%? Do you even know? Are you tracking it your audience growth?
Where to Build Your Audience:
We've split this up into two separate categories…
Your Primary Audience:
90% of the people seeing success in the industry and within the MLSP leadership ecosystem are building their audience on the primary platforms below...
Facebook Profile
Facebook Business Page
Facebook Group
Facebook Custom Audiences (Paid Ad platform)
E-mail
ManyChat (Facebook list)
Secondary Audiences:
(we highly recommend you focus on building your PRIMARY Audiences above FIRST)
Instagram
Twitter
YouTube
LinkedIn
Snapchat
iTunes, Soundcloud, etc
To keep it super simple the majority of top earners creating network marketing success are building 2 main audiences: their Facebook Audience and e-mail subscriber list (list of customers and prospects).
---
NOTE: For those of you looking to build your audience on Facebook, we have a great companion article with step by step instructions on how to prospect and build an audience on Facebook!
COMPANION VIDEOMLSP Co-Founder and $8-Figure Earner Norbert Orlewicz Explains Everything You Need to Know About Building an Audience in the short Video Below!
How To Build a 6-Figure Residual Income in Your MLM
ON-DEMAND TRAINING & BONUS MP3 DOWNLOAD: The 17 Irrefutable Laws He Used to Build a 6-Figure Residual Income in YOUR Company, and Set Your Family Financially Free.
Key Skill #2: Creating Engaging Content
Your ability to create (or share) valuable content that will make your audience engage with you is going to be a key in growing your business!
This is where you start using our proven Attraction Marketing principles to grow a thriving, successful business where you ATTRACT people into your business via of the value you're creating for them.
The beautiful thing is that it doesn't matter if you're creating the content yourself, or just sharing it. Eventually you'll want a good mix of created vs. curated content, and either way you will begin to create the know, love, and trust factor with your audience.
What Types of Engaging Content Can You Create and Share?
Videos
Engaging curiosity / story posts
Emails
Comments / Engaging on Other Relevant Content
E-books
Trainings
How Engaging is YOUR Content?
When you create content do people engage with you? If not, then you'll want to work on mastering this skill immediately.
All leaders in the network marketing profession have developed this skill of 'creating engaging content,' and if you want top earner results it means you MUST start developing this skill as well!
WHAT TO DO NOW: Choose your 3 favorite types of content from the list above, and get good at creating (and sharing) VALUE for your audience on a daily, consistent basis through those 3 mediums.
Key Skill #3: Communication
These 5 skills tie into each other to to build a solid foundation for the future growth of your business.
You create an audience, and then you engage with that audience through producing (or sharing) valuable content... and now it's time to communicate with your tribe!
This is your ability to communicate effectively with one-to-many (webinars, zoom, teleconferences, etc.), or one-on-one (phone, Facebook messenger, skype, etc.)!
Communication is key to growing a successful home business because people join people.
People will want to do business with you because of the relationship you have built with them, and the trust you have earned from them… Both the relationship and trust will flourish as you create more and more and better and better content that solves their specific problems.

But it goes further than that.
Communication also is your ability to spell out plainly the benefits that they'll get from working with YOU, or investing in your product, service, or opportunity.
Your role as the communicator is to paint the picture of WHY you are the go-to guy or gal.. why they should join YOU.
What will THEY get out of the deal? What will THEY receive as a benefit of partnering up with YOU? It's a matter of telling your story, and more importantly telling the story of the beautiful future that will unfold should they decide to lock arms with you in business!
Types of Communication
Conversation (1-on-1)
Facebook LIVE
Speaking
Webinars
Video
Copywriting
Don't worry. You don't have to be an expert on all of these communication types to start creating network marketing success…
But you do have become effective in at least ONE of them. And as you improve your skills in one of the types of communication above, it will have a ripple effect and improve all of them.
For instance, learning copywriting will make you better at ALL of the others because you learn how to construct a message to get a prospect's attention, create interest and desire, elicit emotions, and ask for (and get) the sell.
For example, a better speaker will do better with video, Facebook LIVES, webinars, and of course one-on-one. Get better at one communication type, and all of your communication will improve.
COMPANION VIDEOWatch the Video Below to Learn More About Skills #2 and #3...And Find Out How to Effectively Engage and Communicate With Your Audience Today!
FINALLY Unlock the 3-Step 'Top Earner Framework,' and Learn How to Get Fresh Leads, Sales & Sign-Ups in YOUR Business (in the next 24 hours) Leveraging the Power of the Internet..
Key Skill #4: Conversion
Your ability to convert leads into buyers is EVERYTHING… it's where the money is made in your business, and where the fruit of your labor of building and engaging with your audience starts to fill your bank account.
Many clam up when it comes time to ask for the sale, which keeps most home business owners flat broke.
Fear and doubt kick in, your self-worth gets questioned, and you shut down. If you've ever asked yourself, "Why would anybody join me!?" and you don't know the answer… this could be the reason why you're struggling to make sales and grow your business.
You must get clear on why you started your business in the first place. Was it to start a hobby, or are your goals to build a network marketing business that can give you and your family the freedom to live on your terms? To Live YOUR Dream?
The only way to make that happen is to get people to give you money for the value that you provide them. (some conversion tips forthcoming in the video below in just a second)...
Key Skill #5: Tenacity
This is your ability to remain CONSISTENT and PERSISTENT no matter what.
A great example of this is simply look to our awesome mascot Baxter, the MLSP Honey Badger.
Honey Badgers are fierce, and they don't give up even in the face of great danger, risk, stress, or fear… Where most other animals (and people) would give up, the fearless Honey Badger persists without exception.
This means even when you have set backs, and when life knocks you down, you've got to become the person who just gets up, period.
COMPANION VIDEOIn the Video Below Norbert Orlewicz Covers Vital Skills #4 and #5
You Now Know the 5 'Top Earner' Skills You Need to Be Focusing On for the Next 30, 60, 90 Days to Create Network Marketing Success!
These are the skills you need to be successful with your network marketing (MLM) business.
If you were to focus on building, improving, and developing these skills for the next 30, 60, and 90 days, you would be well on your way to creating the business of your dreams.
BONUS: CHAPTER 2The 3 Dangerous Beliefs That Kill Your Network Marketing Success
There are 3 specific beliefs that paralyze the majority of home business owners.
And we want to help you avoid these 3 deadly beliefs that will drag you down.
Of course it's up to YOU to recognize these limiting beliefs within yourself (and you will), and change your beliefs TODAY so they serve your VISION instead of destroy your dreams.
Dangerous Belief #1: "I Know This Already"
Are you an "I know this already" type of person?
Be careful to not fall into this trap. What we've seen working with tens of thousands of people at MLSP is that there is no secret to success.
It's not complex nor complicated. In fact it's very simple. And ironically THAT is where the danger lies.
So if YOU are saying "I know this already… let's just get to the good stuff!"...
Then we challenge you with the question: "If you know it already, why are you still struggling?"
Why are you not building, engaging, and selling every single day? "The good stuff" IS actually the simple stuff. For 99.9999% of home business owners it's not knowing what to do… it's doing what you know.
It's time you start EXECUTING some of the gold we are laying out in this blog post! Put this stuff into ACTION instead of just learning 'theory.' Then, and only then, can the results come!
---
Dangerous Belief #2: "I Just Need to Work Harder"
It's not about working harder, and grinding more. It's about working SMARTER and doing the right things right in your business.
Working hard is important especially if you're just getting started. But if you're already working "hard," and still not getting results…. chances are you are "grinding" and working "hard" on all the wrong things.
The ONLY things you should be working hard on are the highest income producing activities… and for network marketing professionals, that's talking to interested prospects!
The scary part is that if you feel, and you tell yourself "I just need to work harder"... the fact is you WILL work harder. However, you won't necessarily move forward. You must understand what specifically you must be working on to get results.
Define your highest income producing activities, get good at them, and you will get results.
---
Dangerous Belief #3: "I  Can't Afford Help"
This is a dangerous belief that also transforms into a "Catch-22". How many times have you thought about getting help, or finding a coach, and thought "Once I start making money, THEN I'll get coaching!"
You can probably see the problem here already.
If you're not doing well with your business, it's because you need help. How are you going to start getting wins if you don't know what you're doing wrong? And how are you going to figure out what you're doing wrong, if you don't get help?
---
SPECIAL –  Click Here to Find a Mentor that will Take YOUR Business to the Next Level!
---
The help / coaching comes first, and THEN the success comes. Not the other way around (unless you're ready to go through 5 to 7+ more years of struggle and pain.)
The truth is that you can't NOT afford help. And if you wait to get help, it will cost you wayyyy MORE money in the long run!
Types of Help You Can Get…
Courses
Training Webinars
Mentorship
Coaching
Membership Programs and Masterminds
Events
If you recognize any of the dangerous beliefs above in yourself, that's fine. Now that you are conscious of the dangerous beliefs, you can start moving forward with a new belief that is the antithesis of the old, limiting, dangerous belief that is keeping you stuck (and broke).
COMPANION VIDEOThe Video Below Will Go Over These Dangerous Beliefs In More Detail!
BONUS: CHAPTER 3The 3 Factors to Ensure Your Network Marketing Success
How to ensure that you create success THIS YEAR.
This is all about narrowing the gap between what you say you want, what you know you need to do, and actually DOING IT!
Success Factor #1: F.O.C.U.S.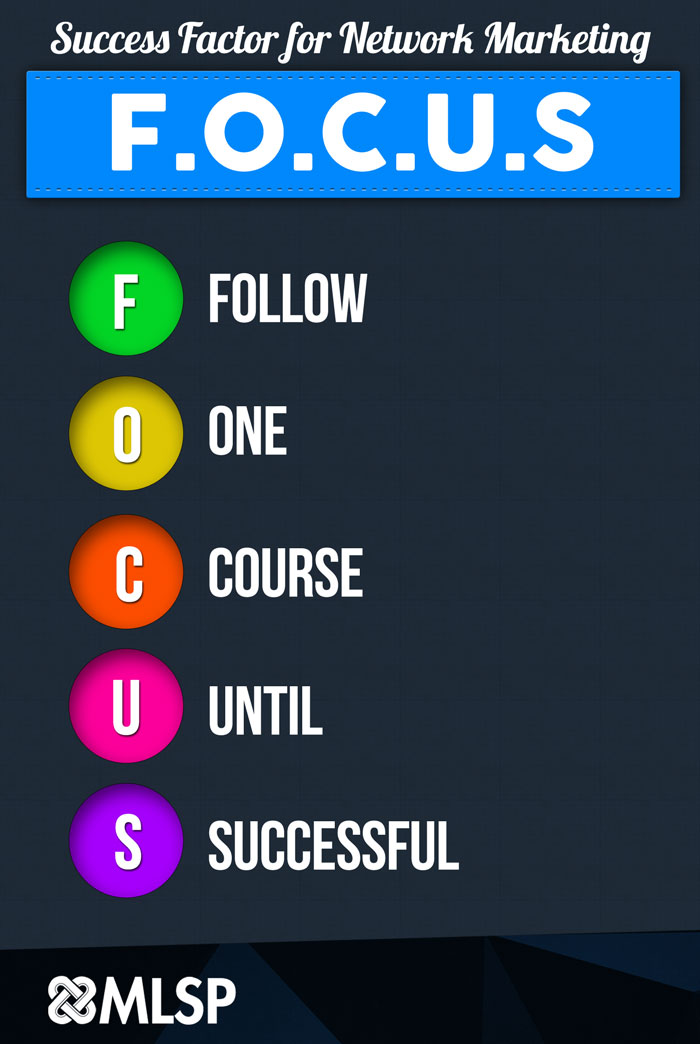 One thing that you hear nearly every leader inside MLSP say is "Pick one strategy and master it!" Why? Because info-overload will almost guarantee that your business will struggle.
Why overwhelm yourself when you can take one strategy, master it, and ride it? You can always add more strategies later. However there are some leaders who for instance start on Facebook, and do so well there, they never even have to add more strategies.
They build a business that earns them $6-Figures+ with ONE marketing strategy and never look back.
---
Success Factor #2: Feedback
As an entrepreneur, it's impossible to see your business from an outside perspective.
You're so busy working from the inside that the outside view looking in is blind. It doesn't matter who you are, or how great you are at what you do… not getting feedback along the way can cost you a fortune.
For instance, have you ever seen someone in your personal life… maybe a family member or friend who is struggling in an area, and they just can't seem to fix the problem? While you sit there scratching your head because it's so obvious what's wrong?
Feedback from an educated outside perspective helps put a spotlight on the strengths and weaknesses of your strategy
Here's one that's even simpler.
Ever have someone point out what should have been a blatantly obvious typo on something that you've written, that you had read over and over again, and just never saw it. You wonder "How the heck did I miss that?"
That's because you read it knowing what was supposed to be there so your mind simply filled in the blanks.
You do that with your business too! Which is why you need consistent feedback from someone outside your business from someone who has the results you are seeking.
Simply put, feedback from an educated outside perspective helps put a spotlight on the strengths and weaknesses of your strategy. It overrides our blinders!
This is actually where a partner or a coach comes in handy to take an objective look at your business, and see what you should eliminate so that you can get the best results!
---
SPECIAL –  Click Here to Find a Mentor that will Take YOUR Business to the Next Level!
---
Success Factor #3: Accountability
One of the biggest pitfalls of not having a boss, ironically, turns out to be not having a boss. Or more specifically not having someone to hold us accountable.
MLSP Co-Founder Norbert Orlewicz believes there are 2 forms of accountability.
Personal Internal Accountability and External Accountability.
Personal Internal Accountability is where we're accepting full responsibility for our behaviors, actions, habits, and results.
External Accountability is where we're being held accountable for the above by our peers, partners, coaches, and mentors.
Holding yourself accountable, or getting help from others to hold you accountable will most certainly ensure that you see results.
It will keep you consistent, and give you the push you need to step out of your comfort zone to do the things you need to do… even when you don't want to do them!
---
Who Wants a Super Effective Accountability Hack?
TRACKING is the hack that you can't argue with. It's emotionless, and 100% objective.
Numbers don't lie. Which is why a lot of people won't do it. Because not tracking allows you to pretend you're making progress in your business even when you're not.
The numbers will actually SHOW you if what you're doing is actually making an impact (versus just staying busy on Facebook or cleaning your office for the third time today).
What to Track in Your Business?
When we're tracking, we're tracking what's called our Key Performance Indicators (KPI)!
There are many things you could track, but let's face it...tracking is already confusing and daunting enough. So let's break it down to just a few things you could start tracking TODAY to become the most effective, and get the biggest results!...
Audience Growth -- How much did your audience grow over the past 30 days?
Engagement -- How much engagement did your content receive over the past 30 days?
Lead Generation -- How many leads did you generate over the past 30 days?
Sales Conversions -- How many sales have you generated over the past 30 days?
Tracking is the one thing that will allow you to always know what you need to fix, and what you need to be doing MORE of...And again, the numbers do not lie!
COMPANION VIDEOThe Video Below Will Go Over These Dangerous Beliefs In More Detail!
BONUS: CHAPTER 4Fundamental Principles for Building Your Network Marketing Business Online
A special note from MLSP Co-Founder Norbert Orlewicz
As marketers we get distracted and overwhelmed by all the different marketing tactics, strategies, gimmicks, tools, plug-ins. We start to lose our focus on what's really important.
I like to train on getting back to fundamentals because I understand how important fundamentals are.
They're much more important than any of the other tactics or tools that you can put on top of the fundamentals.
If you are getting started in network marketing, or if you've been in the industry and just can't seem to find success, you need to learn the fundamentals.
If you're not making money in your business it's because you're missing some of the fundamental skills. It's not because you don't understand wordpress, it's not because you don't know how to market on facebook, it's not because you don't have all the latest plug-ins or that your blog doesn't look top notch.
If you're not making money in your business it's because you're missing some of the fundamental skills. That's what you need to think about and where you need to focus all your energy right now. Then when you have your foundations in place you can start adding all the tools to multiply your results.
Principle #1 - Your Value
---
Principle #2 - Learning Direct Response Marketing Fundamentals
When I discovered direct response marketing I started learning from Dan Kennedy.
Think about this when you're on the phone with a prospect, when you're making a video, writing an article, when you're creating a sales page, when you're creating content, putting a blog together…you need to learn these rules:
---
Principle #3 - Communication and Sales Skills
You need to have strong communication, sales, presentation skills and the ability to influence people.
How strong are your communication skills right now? Have you mastered this? If not, this is what you need to work on. It doesn't matter how much traffic you get... there are those in network marketing companies who have tons and tons of leads but they're not the top recruiters in said company. Why? Converting people into sales – that's what counts.
This means you understand how to build rapport with your prospect. It applies to all mediums you're using to communicate: in person, in video, in meetings, on stage, on a webinar, and sales videos.
The medium doesn't matter because once you master the skill you can use any medium you choose.
This is why people struggle – they think if they work on the medium they're going to get the results. That's not true – develop the fundamentals first then figure out the medium you're going to use. I
Here are the important aspects of strong communication skills:
---
Have you nailed these things? Have you mastered them? These are the things you need to focus on. These are the things that are going to make you big money. You want to be like the leaders in this industry? You want to be a successful entrepreneur? These are the things you need to focus on.
Value, Direct Response and Communications. These are the big secrets I've revealed to you – the big breakthroughs that I've had in my business.
These are the big secrets that are going to give you success and that are responsible for success for the majority of entrepreneurs and top producers that you know in this industry. These are the skills. Develop these skills and then it doesn't matter what medium you choose to use.
Hope you apply this in your business moving forward today and really start focusing on the fundamentals.
Don't get lost in the information overload and all the techniques and tactics and strategies. All that is are great – you need to have those things.
You want to have more leads you can handle, you want more traffic to your website – all are great but don't lose sight that these fundamental principles are the skills that you need to develop and those other things will not replace these skills.
SPECIAL BONUSBusiness Accountability Test: 8 Questions to Take a Serious Look At YOUR Business!
It's time to get REAL. And as you've just seen, there's no better way to get real than to become accountable and track your progress.
Luckily MLSP Co-Founder Norbert Orlewicz has created a simple 8 Question Accountability Test to help you discover where you're at in your business, and exactly where you need to start improving to realize quantum growth in YOUR business over the next 30 days.
Click Play Below and Watch As Norbert Takes You Through the Test So You Can Start Improving Your Business TODAY!
CONCLUSIONWhat Skills Do You Need to Improve to Take Your Business to the Next Level THIS YEAR?
You now know the skills, the beliefs, and the success factors of an $8-Figure Earner in our profession… Orlewicz has helped thousands of people change their businesses, and their lives.
Creating real success means recognizing what to improve upon, and figuring out how to improve upon it as quickly as humanly possible.
If you took the test above then you know exactly where YOU are lacking, and where you need help.
It's now up to you to do what's necessary to become proficient and effective in these 5 critical 'top earner' skill-sets. There's plenty of training in the MLSP back-office to get you there.
Of course your other choice is to take the PROVEN Shortcut… And get help from someone who has what you want, who will tell you exactly where you need to improve, and show you exactly what actions you need to take to crush it in YOUR network marketing business!
---
P.S. –  Click Here to Find the Mentor that will Take YOUR Business to the Next Level!
Got value from this post? Then we would LOVE for you to comment below and share on FaceBook… Research has shown that as you share this MLSP blog post & comment below, the universe will bring amazing things to your life.  
ACKNOWLEDGEMENT: We want to acknowledge and honor our dear friend and Co-Founder Norbert Orlewicz for providing the video trainings above so that we could serve YOU, our beloved audience. Orlewicz is one of the sharpest marketing minds in the business, and is a true business & marketing genius.
MLSP has been providing entrepreneurs with innovative solutions, tools, and trainings to brand you and take your business to the next level since 2008