MyLeadSystemPro's Annual Mastermind Retreat changes lives. Sounds like a bold statement except for the fact that it's simply true.
The 2012 Annual Mastermind Retreat was held in Phoenix, Arizona. 15 MLSP members converged for 3 days to dig into internet marketing funnels, discover and create their unique selling proposition, understand their purpose behind why they're in their primary network marketing company, overcome fears, understand mindset principles, learn seo tricks, facebook strategy, persuasive copywriting, story telling, and most importantly see and experience, that first and foremost, MLSP is community.
---
The MLSP Mastermind Retreat began it's session with much anticipation. Attendees of the 2012 Retreat in Phoenix shared their excitement. Roxana Hannah and Michelle Pescosolido greet them as they come off the bus.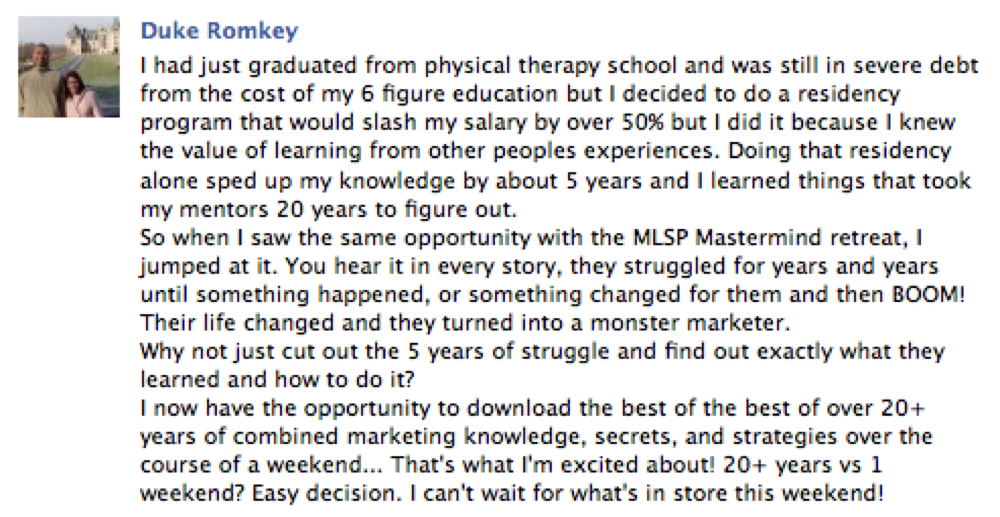 ---
The MLSP Mastermind are more than internet marketing strategy or lessons on prospecting. Albeit important topics that kept guests and speakers in the conference room til late hours of the night, the heart of the event where the true relationships and bonds are welded, happen during the mindset portion of the day.
Most come into a retreat focused on getting all their questions answered about their sales funnels, their brand, building a bigger better business and everything else under the internet network marketing sun. But because financial and business gains truly stem from a personal core strength, commitment and belief in self it's only natural the MLSP Mastermind Retreats begin with Mindset.
The mindset portion of the day begins with literally burning words on a piece of paper. Guests were encouraged to write down what holds them back, write down what they want to leave behind, write down anything and everything they do not want in their lives any longer. The process is heart-wrenching, raw and vivid. After each person burns their paper the sense in the room lightens up to reveal a new group of people who are connected by a mission to build a better life. The process is personal, the event marks the beginning of a common bond the guests watch and feel evolve.
After a calming, peaceful guided meditation led by Rob Fore, L5 Leader within MyLeadSystemPro, guests fascinatingly observe a mat of broken glass shards laid out before them. The mission is to simply remove thy shoes and socks and walk across the glass. Looking at the expressions of the guests one can almost hear them thinking…"You want me to walk across THAT?!"
One by one everyone does it. For some it's an exciting challenge, for some it brings up deep-seated issues or past experiences with broken glass. Usually, the last to go is the one with the biggest hurdle to overcome. Pictured just below in purple is Sylvia. Sylvia is a successful business coach from D.C. Walking across glass brought back painful childhood memories of growing up inner city cutting her feet repeatedly on glass. This exercise helped Sylvia cement the belief in herself and in her own coaching methodology. "If I'm on stage telling people how to overcome their fears", she said, "I have to be strong enough to overcome mine."
To see more images click here for MLSP's flickr page.
Walking on glass was only one part of the mindset / overcoming fears exercise. Next up was an exercise that completely threw guests for a heartpounding surprise. It was time to partner up and bend a 6′ piece of rebar with the ends of the rebar nestled up against the center of the neck.
After a demo by two who had completed the exercise before, MLSP Co-Founder Todd Schlomer and L5 Leader Rob Fore, everyone else got their turn. One, two, three, push and hug.
---
Marty McDonald: "I was freaking out about the rebar to the point where I was nauseous. I watched everyone do it at the start and I was concerned. At 15 I was just being a boy and was horsing around and got punched right in the throat instead of being punched in the arm which gave me about 6 minutes of pain and not being able to breathe very well and it was scary. That feeling of being punched in the throat has never left me 21 years later, nothing could be around my throat even ties bothered me, shirts were/are NEVER buttoned at the top because the little bit of pressure on or around my throat freaked me out and made me remember being punched in throat and not being able to breathe…. Seeing the Rebar and what we were going to do really FREAKED me out. At first I said no in my head not because I thought I was going to get hurt, I thought I was going to puke. then watching a few people choke a bit I was like no way. I was still ok with not doing it and didn't feel great about it but I really didn't want to puke on myself 🙂 towards the end I wanted to see it from a different angle and walked to the side. I watched James Fanale do it, and the look in his eyes of fear but a little bit of determination mixed in and then he just went for it, it gave me the confidence that hey everyone is probably a little scared, and since no one died yet, and I don't want to be the only one who didnt do it, so let's just go do it!. Honestly when I put the rebar on my throat, I am thinking this is nuts and I hope Chris doesn't back off! Once we pushed it bent easily and I felt nothing and it honestly was one of the easier things I have done. a side benefit it actually cured me of having something fly at my throat, I don't have that fear, NOT that I want to get hit in the throat again ;-)"
---
---
Chavella Kelly: "I was trying to figure out how on earth I was going to grasp the nerve to conquer this mission. I watch everyone go just as everyone else but the thought freaked out me. Walking on the glass was very scary but I managed to get it done. When I think back, walking on the glass was a piece of cake compared to bending the rebar. I think everyone conquered their personal fears to achieve both goals – showing commitment to building their brand and success."
Angel Alvaro:"Just the thought go walking over the broken glass scared me so much that I conditioned myself not to do it at all but after seeing people did it without being hurt before me, I decided that I could probably do it too and did it successfully.
When Rob Fore announce that we were going to bend a 6′ steel rebar using the softest part of our throat. "The first thing that came to mind was "no freakin' way it's doable especially for my petite size". Rob Fore said to commit 100% and move forward no matter what. I remember touching the rebar for a split second because of fear that I might hurt myself before Chavella and I proceed. I thought of my goal which is to empower women around the world and I know that focusing on it helped me do the activity so much easier.
After the incredible rebar bending experience, I had to shipped the steel rebar to remind me of what I can do when I commit and focus 100% and move forward during the times that I need inspiration… Meditation brings the best in us and helps us to do anything we need to overcome the struggles in front of us to succeed :)"
---
---
Michelle Melson Mock: I don't know if I was on a natural high from walking across the bed of broken glass, but I went into the rebar bending with no worries. I actually felt very serene during both activities. I don't know how to explain it, but I just knew Gina and I would end up giving each other a big hug, injury free, with a piece of bent rebar between us…
Maybe it was adrenaline. Maybe it was a trance-like state. The only time I felt like I was going to do something, no matter what, was when I went into precipitous labor and gave birth to my 4th kiddo with no epidural…
Master Yoda said, "Do or do not. There is no try." I just knew for all of us that it would be "Do. There is no do not. There is no try."

From that point on all guests could clearly see they were able to do anything they put their mind to. Sales funnel? Unique Selling Proposition? Prospecting? Piece of cake.
---
At the end of the event we ask the guests to tell us what MLSP is to them. We ask them to explain what they expected coming into the retreat and what they experienced coming out.
"MLSP to me is":
"Community"
"Dedicated"
"THE system to build a business"
"The whole enchilada"
"Help, support, training"
"More than just a system"
"I would have paid double"
Seems like a bold statement to say MyLeadSystemPro's Annual Mastermind Retreat changes lives but from the comments in this video…you can see for yourself that just after 3 short days of people working together, supporting each other's goals, listening and learning; everlasting bonds and alliances are solidified.