Happy Friday MLSP…
So here's the thing…
We have tons of leaders inside of MLSP who are killing it daily. Pulling in leads, living the lifestyle of their dreams. Never will have to worry about money again!
How awesome is that?
For instance L5 Mark Harbert just did a Webinar where he showed the ways that earned him 47K leads and $500K in commissions. That's a ton for sure!
Other leaders like Patricia Sweeney, Ray Higdon, April­Marie Tucker, Diane Hochman, Steven and Lanacia Rachel, and TONS MORE continuously pour out their strategies for us week in and week out! (We'd be here forever if we listed them all!)…
We love that those leaders show us everything they do here. Heck we absolutely need those leaders or there wouldn't be the Success Stories that you'll see in just a second below…
But sometimes…we also need to hear from those that are just getting started cranking out some success.
Those who are closer to where YOU are and breaking through right now. Who show that if you just take what's behind the curtain at MLSP, and apply it to your business… IT WORKS!!
Success leaves clues! Some of us need those clues to drop directly on our heads like a two ton brick falling out of the sky…Others need to follow the bread crumbs of clues.
We like to give you a little bit of both here on the MLSP Success Story Friday Blog so that YOU can start seeing results yourself as quickly as possible!…
As you read this week's success stories, read them with an investigative eye. What can you learn about the strategies they're using to get those results? (Hint: It's not hard to see, most just lay it out there)…
What can YOU do to start seeing the same results? ALL the answers are inside of where they got their clues. You guessed it MLSP!
Here's This Week's Success Stories…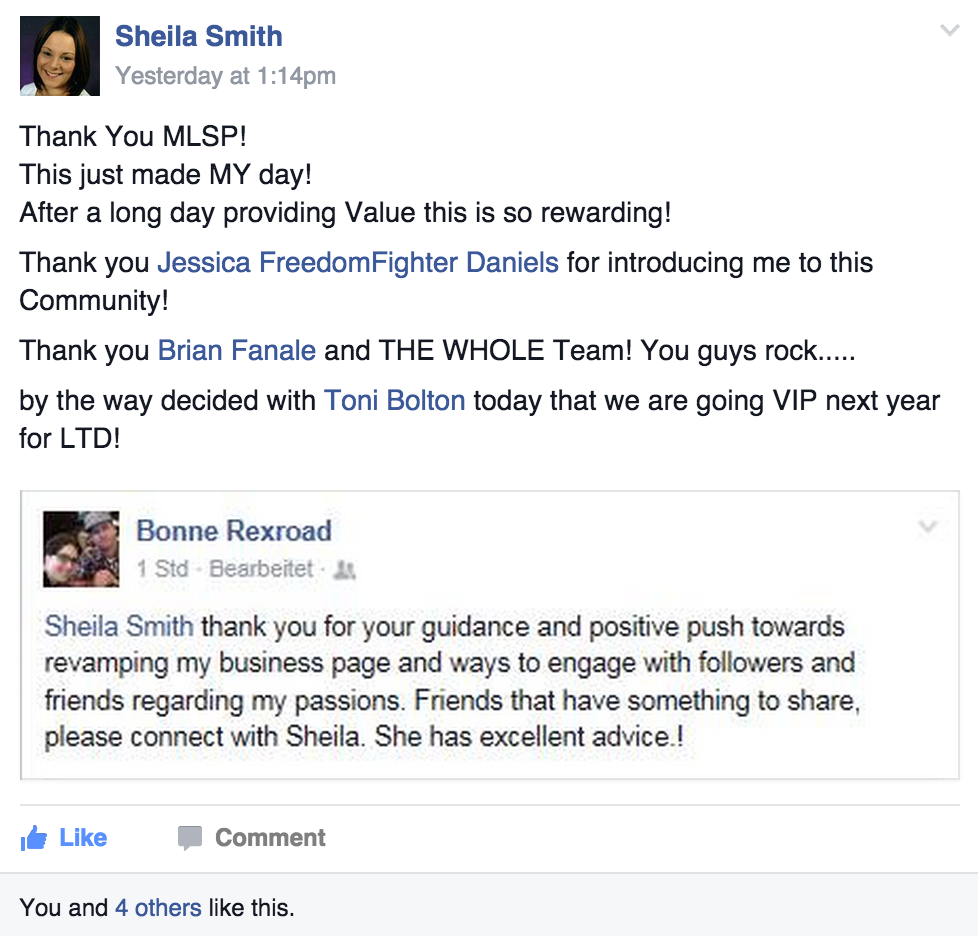 Did you get value from this post? If so, please comment below and like & share on Facebook. Research shows that good things happen to people who share this post. 🙂