Lisa Torres is proving the naysayers wrong  again this week inside MLSP's private community.
"Someone just told me you can't make a lot of money with MLSP. I just shrugged my shoulders and said "OK"…then giggled my way to my PayPal account to transfer funds to my bank account!"
Lisa is an absolute rock star and just more proof that attraction marketing and the MLSP Framework works!
Nice job again Lisa!
"I had 7 interested people coming to me for more information about online marketing and using this platform."
Roxana Paterson had some breakthrough results with her business this week!
"This is the first time I've had such a response after posting in a group and I wanted to share my excitement."
BOOM! Looks like she was using a strategy found right in the Fast Start section inside MLSP!
Great work Roxana!
Shoutout! June Collier, Congrats on MEMBER OF THE MONTH!"
June Collier is most certainly crushing it inside MLSP, and got a big shout out from the CEO Brian Fanale this week because of it.
It's not easy getting this honor of Member of the Month, and the competition of go-getters is fierce. Takes a ton of hard work and dedication!
You can see June's story front and center inside the MLSP Back-office now!
Shoutout! "Big huge congratulations on hitting L1"
Look at that. Netta Duvall has hit L1 leadership inside MLSP.
It's one of the most difficult ranks to hit in this organization because it takes stepping out of comfort zones, and learning and implementing new strategies!
Netta saw the challenge and took it on, and now look.
She got a big shoutout from Erin Birch because of it!
Congrats Netta! L2 on it's way!
"I found someone who was having issues in their network marketing business with generating leads, and used the 'System Campaigns" to help him out!"
Yes! Seth Pearson followed a technique taught in the MLSP training, took action, and now is getting results!
"I can't even begin to express my gratitude to this community and to this amazing training platform!! Always stick with it, and remember "You are getting better and better!"
True words!
Great work Seth. Congratulations!
"My first product had 9 sales in the first 2 days of LIGHT promotion!"
Well look at that! Angela Brooks discovered the power of the new MLSP Business Center! And looks like she's already seeing some amazing results because of it.
"FINALLY…I dug into the business center to see what it was all about – WHOA! No hype about it. You don't need a dozen other system for your business (and I have had them).
You have a have a media center for videos and uploads, a product builder, a membership builder, lessons and modules, integration. It took me a day to get all the things linked together the first time and NOW I get it. I literally added a new product in 30 mins."
And she killed it right away with 9 sales!
Great work Angela! Killin' it once again!
Shoutout! "Crushing all areas of her business and life"
Lindsay Sewell got a big shout out from her coach and MLSP Coaching superstar Steve Krivda this week.
Here's what Steve had to say…
"Lindsey Sewell has been crushing all areas of her business and life…Making a Real Life showing in the Higdon Network Marketing Reality show…Helping people on her team to rank advance and hit bonuses, Creating a $20,000 bonus in her business for April…and starting an incredible coaching business!"
Crushing it indeed!
Amazing stuff Lindsay!
Shoutout! She Hit L4!
Stacey Hall is doing it again. She now hit L4 inside MLSP.
She got a nice big shoutout from MLSP CEO Brian Fanale because of it!
"OMG Stacey Hall, did you just hit L4?!?!?! Just at the Level 1 Workshop you told me you were going to do this…I guess you weren't kidding!" 
Congrats Stacey. Awesome job!
Check Out All the Amazing Success Story Screenshots Below!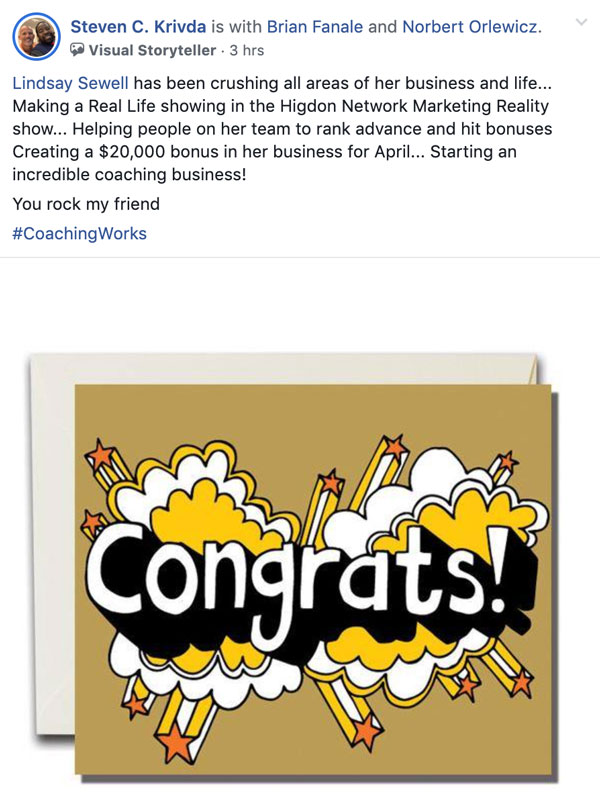 Got value from this post? Then we would LOVE for you to comment below and share on FaceBook…Research has shown that as you share this MLSP blog post & comment below, the universe will bring amazing things to your life. 😉