L6 Lisa Torres is a phenom.
All those accomplishments are a HUGE part of that. But what is so much more impressive is what happened for 18 years before that!
How many people persist for 18 years, in an industry where they made all of $20 in that entire time?
One did, and the above is just a part of what she's accomplished since those days of struggle. Since the breakthrough.
Remember, MLSP is a tool for building a home biz. Which means that while she earned $212K inside MLSP during those 2 years, she also built a multiple six-figure primary business.
Insane!
Something she says in her success post this week is pretty profound in Lisa's typical straight-forward way. You should read it over and over again:
"Those that play the game will WIN BIG…and those that don't, well…y'all can't just watch to see what happens from the sidelines."
Promise yourself you won't sit on the sidelines anymore. Go play and play hard!!
In case you're interested in seeing how Lisa's done all of the above, go check out the replay of her training this week, that you'll see created some pretty swift success stories inside our community! (while it's still available!)
==> Click Here to Watch Now for FREE!
"Something switched in my brain and I became a fighter this last 10 days and I literally had a 4 figure WEEK for the first time ever in my life"
So after a financial set-back Aly Ashton decided to fight. And it paid off big!
She had her first 4-Figure week, And learned something important about herself during the process.
We love this story because it shows you that you're capable of much more than you think.
Aly had to hit a bit of a bottom to find it. YOU can now learn from her and start pushing today like you've also hit a bottom. Only you don't have to!
She goes on to say "If only we can see into the future…
Nothing is permanent and keep the faith always!"
So proud to read this story Aly!
"Because of your awesome training I generated 52 leads yesterday!"
Bea Picou (What a great name!) was thanking the heck out of us.
And to that we say "Thank YOU!" Your post inside the MLSP Community this week inspired tons.
Great job Bea!
Massive Shoutout: Sunday – Wednesday = 71 Leads!!!
Mouni Azem got a nice shoutout from Steve C. Krivda this week inside the MLSP Private Community.
And rightly so because she's been doing some pretty massive stuff. Holy cow!
If 71 leads from Sunday to Wednesday wasn't enough, she also:
Enrolled 1 New Member

Has another 1 coming on

Is talking to people all over the world

Create a Community w/ a monthly fee

Creating a course for local peeps in Denmark

And some other awesome stuff that you can see in her SS post below!
She's killing it! Great work Mouni!!
"Just got my ticket for #LTD8 AND added the Monday training"
Lisbeth Graham has made a commitment and it's profound. Here's why:
"I'm sooooo nervous because I am goin on major faith. I know I NEED to be there and haven't booked my hotel or plane ticket cause I have to come up with that money.
But I know I'm supposed to be there so I'm trusting something is gonna happen to get me there!"
Few people in this world have the courage to do something that they truly want based on the faith that the pay-off will be greater than the struggle to do it.
Lisbeth has an edge on her competition. Her faith will serve her well FOREVER!
We can't wait to see you at 'Live the Dream 8' Lisbeth!
If you're reading this and would like to join her, Click Here for Your Spot!
"This Engagement Ad is going NUTS!!"
Member Alex Ford is at it again inside the community this week.
This dude's becoming a permanent fixture on the MLSP SSS Blog. But how do we deny a dude who keeps on killin' it? We can't!
Check out what's going on with his FB Engagement Ad:
"16% of the 61,500+ reach is paid, the rest is ORGANIC.

Engagement cost is coming in at 4 cents each..

And "Likes" are coming in at 48 cents each, since I started running this ad, and it's going to go down as I did a bunch of invites just now.

This is audience building on Steroids!"
Keep killin it Alex!
"In May of 2013 I joined MLSP and couldn't generate a lead to save my life online!…Fast forward to May of 2017″…
You'll want to see what's happened to Lisa Thompson just last month:
"I had my best month ever in my business"
Here's what she did…
Generated 893 leads…

10,595 views on her MLSP sites blog…

541 new people viewed her blog post in one day…

867 likes to her Fan Page…

Closing in on 8K blog comments…

Created 4 new income streams…
Sheesh!
We've loved watching this go-getter's growth inside our community. And she's always ready to help, and provide value to those people on their journey to greatness!
Thank you Lisa! We're watching a huge stride and love having front row seats for it!!
"Wow, I just bagged 3 new leads whilst dancing around the living room with little dude!"
Becky Jane Williams got a nice shoutout inside the community this week from fellow woman-of-action Nazreen Zaman!
3 leads is awesome, especially when you're dancing around to Ozzy!!
The author of this blog post agrees with you by the way… #Ozzyrocks!
That and she used "whilst"! (Hey, I'm a words guy!)
Great work. And keep pumping the Ozzy!
So Many Great Success Stories This Week.
The above isn't even all of them. This week's training with Lisa Torres was something to behold, and as you can see it got a lot of people results VERY quickly.
You'll want to go check out those stories below, and not sit on the sidelines! Go out there and get YOURS this week.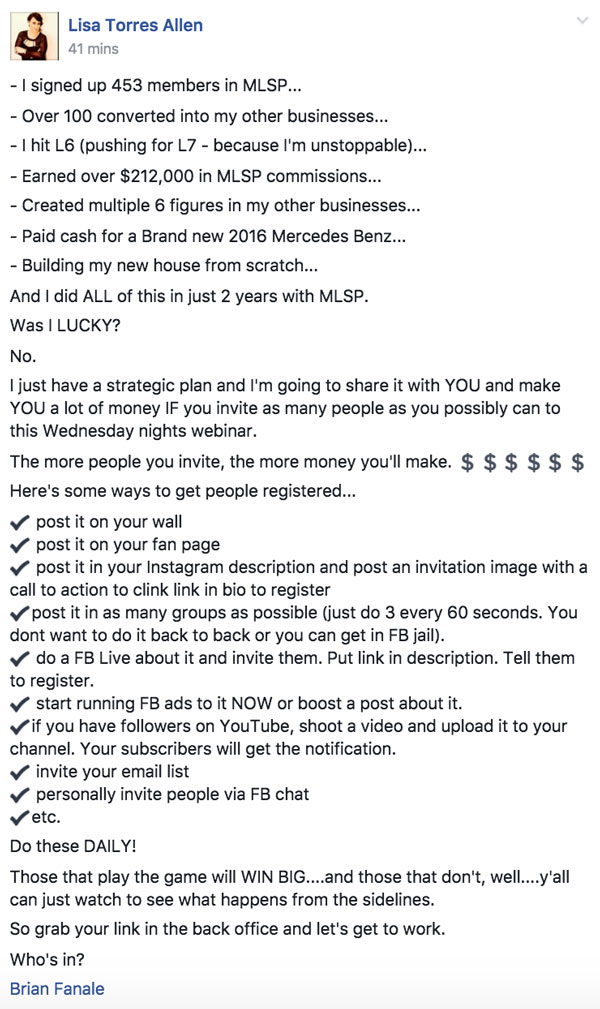 Got value from this post? Then we would LOVE for you to comment below and share on FaceBook…Research has shown that as you share this MLSP blog post & comment below, the universe will bring amazing things to your life. 😉