When an industry rock star like L5 Mark Harbert sticks a post on Facebook that talks about how he was able to pull in 54 leads and 8 sales, and then goes on to explain exactly what he's doing to make it happen… we all sit up and pay attention. (See that post in the success stories below)
This is one of the great things about Success Story Saturday.
You get to see 6 Figure Earners like Mark Harbert who have been killing it for a few years, plus you get to see those bringing in their very first leads like SarahW K Miring'u.
Some are scoring their first leads from a particular medium like Carla Leonna Rickard did on Instagram…
You get to not only learn how they're doing it, but you also get to see how excited they still get when they have these successes!
It never gets old.
If you're waiting for YOUR successes to come, there's one thing that all of the members we feature have in common. Persistence. They don't stop when things get rough, they keep on keepin' on.
That's what it takes.
We are providing the training and the tools for you to make it happen.
And when someone like Jelena Ostrovska realizes that one of her blog posts was shared over 13K times, or when she does a FB live stream and 745 people watch it… you better believe there were certain obstacles that she had to burst through to get to that point.
YOU will get there. Go check out the success stories below. See what golden nuggets you can pull out that YOU can use!
Check Them Out Below…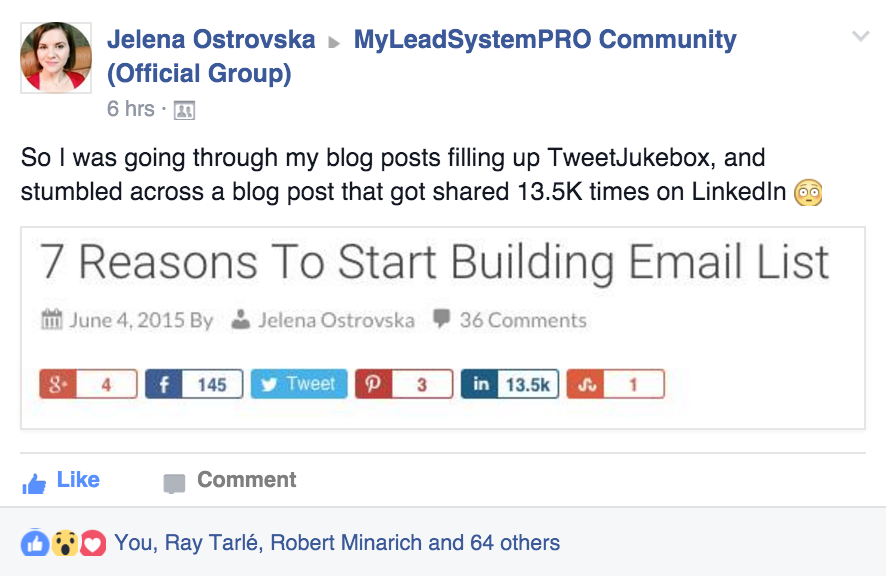 Got value from this post? Then we would LOVE for you to comment below and share on FaceBook…Research has shown that as you share this MLSP blog post & comment below, the universe will bring amazing things to your life.