"I've Been With MLSP for a Little Over a Month. I've Had Over 60 Online Leads…and 4 People Have Joined My Network Marketing Company!"
Susan Lehto Chung has had quite the first month.
60 Online Leads
Completed a 5 Day Challenge
Is in the midst of a 10-day Bootcamp
And 4 Sign-Ups to her primary company!
Sheesh! We've got another action taker on our hands here at MLSP and we love it!
"I want to encourage anyone who is new to take action and you will get results… Not [yet] where I want to be, but I'm moving toward my goals."
Keep going, Susan! Impressive and Inspiring!
Shoutout! "Congratulations…for receiving his first commission in his online business after trying 10 years."
Louganis Take Sunia just got a nice shout out this week from Candace Bui-Walston, and he absolutely deserved it!
"Louganis was shy 4 months ago and had no idea where to start with this online business thing. He knew MLSP was the answer to his struggle."
Looks like it was by the looks at the $100 commission notice that came his way!
Nice work, Louganis. You've just turned a corner in your online business. Plenty more where that came through.
---
Been Struggling With Your Home Biz for Years? 
Is MLSP the Solution You've Been Looking For All Along?
This Review Will Help You Answer That Question ==> Click Here Now!
---
The GOOD Reason Why He Couldn't Process His Payment from MLSP?
Todd Getts received an error processing his MLSP payment, but for very good reason.
The message he got from PayQuicker when he tried processing?
"You cannot process transaction for the following reason: Exceeds recipients maximum balance!"
When you've earned too much commission to process it into your bank, it's a darn good problem to have!
"WOAH! 17 new leads in 2 days!"
Jean-Serge Gagnon is at it again here on 'Success Story Saturday' Blog!
How'd he get those 17 leads in such a short period of time?
"This Messenger stuff is for real! I implemented the ad shown in the 20 minute video and 14 page PDF, and I went from 35 leads to 52 leads in 2 days!"
Have you set up ManyChat or a FB ad with messenger as the target for your business?
Great job for implementing what you've learned once again, Jean-Serge!!!
"One year with MLSP, I ranked 3 times, and I actually brought in 5 people in less than 2 weeks."
Candace Bui-Walston has had a good year. But the first 2 years of running her business wasn't nearly as good as this one has been!
"2 years of network marketing businesses, I had never recruited anyone."
And that's okay because my how things have changed! And now she's finding herself with something new to get used to – achieving network marketing success:
"I don't think I will ever get used to being on the leader board. I always get so excited when I see my name on it. Especially when my name is on one of the top 5 positions."
Might as well start getting used to it Candace! 🙂
Shoutout! "She has gotten 5 new sign ups in her network marketing business!!"
Starr Davis Ferguson looks like she's living up to her name! This chick is a star!
So much so that Ashley E. Greencorn had to give her a big shoutout this week, and rightly so.
Here's what's really cool: "She started with the $10 trial and implemented what was taught through a training on FB ads. She has got 5 new signups in her network marketing business!!!"
Starr took massive action in her first 10 days and she's already killin' it!
Great job. We're watching!
"There is a post I made several days ago…that now has surpassed 10,300 views"
Even better…she only posted that article 3 days ago!
Pretty insane what Colleen Burns has going on with her business!
"Holy smokes, Batman! This has been an AMAZING, INCREDIBLE week for me!"
She Got Her VERY 1st Lead During a Hurricane!
Kelli Hunt was out of touch during the Texas hurricane… but that didn't stop her first lead from coming through while she was away.
What a cool surprise after such a stressful and tragic event.
Great work!
"I did what Bert said and got 100's and 100's of likes overnight. I now have over 6,000!"
So Susan Maghrabi did something most people refuse to do for some reason. She attended the workshop at 'Live the Dream 8', and then implemented what Bert Bledsoe told her to do during that worksop.
And as you can see, the results speak for themselves.
Here's Susan's advice that you should follow during the next training you attend:
Go to live events where you can
Implement and do it quickly
Let speakers know you followed their advice
Enjoy the wins!
Pretty simple huh? Will you do it?
"I am bursting with gratitude right now. I just can't hold it in!"
Robin Smith hit L3, and she's full of gratitude for one of the best (and rewarding) reasons there are.
"It's not that title, it's that I've helped THAT many people get results in their business, find new HOPE and self-belief, know that it's OK to DREAM BIG because they can and will achieve whatever goals they set for themselves."
Read that again and again, because that's the secret.
Frustration comes when you focus on yourself, and changing YOUR life.
Yet if you just put that focus on seeing how many other people's lives you can change, you get the rewards anyway. It's an easier path, and it's a lot more fun!
Just ask Robin! Congrats on L3!!!
"NOBODY MOVE! I ACTUALLY just did something techy…ALONE!"
Well, Jennifer Lamb is chuffed yet again!
"Techy stuff" stops so many people dead in their tracks, but Jennifer proved this week that not only is it possible to get through the techy hiccups, but it's also pretty darned rewarding! (You may even get chuffed to bitty boos 😉 )
Jennifer shared this inside the Private MLSP Facebook Community for a cool reason: "Because I did it, and wanted to share that for those who get to the point where they say STUFF IT!"
Awesome win, Jennifer!
"Got my first $10 Trial in Auto Pilot"
John Perez is seeing results with his Bilingual ManyChat!
He took action and look what's happening. Great work, sir!
Shoutout! "We have had 51 new subscribers to our ManyChat!"
So Erin Nicole Bick wanted to send a shout out to her MLSP mentors and coaches, Antonio Thompson and Jesse Jameson!
Because those are the peeps who guided her and Brian Garcia on their way to all of these new ManyChat subscribers!
"Couldn't have asked for a better fit for our brand!"
Great job, you two!
"This little angel will never know what it's like to have parents working out of the house!"
If you're reading this, and you're wondering what the heck is going on inside MLSP to make all of these success stories happen each and every week…
==> Click Here for an Honest MLSP Review Now! <==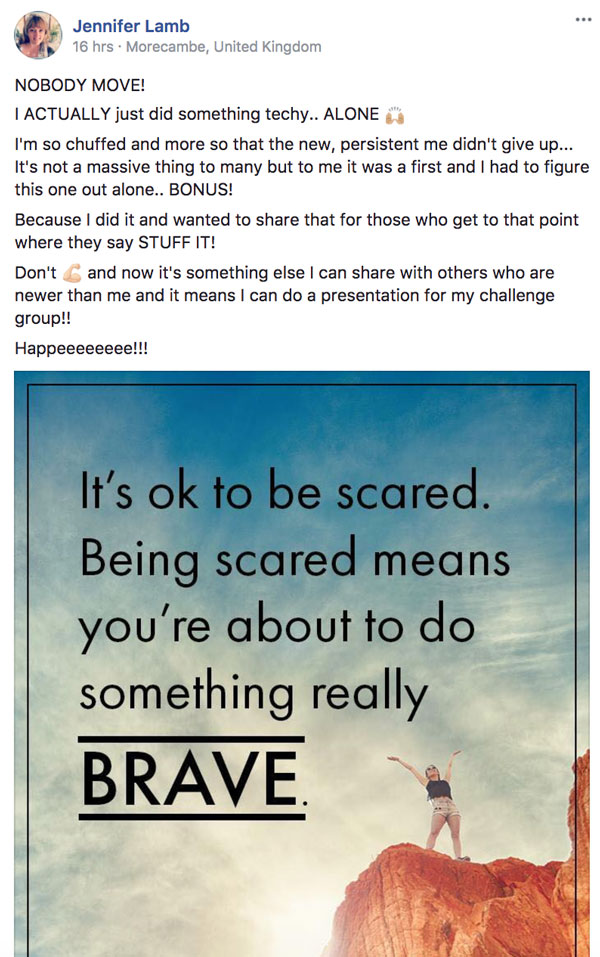 Got value from this post? Then we would LOVE for you to comment below and share on FaceBook…Research has shown that as you share this MLSP blog post & comment below, the universe will bring amazing things to your life. 😉