This was just inside of 36 hrs of Tina Maddox-Jones implementing just a few of the Triple Play PREVIEW lessons."
Whoa! She's knocking it out of the park this week with what she's learning in the Attraction Marketing Triple Play!
That's what happens when you follow the lead of the Queen of Attraction Marketing!"
Great work Tina!
"I have been able to to generate leads on a daily basis, which I have not been able to do before!"
Susan L Fisher has been following Diane Hochman's lead in her Attraction Marketing Triple Play and getting DAILY results!
"Since I started working with her, I finally have an understanding as to why we are doing some of the thing we do…I cannot think Diane enough for providing me with the understanding and simple steps that heave allowed me to be able to generate leads everyday!"
MLSP CEO Brian Fanale was so impressed he actually gave Susan a big shoutout inside the MLSP Community this week.
"I was able to generate two free leads within just the past hour."
BOOM! 2 leads within an hour is pretty insane. Especially when tons of people struggle to get two leads in a week…or even a month.
It's exactly what Kelly DeStefano was able to do this week, also following Diane Hochman's AM Triple Play!
Kelly also got a big shoutout from MLSP's head honcho Brian Fanale this week!
Great job Kelly!
Shoutout! "This week she signed up 3 people in her business. WOOT!!"
Ennie Gonzaga found herself with a big shoutout from MLSP superstar and coach Steve Krivda this week.
She's been taking action, and her coach is noticing big time!
Keep up the awesome work Ennie!
"One of my biggest clients yet…wants to hire me in charge of his marketing department"
We've watched the growth of Candace Bui-Walston both inside the Private MLSP Community, as well as right here on the Success Story Saturday Blog!
She's having great success, and has realized that MLSP isn't just about the MLM industry…
"Think outside of the box, MLSP is more than just for MLM. All of those tools are great for traditional business too!"
They certainly are! Great work Candace!
Shoutout! "Meet Your New MLSP L5 Honey Badger Jen Johnson!"
When you get a shoutout from the Queen of Attraction Marketing, you know you're doing something right!
That's exactly what our newest L5 Jen Johnson got this week. She's become a master of attraction marketing herself, and her results are showing it BIG TIME!!
HUGE congrats to Jen! She's been killing it in this industry, and so countless people have benefited from her selfless giving!!
"After watching the "Star Up" videos [in the MLSP Back Office] I now have 3 prospects!"
Timi Akinyemi is another brand new member who is quickly seeing results here at MLSP.
The key is action, and Timi dove head first into taking it!
Great work!
"I got my 1st lead after just 3 DAYS!!"
Desiree Victory has the perfect name, because it's what she's seen this week…and we have a feeling will be seeing a lot of in the future.
VICTORY!!
She's brand new and already getting results!
Awesome job Desiree and welcome!
"Just in the last few months I've been able to truly not give a flying crap what people think of me, or what I'm doing to support my family, or how I choose to impact the world!"
BOOM! You're going to want to read every single word of Angie Frontera's Success Story post below.
It's long, and it's going to show you what others go through in their mind on their way to success.
However the line above (about not giving a flying crap of what others think) is one of the most important lines…and one of the most important things for you to take away.
Angie has already won half the battle by coming to that point.
And the way she's been killing here at MLSP, we know she's on her way to winning the rest of the battle…and on her way to the freedom that she's after!
Thanks for your amazing post Angie!
"Since getting access to the training I have had about 8 leads. I am so excited!"
New Member Carla Gibson should be excited.
She's doing things right, and getting results for her business. Now that she knows what to do, she just has to keep it up, and stack on top of it.
Great work Carla!
"I posted just a couple of hours ago on my personal page, and already have over 70 comments, and they aren't stopping!"
Rachel White is applying what she's been learning, and getting results.
She's learning that social media marketing is not only effective…but not as hard as you might think!
Nice job Rachel!
"I just want to share that I got my first lead yesterday after just two days with MLSP!"
Another member killing it. Dorian LeMieux is getting to work, and killing it!
Amazing work!
Check Out All the Amazing Success Stories from Just This Week Below!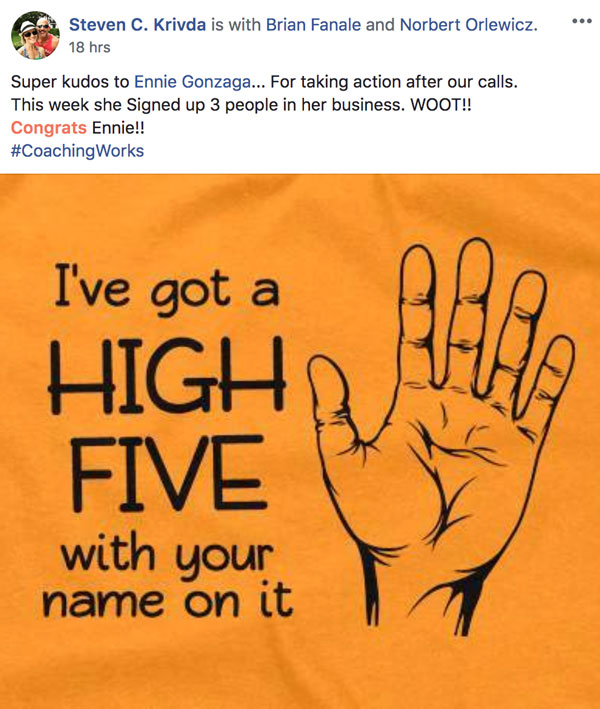 Got value from this post? Then we would LOVE for you to comment below and share on FaceBook…Research has shown that as you share this MLSP blog post & comment below, the universe will bring amazing things to your life. 😉