Todd Getts just did what 99% of the world dreams of doing.
He retired from his job, and now is home to work his home business full time.
"Being able to quit my job means so much more to me and my family than not just having to go to work anymore.
I has literally changed US, and in effect, changed my life, my wife's life, and my son's life forever in a way that I can't even put into words"
We highly recommend that when you get to the bottom of this post, you read every single word of Todd's post.
Let's face it. You're here, reading this post, because you want to achieve what Todd has just achieved. And like every other success story, there are clues that you can take and use!
However there is one part that's so important that we've got to share right here:
Todd says that there were moments when he wasn't making the progress that he thought he should be making.
"But in each of those moments, it wasn't the tools that helped us to make a breakthrough… it wasn't the training…it was THIS COMMUNITY that gave us exactly what we needed to keep pushing forward and make the changes we need to make."
Bottomline…you're going to hit some walls. Things will feel stagnant. And at those moments is when you'll need a community of people who believe in you the most. People who have achieved what you're trying to do. People who believe in YOUR dream because they've got the same one.
Congratulations Todd and Leah! You deserve I and we're so happy to see you living your dream!
"Just made thousands, and thousands, and thousands of dollars using the skills I learned in MLSP With NO Tangible Product"
It's amazing what Becky Thames was able to do.
But it's even more amazing if you pay close attention to the last part.
"With NO tangible product yet!"
That's huge! You may not have your own product yet, and you feel a bit stuck. But Becky proves in her success post that you don't even need it.
She goes on to say "Thanks MLSP!"
Guess who lets you piggy back off of other leader's products until you have your own? That's what MLSP does. That's why we started this company and it working for people is the greatest gift to us!
"Because of what I've learned in this community, and the income I've made both in MLSP and in other ventures…
Usually when someone starts their Success Story post with that, they're about to go into something pretty astonishing that will inspire the heck out of you!
Kay Somji is no exception this week. Check out what he was able to do for his mother!
"I was able to go and buy my mum a brand new oven, washing machine, dryer, and an elliptical trainer machine, in cash!"
He goes on to say something that might keep you up tonight:
"Now I'm able to do things like this for my family which is the whole reason why I started in the industry"
How many times have you wished you could do things like Kay was able to do?
If you've been wanting exactly this, do yourself a huge favor and go read Kay's entire post. It's inspiring because this is a guy who struggled for 6 years and now his dream is coming true.
"Just ranked twice this week in my MLM using PPC!"
Want to hit new ranks in YOUR MLM? Clint Booker did exactly that (TWICE) and he let us know inside the MLSP community this week.
Great work Clint! Keep going!
"That's now two weeks running I've had mad activity from promoting my own webinar"
Daz Baldwin was feeling grateful this week. And rightly so.
Check out all the lead notifications inside his success post inside the community this week.
Dude's on fire! Great work Daz!
7+ Weeks with a Serious Infection and "Off Grid" and Still Generating New Leads
Jennifer Susan Lamb says "This works!"
Ever wonder if residual income is real? If you can really earn even when YOU don't show up?
"I have still generated new leads from content already out there…while I slept and rested"
That answer your question?
He's Stepping Into Leadership Even Though a Year Ago…
Bobby Stephens says "A year ago, it sounded cool that I could be a leader and have influence in this industry, but I wasn't fully sold on that idea because it wasn't my past nor my present reality"
He wasn't fully believing it because of his reality. But he was patient and just kept "doing the drills".
Bobby goes on to say: "Well, today I was the guest trainer for a team of Australian entrepreneurs teaching them about branding!"
Guess his current reality at the time didn't meet his future reality of today. Good thing he kept plugging away regardless.
Great job Bobby!
3 Years Ago I Didn't Know What a Lead Was… Right Now It's the Middle of the Day and I Already Got 20 Leads"
How does a person who had to Google "lead" 3 years ago, go from that to now getting 20 leads a day.
Well we can tell you right now…and if you're inside the MLSP Private Community you already know…Jelena Ostrovska is a GO-GETTER!
And that's what she did. She went and started gettin' it!
She did the work. ACTION! Ever heard that from us before? (If not you should go back and read some old Success Story Saturday Posts!;)
Jelena goes on to say: "When people say this "thing" doesn't work, just means they're not doing the actual work to get the results"
Read that again, because it's what most people don't get!
Jelena gets it and she's not only been doing the work for herself, but part of the reason she's achieving as much as she is now is because she's been helping so many other people out in this industry, and inside the  MLSP community!
Her last sentence is for YOU if you're trying to build a home business: "The skill sets that we all learn here allow us to build whatever business we wanna build!!"
True story!
WHAT BUSINESS DO YOU WANT TO BUILD!
Go check out all the SSS posts from this week below, and get the clues on how to build YOUR business! They're there for FREE!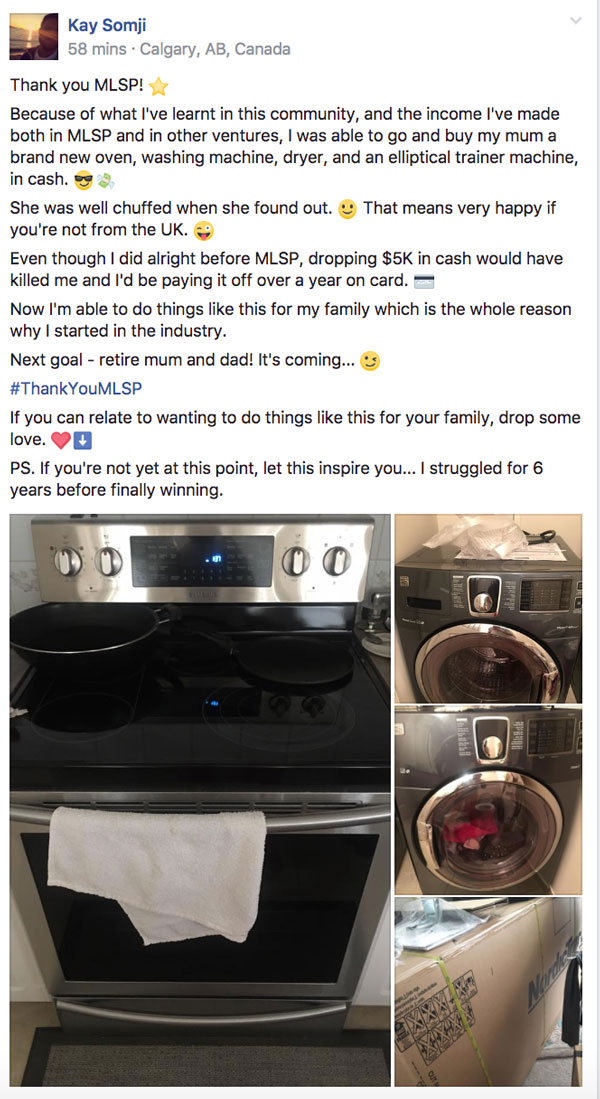 Got value from this post? Then we would LOVE for you to comment below and share on FaceBook…Research has shown that as you share this MLSP blog post & comment below, the universe will bring amazing things to your life. 😉