Whoa! Lisa Thompson is crushing it this week.
And all she did was follow a very simple bonus training that Diane Hochman put together for her latest project Execution Revolution!
What happened next? Lisa got a promotion explosion in her business!
Awesome stuff!
Shoutout! "Queen Christine Ruiz just made L2!!"
A shoutout to a queen, from a queen?
Christine Ruiz raced to L2 MLSP leadership level, after following Diane Hochman's Attraction Marketing Triple Play Training!
She therefore received a big shoutout from Diane inside the MLSP community!  
Here's what Christine had to say regarding L2 inside the community…
"It was my goal to reach it by 12/31/18, but reaching it 3 days later STILL felt/feels amazing! I truly have an attitude of gratitude  because my first time trying out MLSP — nothing happened. It's SUCH a difference when you connect with someone. And actually, learn and take ACTION!"
The power of attraction marketing done right on display once again!
Congrats Christine!!
Shoutout! "For implementing the ManyChat training inside MLSP and getting 44 leads!"
Whoa! Ricky Borrows is on fire with Messenger marketing and ManyChat. He's pulling in tons of leads.
He got a big shoutout for it too from Kati Stage!
This dude's been making big moves and just keeps getting better and better!
Great job Ricky!
Shoutout! "Proof that MLSP is, in fact, a Leadership Factory!"
Derek Nelson got a shout this week from Kati Stage as well!
He's using attraction marketing exactly how it's meant to be used.
"This attraction marketing thing is so awesome!! I just got off a zoom with a gal I went to grade school with. She's been seeing my posts and has been curious about what I'm doing, but was a bit bashful to reach out. She finally did and is now signing up for Diane's course and joining MLSP!! I am so excited!!"
BOOM! That's what it's all about.
Great job Derek!
Shoutout! "She got her first automatic sign-up into MLSP today."
Raquel Baptista is on fire.
That first sign-up is a beautiful thing. And like we always say (because it's so true), it never gets old!
Raquel also was able to create and publish her first ebook last month, and has tons more stuff cookin'!
Great work!
"I decided to do a second round of my self-love challenge and already got 24 interested and 5 that are going!"
Jennifer Hicks is doing the work and getting results.
Facebook Challenges are ultra-effective and Jennifer is just more proof of that!
She says she's nervous, we say "you got this!"
Great work Jennifer!
"Thank you MLSP! The value you have given me has helped me change my life!"
MLSP got a nice shout out from Manny Rodriguez in the group this week.
And we'd like to say THANK YOU sir for being such a valuable member of this amazing community!
This dude is a rock star!
Shoutout! He generated his first lead!
Andre Falls has gotten to work, and now has broken through to get his first lead!
Here's what Candace Bui-Walston had to say about Andre when she gave him a big shout out this week!
"Consistency is the key, Andre has been learning and implementing everything we do in our training. He is an example of willing to step out of his comfort zone. He did his first Facebook LIVE video right after our first call, and he is not stopping!"
Look at this guy go! We love it!
Great stuff Andre! Tons more leads to come your way sir!
"Got my first contact into my CRM this morning. Happy days!"
That does make for a happy day, and Ross Young got to experience this week.
Congrats Ross!
Check Out All the Cool Success Story Screenshots from Inside the Private MLSP Facebook Group Below!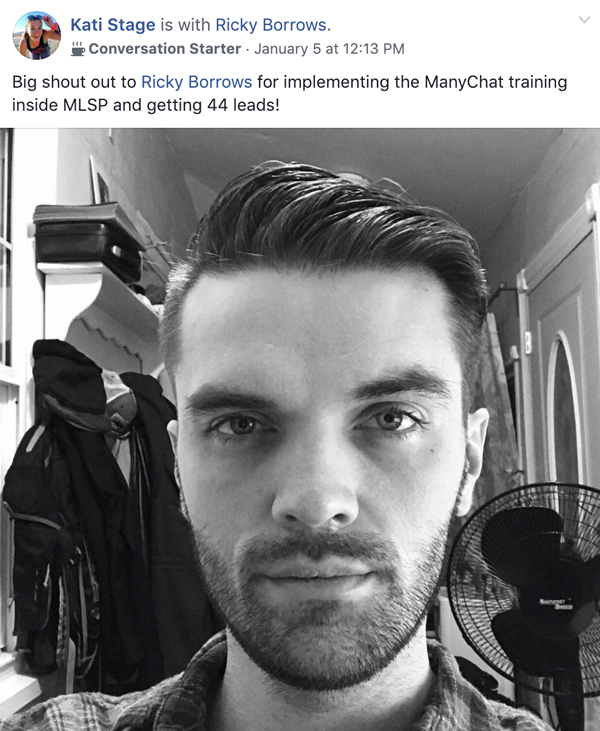 Got value from this post? Then we would LOVE for you to comment below and share on FaceBook…Research has shown that as you share this MLSP blog post & comment below, the universe will bring amazing things to your life. 😉