Alex Ford had a great day off. Who wouldn't after pulling in over $1K while hanging out on their day off? He went on to say "And it's not even midday yet!"
Want these kinds of results? Alex has some advice for you then: "KEEP GOING – Your dreams are possible!"
Way to go, Alex! 
Shout Out! She Just Had Her Biggest Week With 4 New Members!" 
Pinique Singleton just got a MEGA shout out from her coach Kay Somji this week.
Why? Because she's doing what everyone should be striving to do. Getting better and better.
"Pinique has done webinars, hosted challenge groups, had her biggest week in business, and averaging a 20% close rate!"
It's no wonder she's having big weeks like this!
Here's what Kay went on to say that's incredibly important for everyone to realize: "Coaching is the FASTEST way t accelerate your success in any area!"
Great job to both Pinique and her coach Kay! Creating new leaders every single day here.
"Sometimes, opportunities will present themselves that you would've never thought of."
You really don't know what's going to happen when you step outside of your comfort zone.
Christa Chilcote found that out in a very cool way recently.
After being terrified of video and FB LIVE… she stepped into the fear and started doing them anyway. So what if at first she started doing them behind sunglasses and reading a teleprompter. Doesn't matter. She got started and that's what counted, and changed things in a very good way.
And then here's what eventually happened that's pretty cool…
"I was hired to do a paid commercial by an amazingly talented musician/producer who writes musicals, produces tv commercials, and so much more!..
Know why? Because my FB lives were in front of him, he watched/engaged a little and had instant faith that I would be great on camera…even though he knew I had 0 action experience!"
How cool is that? You really never know what's gonna happen when you start using the proven attraction marketing principles that MLSP lays out for you!
Great story, Christa!
Shoutout! She Stepped Out of Her Comfort Zone and Did Her First FB LIVE!
Brandie Luke Lee did it! She did her first LIVE broadcast, and looks like she lived through it 😉
Candace Bui-Walston is extremely proud of her and she should be. Even L5 Leader Steve Krivda got a mention both in the vid and in the post! He inspired Brandie to get on and do this. Imagine that! Who doesn't this guy inspire!
Great job, all three of you amazing people!
"I've had about 500 responses to 1 post in 1 group!"
Jeanne Hamra is working hard to stay out of FB jail responding to all of these new interest prospects.
She and Maria Marcotte-Cronk are just starting their first 5-day challenge and looks like it's probably going to do pretty well.
Great job for stepping up to the plate, ladies!
Can't wait to hear the results.
"Woo! Definitely enjoy waking up to new rank advancements in my inbox!"
Huge Congrats to Mike MacDonald for hitting L3 inside MLSP this week.
It's really no surprise. The dude is a staple here on the MLSP Success blog. He's an action taker, and always pushing himself.
"If an introverted video game nerd with no credibility, no network, who got only 2 customers in his first 2 years in the industry, and who after struggling for many years in the industry can figure this out anyone can!"
He also added: "MLSP ROCKS!" which we happen to agree with and thank him for 😉
But actually Mike MacDonald rocks!!!
"I'm a 6-figure earner in my own Currency from where I live."
Dave Reineke is living the dream, and he has a message for YOU:
"Never give up. I am living proof that a guy in South Africa (a Third World Country) can make it online."
Want his secret? It's actually pretty simple. And it's something you've probably known all along…
"There is no Magic Pill. Just sheer DETERMINATION, and the WILL to NEVER give up… I was that guy that struggled with NO results until I made it."
This dude is proof that the dream is possible for absolutely anybody, living anywhere.
Amazing stuff, Dave!
"I was less than $200 away from hitting the $20,000 club in my first 11 months!"
Wow! Antonio Starr is once again smashing it out of the park in his business. $20K, and "a stones throw away from L5" is insane. But Antonio's been a regular here on the Success Story Saturday blog so we saw it all coming.
He said something inside his SSS post this week that you'll want to make sure you understand:
"I am a totally different Antonio than I was 12 months ago."
Who you become on your way to success is the most important part. Because even if you took all of Antonio's money away today… he's still got the skills, and the attitude that will bring him right back to where he is. And probably in half the time.
What MLSP teaches, and the community gives you is the key to freedom!
So proud, Antonio! Honey Badger VERY soon!
"4 days in and already generating leads!"
Paris Roland is new and already on her way to greatness we predict!
What's her secret? "The morning call really helped me get from behind the training and just do it!"
Funny thing. Almost every leader L5 and above have recognized the 'MLSP Wake Up Call' as one of the main factors of their success.
Imagine a 15 to 20 minute daily call that can turn your life completely around? Powerful!
Here's how YOU can listen to the MLSP Wake Up Call everyday Monday-Friday…
Just Dial: 512-808-0222  Or Catch It ONLINE HERE!
Great work ,Paris. We have a feeling we'll be hearing a lot more from this one.
"I'm in my 1st affiliate contest and currently tied for 4th with Tanya Aliza for most leads generated!"
Lisa Reed is up against the heavy hitters in her first affiliate contest, and is most certainly giving them a brawl.
In her own words: "I'm not backing down!"
We wouldn't expect anything less from this amazing woman. She's changing her life, but changing so many others in this community from her Facebook Live Challenge Strategy.
A strategy that's caused such a rush of mass success inside MLSP like we've never seen before.
You can get her Simple 5 Step Facebook Challenge Strategy Here!
"I struggled for one year to get people on board, and with the 10 Day Facebook Challenge I signed up people even before I started the challenge!"
Like so many people in our community, Trisha Malkika Ghosh also just realized the power of the  Facebook Challenge strategy.
And now look what happened: "I feel emotional. I have become L1 today."
Amazing. Huge congratulations to Trisha!
The craziest part is that's just some of the stories that we had come through inside the MLSP FB Community this week.
You'll want to make sure you go through them all below! (There are hints in there that can change YOUR life!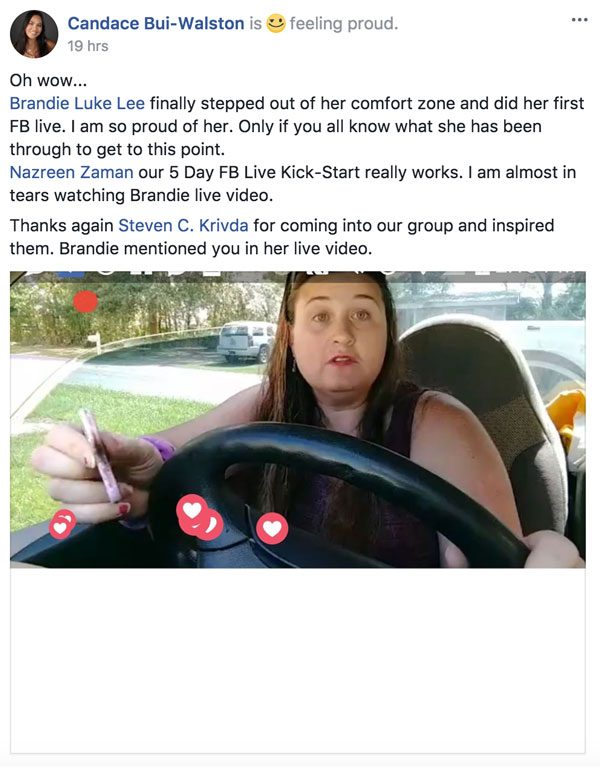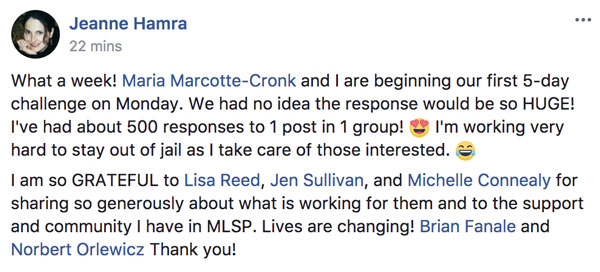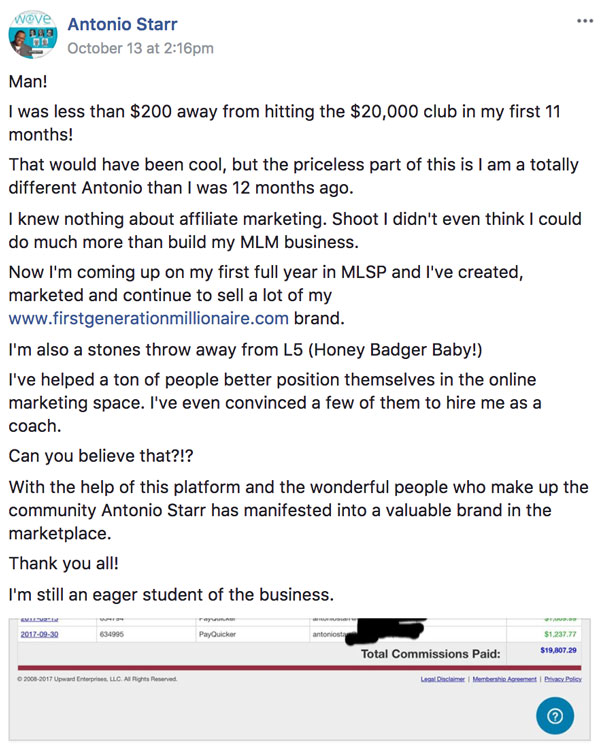 Got value from this post? Then we would LOVE for you to comment below and share on FaceBook…Research has shown that as you share this MLSP blog post & comment below, the universe will bring amazing things to your life. 😉