Look at Camille Tyler go! 53 leads in just 12 hours is huge.
Most people don't even get that in a month (or more!)
Camille's been smashing it out of the park here in MLSP!
Great work!
"My first try with this method…7 leads"
It seems that Aron Parker's training last Wednesday night has caused some massive lead flow to the MLSP community!
Brand new MLSP member Kristy Frye put what Aron taught into immediate action and grabbed up 7 leads in a hurry!
"I watched Aron Parker's training, and my first try with this method…7 leads. BOOM! It feels so goot to take an action that gets immediate results. Real Confidence Booster!"
This dude never disappoints with his trainings, and always creates a flurry of results.
Great job Kristy. Way to take action… and welcome to the family!
"I really can't believe I'm almost at the $40K mark here in MLSP!"
Sonny Lanorias is about to cross $40K in earnings inside MLSP's affiliate program.
And he's getting ready for what's about to happen this Wednesday Night @ 9PM EST…
"I think I need to get myself ACTIVE again, especially of what's coming on February 27, 2019!
Congrats Sonny!
"Zero followers at Live the Dream 2018. I will hit 1000 before bed tonight!"
Todd Castiaux has been taking action and putting in the work since LTD 2018.
Now he's built his followers to 1000 and moving forward.
Big things coming for this dude.
Great work sir!
"It hasn't been even a month, I have 12 prospects!"
Becky R Rivas has a growing business in the past month.
"Hello everyone, I keep learning something new everyday. I have watched the back office training with the Aaron Parker video  training, doing what he says, because his method works. It hasn't been a month, I have 12 prospects."
You can see the proof in the screenshots below!
Awesome stuff Becky! Keep going!!!
"I've been in since Friday and went through the initial training. Started prospecting on Facebook groups (got 15+ leads)!"
Boom! that's how you get started. With action.
Marcus Mendonca got off to a running start with prospecting on Facebook, and now he's crushing it with his lead generation.
Awesome stuff!
"I have sold 22 products and donated a portion to charity!"
Anna Tossel is getting to be a staple here on the MLSP Success Story Blog.
This week she's been killing it with Facebook ads: "Learning & implementing FB ads has been a game changer!" 
Anna is proof of what's possible, and how much good you can do when you embrace attraction marketing and the MLSP Formula!
Great work Anna!
"I followed his instructions exactly and not only did I get a lead, but that lead turned into an automated signup!"
Oh those automated sign-ups are a beautiful thing.
Lisa Thompson simply followed Aaron Parker's training (available in the MLSP back office now) and boom!
Back that wasn't all, because the leads just kept coming…
"16 leads and counting this morning from Aron Parker's training last Wednesday!"
This stuff works! Great job Lisa!
"So I dropped in a post about getting Facebook leads from system campaigns into a group…and had 32 requests!"
Boom! Penney J. Holmulund is making things happen this week. 32 requests is huge for one post!
Great work Penney!
Shoutout! "One comment gave her 15 free leads."
Lyn McLaughlin has become a person of value, and it's paying off in leads!
She got a big well-deserved shoutout from Miranda Masters Van Gogh this week because she was able to pull in 15 leads!
Way to go Lyn!
Shoutout! She Closed 11 Sales Into Her Own Course!
Sarah Blackburn earned herself a nice shoutout from Steve Krivda this week!
And for good reason. She's creating sales on her own course and that's huge.
Great work Sarah!
He Hit L1 Leadership Level!
Boom! Carsten F. Göltenboth just got a leadership rank.
And by MLSP CEO Brian Fanale this is the toughest one. L1 means you have to step out of your comfort zone, make changes, and take action.
Carsten has certainly been doing that! We've been watching this dude.
Congratulation Carsten!
"I just went through Aron Parker's FB training and made a post…and got a lead in less than 10 seconds!"
Wow! Art Skill isn't messing around.
This dude watched Aron Parker's training, took action, and was able to start generating leads on Facebook in 10 seconds?!
Amazing stuff! The training is inside the MLSP back-office now!
Check Out the Success Story Screenshots from Inside the Private MLSP Member's Only Facebook Group Below!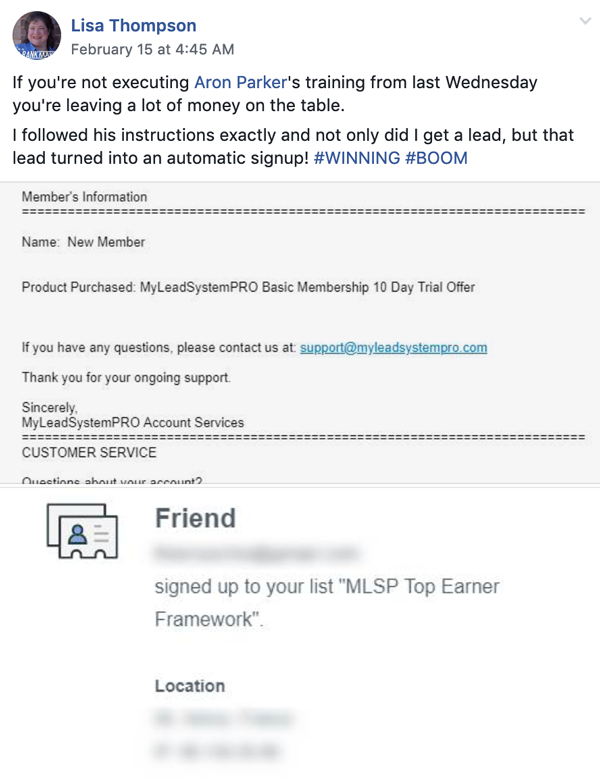 Got value from this post? Then we would LOVE for you to comment below and share on FaceBook…Research has shown that as you share this MLSP blog post & comment below, the universe will bring amazing things to your life. 😉