Lisa Torres was in #BeastMode this past week.
She started the week with a post saying that she was going to take over all three top spots (she was #1 in 1 category, and #2 in the others) and by the end of the week, she nailed it!
This lady does not fool around.
Just imagine, she struggled for 18 years, making $20 bucks that whole time. BUT she never quit!!
Now, she just bought her dream home, is pulling in up to 33 PAID sign ups in a weekend, and now she's in the top spot across the board at MLSP!
Oh and it won't be long until she's joining the L7 club with it's current sole member Diane Hochman!
Both will be featured presenters sharing their secrets during the upcoming Attraction Marketing Virtual Summit!
You'll probably want to see what they and 38 other top-earners and producers reveal about how to put attraction marketing in action for your business to get leads coming to you on a daily basis, and build a personal business empire.
==> You can get a FREE TICKET HERE!
"Is there anything cooler than having your name right next to marketing royalty on the leaderboards?"
It looks like Lisa has some good company on those leader boards. Staci Hall is right there underneath her, sitting pretty at #2 on one, and #3 on another.
"Holy moly…there was a time, not long ago…when I was THIS close to throwing in the towel. Good thing I'm super stubborn and don't have the 'give up' gene."
It absolutely is, and we're so glad you stuck it out and to have you on our leaderboards.
Staci is killing it, recently signing up 23 paid members in just 1 day with a Facebook Challenge. BOOM!
"I have learned to attract the right people into my MLM!"
Emee Lou Vilanueva Posadas was in tears of joy this week, and she shared why.
"I have hit my monthly SALES without even traveling, doing home parties…and I have learned to attract the right people into my MLM!"
It's a great post and you should make to read it all below.
In a nutshell, she was at risk of losing a one of her downline teams because of lack of activity, lost thousands of dollars because of a delayed Visa to travel, and was dead broke!
That didn't stop her. She found someone to show her how to attract prospects on social media, and went to work.
She ended up hitting her monthly sales, and now has a path to move forward to build a very strong business!
Nice work!
"Woke up this morning with new leads! Thanks MLSP"
Ryan B. Babaan took some action this week, and therefore saw some brand new LEADS flowing in!
"I created a new opt-in page for one of my biz ops using funnelizer last night,, threw it in an Ad and woke up this morning with new leads!"
BOOM! That's the way it's done sir.
Congrats Ryan!
"Doing my first Facebook Challenge on Monday!…Over 50 people enrolled"
Emmeline Joy is in it to win it.
She's taking action and doing her first challenge, and looks like things are going pretty darned well already.
Which means that she'll probably be able to make extra money during the holiday season!
"I have been contacted by the founder and CEO of a company I've partnered with and have been asked to sit on their advisory board."
Sameela Bibi is getting quite the attention out in the marketplace these days.
People are noticing her marketing savvy.
She went on to say this:"This is what happens when you join MLSP and pug into the training and take massive action. It all starts with MLSP."
It may start with MLSP, but we couldn't do the work for Sameela. That's all her!!
Congrats Sameela!
"We started promoting our 5 Day Facebook Challenge 5 days ago with a goal of getting 30 people to join. 23 hours ago we hit 60 people and today at 9PM we hit the magic number 100."
Mikail and Miranda Masters Van Gogh started building their audience 3 months ago, and started providing massive value to build the vital know, like, and trust.
They've embraced attraction marketing and by the looks of their Facebook challenge, they're doing a pretty good job of it!
Here's something they said that you should make sure to understand as well: "The lesson here for us is that the only right way to succeed in this business is doing this business the right way."
Great job guys!
"I just joined MLSP 10 days ago and I'm already on the 7 day list board!"
That was Hope Lack's first post inside the MLSP Private community. Pretty darned good first post if you ask us!
Nice work Hope! We're certain we'll be hearing plenty more from this rock star soon!
"I saw a post by Lisa Torres and saw that I was actually on the leader boards myself!"
Salina Baker Pharmd got quite the surprise this week.
"Note to self… I need to check the boards more often! I had no clue I was even on it!"
Good idea! 🙂
"One post in a group so far has had over 80 comments! This is amazing!"
Wow! Megan Stanley-Ennis is seeing results. A lot of them in fact, from just one Facebook post.
Putting things in action!
Great work Megan!
"Just got 2 email leads from my ManyChat subscribers for tonight's webinar"
Nice! Kassandra Keeton is sharing the immense value of the MLSP Wednesday Webinar training, and getting leads because of it.
Every single week you have that same opportunity if you're an MLSP affiliate! The biggest leaders in our space come and simply give away their secrets for what's working now.
The kind of stuff your prospects will love YOU for showing them.
Great work Kassandra! Keep plugging away!
"We have 119 people in our challenge and they are excited, having fun and learning!"
Kathy Hudson, Chris Gnefkow Hime, and DeDe Brandes are doing their first 5 Day Challenge, and never thought they'd have this many people in their first one!
Sometimes it's great to be wrong!
"Just out of the blue, I'm on the LEADER BOARDS!"
Jean-Serge Gagnon is at it again. And now he's up on the leader boards with some of the top leaders.
"I can truthfully say that I'm rubbing elbows with top leaders now"
This dude's been on a tear for quite a while.
Great work Jean-Serge!
"First commission today!"
Congrats to Shelby Hill for grabbing that first commission.
Whatever you're doing, keep doing that. Plenty more coming at you soon!
Success Stories Come at Us Every Single in the MLSP Community!
We've just given you a handful of them here so that you can see what's possible in your business, once you put the kind of attraction marketing principals in action the way these rock stars have!
Make sure you check out all of the stories from this week below.
And then go out there and create your own success from the clues that they leave you!!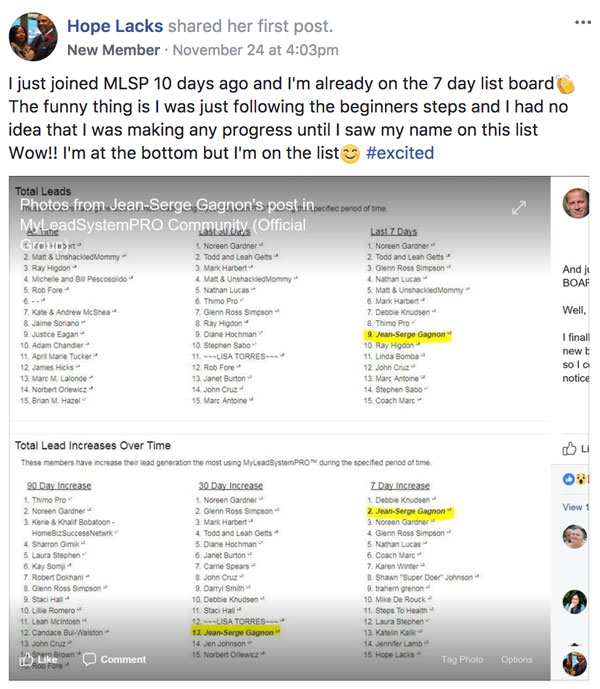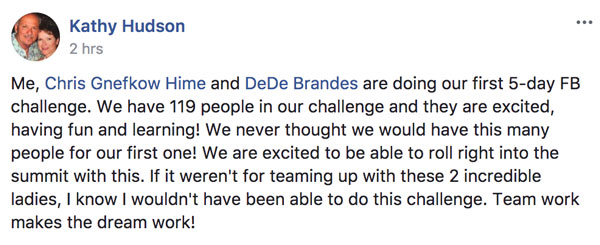 Got value from this post? Then we would LOVE for you to comment below and share on FaceBook…Research has shown that as you share this MLSP blog post & comment below, the universe will bring amazing things to your life. 😉