Stacey Hall has been on the move for the last 9 months.
To the tune of 900 people in her MLSP CRM! Which as she says means "All said YES to something!!"
That's a lot of leads in 9 months.
And the cool part is she simply followed the MLSP attraction marketing strategies that anyone can follow!
Huge congrats Stacey!
"THREE brand new customer orders just TODAY alone!"
New MLSP Member Kim Ward said this week inside the MLSP Private FB Community that the vibrations are high!
And they do seem to be high here at MLSP as well! Especially after that MLSP Weekly Webinar with Steve Krivda.
"Seriously…I attended last night's EPIC webinar with Steven C. Krivda and then the amazing Wake Up Call this morning.
I had goosebumps throughout both but went on with my day with FULL abundance & intention and all of a sudden BAM! Three brand NEW customer orders just TODAY alone!"
Guess those vibrations were still going strong because later she shared this:
"13 Solid leads on ONE post!"
Kim Ward is brand new, and smashing it already!
Great job Kim!
"Using the Lead Magnet we created during the Level 2 Workshop, I booked 4 consults with prospects before I even left the workshop!"
BOOM! Lindsay Sewell was on fire during and after the MLSP workshop she just attended!
That wasn't even the end of it.
"But this weekend was my best weekend yet! Spoke at an online Summit on Saturday, promoted my lead magnet to the webinar attendees, and within 3 days I have 25 new leads, and 9 appointments booked on my calendar!"
Those workshops are changing lives. Especially for go-getters like Lindsay!
Great work!
Shoutout! #12 on the Leaderboard for Total Lead Increases Over the Last 7 Days
Natalya Melnik hit the leaderboards this week, and got a big shoutout from Tina Guimar for doing so!
Looks like Natalya is taking some big action and it's creating big results for her business!
Congrats!
"I'm still under my 10 day trial…and I got 2 leads so far!"
New MLSP Member Destini Woods is taking some fast action, and getting some fast results!
She's not even done with the 10 Day Trial yet and already pulled in 2 leads! Exactly how it works when you start moving with your business.
Amazing stuff Destini!
29 Messenger Leads so far! Woohoo!"
Ricky Borrows is stepping up his game with Facebook Messenger Marketing.
He's doing what needs to be done, and grabbing up leads left and right!
Awesome job Ricky!
Shoutout from the CEO! "Shoutout to Ebone Cruze! Well deserved MEMBER OF THE MONTH!"
Ebone Cruz has been killin' it here at MLSP and it got her the Member of the Month for December! She's a champ and got a big shoutout from MLSP CEO Brian Fanale!
Congratulations Ebone!
"I am ranking for one of the most competitive keywords!"
Sherri Brown is getting results with video marketing, and the funny thing is she doesn't even know how she did it with this video!
"I'm definitely gearing up to make a shift over to YouTube in 2019 (ok, I mean I have almost 300 videos but didn't know how to optimize previously). But…I am ranking for one of the most competitive keywords & no how I did it is beyond me!"
Well she's doing something right. And one thing we know about this girl is that when she puts her mind to something, she WILL dominate!
No doubt 2019 is going to be a big year for Sherri on YouTube!
"Woke up to 3 payments made overnight!"
Sarah Blackburn had a goal of being a present parent. And through her home business, she's been able to do exactly that.
Not only that…she's had a HUGE takeaway that seems to happen often…
"The most valuable takeaway for me from the level 2 workshop was learning that my opinion of myself is wrong."
BOOM! And she's made some incredible friends along the way within the MLSP community and beyond!
Awesome stuff Sarah!
"Shared my story and within minutes a single dad reached out to me from Germany!!"
Reggie Pegues actually had a shoutout for MLSP CEO Brian Fanale today!
After listening to one of Brian's powerful Wake Up Calls, Reggie put what Brian said to use, and boom, he connected with someone.
That's what attraction marketing does.
Reggie embraced his story, shared it, and got engagement that someone who connected with him! That's huge!  
Great work Reggie! Keep sharing!
Check Out the Amazing Success Stories from Inside the MLSP Community Below!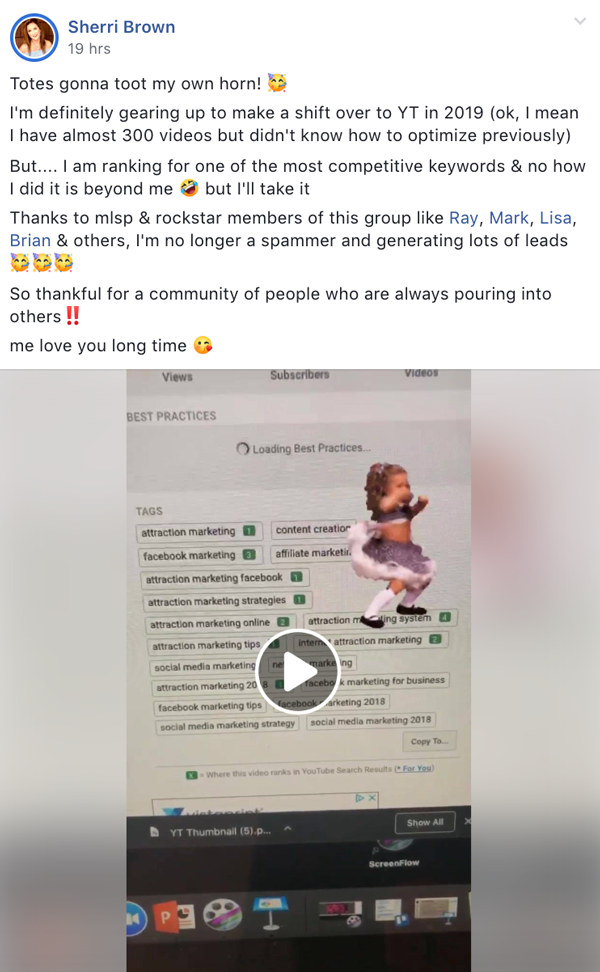 Got value from this post? Then we would LOVE for you to comment below and share on FaceBook…Research has shown that as you share this MLSP blog post & comment below, the universe will bring amazing things to your life. 😉