"So I've only been with MLSP for 2 months and already have 3 sign-ups!"
Roy Morreale is getting busy, doing the work, and getting results.
He's leveraging the tools and training here at MLSP to grow his business.
"MLSP has helped to grow my business substantially. I'm loving every minute I spend with them. MLSP IS AWESOME!! So glad I joined. Couldn't ask for any better marketing system"
Most people are completely lost when starting a home business, but it doesn't have to be that way. If you just make some changes in your strategy, then you can see how quickly the results can change for you.
Great work Roy!
"I am top of the leaderboard for SALES! This is out of a team of 173!!"
Paula Underhill has made some changes to her marketing, and it looks like those changes are having great effect with her attraction marketing results.
"I've removed all mentions of my company name from my profile. I NEVER post about 'joining my team' or 'buying my products'.
I give value to my audience every. single. day. I serve my audience I expect nothing in return."
How cool is it that the people who are seeing results are so willing to share inside the amazing MLSP Private community?
Awesome stuff Paula!
"The other day I had my first FB LIVE where I had 25 people on at on ce time and surpassed 1K views on my video"…
Lisa Thompson is not only building a business, but she's helping a much needed audience by doing so.
"I started my Diabetic Fan Page last spring, doing one FB live/day and averaging between 50-100 views/week and having on 1 person during my stream."
Looks like she's come a long way since then. How?
"When you follow the attraction marketing steps in MLSP, build your audience and engage them with content that serves, they will come and keep coming back."
Facebook LIVE is one of the most effective ways to immediately get in front of and engage your audience. No time in history has someone with something to promote been able to do it so easily, and for free!
Boom! Don't over-complicate this stuff.
Congrats Lisa!
Shout Out! "I'm so excited to announce her new L1 Leadership Level!
In his true fashion and highly-effective coaching style, Steve Krivda gave a big ole shout out to Georgianna Garcia this week.
"Congratulations to Georgianna who has been pushing beyond all resistance."
That's what getting a coach will do for you. They help you see the lanes to go down with your business, and the ones to avoid. More importantly, they let you see things about yourself that you didn't even know existed. They bring out the best in you…and make you go beyond your limits!
Great job on L1 Georgianna!
"They put my blog post on their blog! What!!! Way cool!"
Anthony Jackson (Techy Tony around these parts) is getting his content shared by other blogs.
That's powerful stuff, and only happens when you have a great content marketing strategy that attracts attention to you.
Imagine how Tony will be able to grow his audience now, by tapping into another person's audience of like minded people who need the kind of techy help that Tony offers!
Great work Tony!
Check Out the Screenshots of Our Success Story Posts Inside the MLSP Private Community!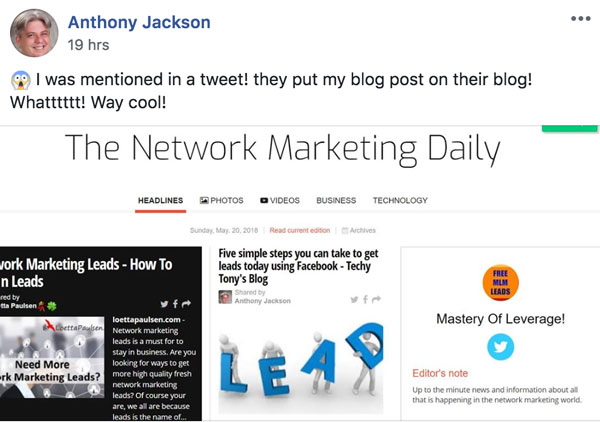 Got value from this post? Then we would LOVE for you to comment below and share on FaceBook…Research has shown that as you share this MLSP blog post & comment below, the universe will bring amazing things to your life. 😉