Here's the coolest part of Lisa Torres Allen's post this week inside the MLSP Community…
Lisa says: "Not bad for a little 'front end' residual income system to my business" Not at all!
Lisa's story is quite incredible actually. Though she shot up the ranks and hit L6 leadership inside MLSP at head-spinning speed, her journey was by no means easy or fast. In fact 99% of the world (yes world) would have quit if they had endured Lisa's struggle.
If you're struggling in your business, and you feel like it's been forever since you've seen results, you might not think so when we tell you that Lisa struggled with her business… for 18 YEARS! And in that entire time, she only earned $20 bucks!
"Countless Conversations, and 7 Leads in 3 Hours"
Diana Gartland Jones says "Considering that I only started with MLSP a week ago, I think it's a pretty good start." We think so too. 🙂
In a separate success post she had this to add:
"The leads keep coming in. This is the first time I've gotten 10 leads from a FB post."
Diana says she really loves it here at MLSP. Frankly, we love having her here.
Because Diana has obviously taking action, and look at that…the results are coming in.
Great job Diana!
"My own sponsor in my MLM said even though she's my sponsor, she would love for me to be her mentor/coach!"
Wow! Amber Genevieve took what she learned from rock star Erin Birch, and she ran with it.
You'll want to check out her Success Story below, because it's exactly what you need to hear when it comes to making waves in this industry.
Waves big enough to get your own sponsor wanting you to coach them. And you've got to give kudos to Amber's sponsor for being so genuine to ask!
"Third Mastery member sign-up this week and tomorrow's my birthday!"
Looks like Will Stauff got the gift that will keep on giving! Happy Birthday sir!
"I got 240 likes on my posts and so many great comments and 50 people followed me in just 12 hours"
Jaz Kaur watched April Marie Tucker's most recent Instagram training, put what April said into action, and the above happened!
When you have the right vehicle, the right person training you on how to operate that vehicle, and the fortitude to put your foot on the gas…you can get anywhere you want to go!
Great job Jaz!
"I just watched a training on the MLSP System Campaigns and I got my first lead within minutes from posting in a facebook group."
Jennifer Gramm is "so excited!" and we're excited for her. Again, we've got a member who watched a training in the MLSP Library, took action on what they learned, and #BOOM! Results!
"This really works!" is what she had to say after these results. Yes it does, but only if you work it like Jennifer did!!
46 Post Responses, 2 New Leads, 1 Appointment Scheduled, 1 Ebook Request — 1 Night!
It's no wonder Carrie Bannigan thought it was a great morning the day she posted her success story this week!
Those are some awesome results to wake up to!! "Can you imagine how it felt to know this all happened overnight while I slept?"
We're so happy to see Carrie getting the results she's after! Great job, there's plenty more to come for you Carrie!!
She Woke Up to 2 Lead Notifications…While Doing Navy Training in South Korea!
Seriously, what's your excuse?
Jennifer Molina is in the midst of dangerous work, in a pretty scary region and time, and she's still taking the action to pull in leads.
Kind of eliminates the potential for valid excuses.
Great work Jennifer, and Thank You for Your Service!!
Shoutout! "300+ Leads and Counting!" 
MLSP member Jolene Millier Williams just got a big shout from Lisa Reed! And deservedly so.
Jolene posted on Facebook, and got a huge response. ACTION!! It gets noticed by prospects, as well as your peers!
Great work Jolene, and as always, thank you Lisa for letting us know! 🙂
Subscribers Yesterday: 88 — Subscribers Today:10
Lisa Reed says she had "a good 24 hours!" Looks like it.
She did have a message for the MLSP Private Community…and now YOU: "Keep working the system because IT WORKS!"
Great work Lisa. Killin' it!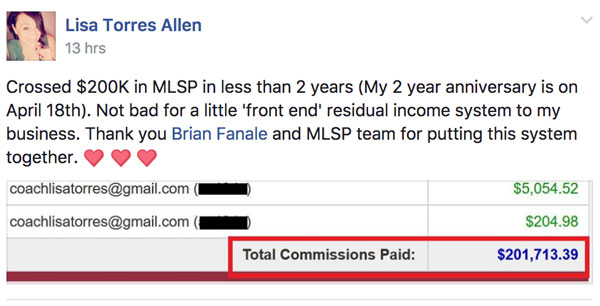 Got value from this post? Then we would LOVE for you to comment below and share on FaceBook…Research has shown that as you share this MLSP blog post & comment below, the universe will bring amazing things to your life. 😉