Whoa! Brand new MLSP member Thomas Russell is not messing around. And best yet, he did it within his first 24 hours inside MLSP!
That earned him a big and well-deserved shoutout from Alex Ford this week (a superstar in his own right here at MLSP!)
Congrats Thomas! Killin' it!
Shoutout! "77 Leads in 5 days. That's 14-16 leads per day! BOOM!"
Lindsay Sewell got a nice shout out from MLSP super coach Steve Krivda this week for crushing her first Webinar!
Crushing it might be an understatement.
77 leads in 5 days in awesome! That the power of webinar marketing for you!
Nice job Lindsay!
"Applied Linkedin training strategies, got 454 new connections in 2 months!"
Earl Bryant has been building new connections on LinkedIn at quite the pace.
Here's what's cool: "Had less than 1400 in previous 8 1/2 years!"
Nice! That's what happens when you take action on an effective strategy like LinkedIn marketing. You get results!
Earl also posted a heartfelt success story from his amazing past year inside the community this week.
"I never thought it was possible to change my life at all, much less in a year's time…yet it was possible because it I did it!"
You'll want to read that full post below. Hugely inspiring!
Great work Earl!
"Since Christmas till now I've gotten 6 new MLSP members, 2 on Christmas day because of my videos!"
Wow! Candace Bui-Walston experienced a heck of a 2018!
And if you thought she would slow down during the holidays…she still was crushing it because she worked so hard all year!
"I generated 35 leads on Christmas Day while I was less active!"
Candace shared a ton of the great things that have happened to her this year inside the private MLSP community. You can see the entire post below!
Awesome stuff!
"1 year ago I made a decision to invest in myself. Little did I know it would change my life!"
If you've followed the Success Story Saturday blog post, you've seen a ton of success coming from Anna Tossel.
"I am extremely grateful for the personal growth & invaluable skills I have obtained over the past year. Thank you MLSP!"
Thank you Anna for being a massive action taker!
We predict even bigger and better things to come in 2019 for this awesome gal!
"My first FB LIVE! Wasn't expecting 3 Leads! Actually interested in me! Wow!!"
Debbie Halbrook is tearin' it up already in the new year.
That first Facebook LIVE is not easy for most people. It takes a ton of courage to come out of that comfort zone!
Congrats Debbie! Keep it up!
"Shoutout to myself for having 14 people join in my first 3 Day Challenge!"
Jennifer Hicks is pulling prospects into her 1st Facebook Challenge!
She gave herself a nice shoutout (rightly so!)… and now we're giving her a big ole one HERE!
Great work Jennifer!!
"It's so fun to see when you create a FB video on your Fan Page and it gets 1.7K views in less than 24 hours with ZERO ad spend!"
Lisa Thompson has a big goal for 2019, and it looks like she's already well on her way to achieving it…
"My goal for 2019 is to master messenger marketing to make 1,000 diabetics healthy again. Thanks MLSP!"
Lisa's using her attraction marketing skills for a noble cause, that's for certain!
Great work Lisa!
"I just ran a small test in Instagram and the leads are coming in consistently!"
Betsy Stevens is doing the work and getting results.
She's using Instagram marketing and it's working like gangbusters!
Huge things coming for this amazing lady!
Nice job Betsy!
Check Out All the Amazing Success Story Posts from Inside the Private MLSP Community Below!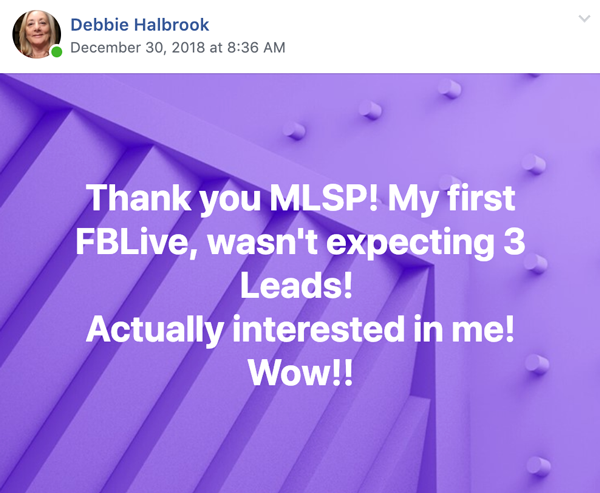 Got value from this post? Then we would LOVE for you to comment below and share on FaceBook…Research has shown that as you share this MLSP blog post & comment below, the universe will bring amazing things to your life. 😉