That's pretty serious stuff when you're chuffed to bitty boos!
And Jennifer Lamb's success story this week has us at MLSP chuffed to bitty boos as well!
Why? Because our entire mission…the reason we exist and do what we do everyday… is to help people breakthrough, and be able to start living their dream. And Jennifer Lamb has just crossed that huge milestone.
Here's what she said:
"FINALLY. This is really possible: I'm chuffed to bitty boos to FINALLY be able to say that I'm now working full-time from home and have JUST left my job of 12 years, to grow my home 'gifting made super simple' business, along side what I'm doing within MLSP…WOOHOO!
This really is possible and I really AM now truly LIVING THE DREAM!
You'll want to check out her entire post when you get to the bottom this blog post.
We're extremely excited for your new life Jennifer!
Wondering if 'Live the Dream' Is Worth It? Read Her Story…
If you've been going back and forth about getting to Live the Dream 8 this year, and you're struggling to make it happen, you'll want to make sure to read Suzy Belcher's post from inside the Private MLSP community this week.
But here's the skinny…
Last Year: "I went to this event without paying for my Airline ticket (she borrowed the money), traveled from the other side of the globe, slept in the crummiest Airbnb, and WALKED 45 mins to the event every morning because I could not afford the taxi ride."
This Year: Paid her own ticket upfront, and will now stay in the same hotel as all the leaders and amazing friends she met last year.
You'll want to read every bit of her story when you get to the bottom of this post.
Huge congrats Suzy! Can't wait to see you in Austin!
"I got my first 5 leads today."
Boom! Getting your first lead is exciting enough, but 5 is awesome!!
Great job Rich LaVoy! Many more to come!
"Persistence pays off"
Looks like it! Alex Ford is getting some serious results from an Engagement Likes Ad he ran almost 3 months ago.
Check out what's happened since:
200+ new likes every week
Costing only 2 cents per engagement
Reach = 250,000 people
75% of that reach is organic
29 cents per like
Only spending 4.5 USD
Super targeted likes.
"Proof this Audience Building Strategy works even on a small budget!" You got that right sir!
Great work!
"I rank advanced again in my MLM today!"
Tracey Rose is smashin' it out of the park, and how's she doing it?
"People ask me how I built my business? Attraction Marketing Baby!…which I learned right here at MLSP!"
Got Bad Credit? "Shout out to MLSP for helping me build my credit back up"…
We love when Lisa Torres Allen shares stories like this!
In her story this month she showed us EXACTLY (literally exactly) how she built her credit up from the low 500's to now a 731.
She's shootin' for the moon at 850 and we're absolutely positive she'll hit it. Because…well…she's Lisa Torres Allen!
Here's one quick key to how she paid down her credit-building credit cards: "With my MLSP commissions!"
BOOM!
"Awesome Saturday! 5 New Sign-Ups TODAY!"
Sonny Lanorious is feeling grateful, and who the heck wouldn't with 5 sign-ups?
Especially when one was a $1K commission, and another will be sticking $100 payments in his account each and every month. And the other 3 are on the 10 day trial, but things look good!
He's killing it! Great work sir!
"Guess who managed to rank on the first page of Google!"
We won't even make you guess. Jelena Ostrovska is ranking big for a very competitive term.
Check this out: "And the craziest part about it is the blog post that is ranking is the VERY FIRST article I have ever published on my blog!"
And wait for it…"And still getting leads off of the post all the time."
Shoutout!: She Got 100 Leads in 7 Days With NO PAID Advertising"
Sheesh Dr. Stephannie Zuniga! Save some leads for the rest of us 😉
Keysha Bass was shouting about this from the rooftops of the MLSP Private Community!
Great work Stephannie!!
"Because of Programs like MLSP I am able to be financially independent"
Dave Reineke doesn't have to ask a boss if he can visit his sister in the middle of the day on a Wednesday. He just does it! Why?
He is his OWN boss.
Here's Dave's message to YOU: "DON'T GIVE UP. If a guy from a Third World Country can fire his boss, anyone can."
"Generated 4 leads with a quick and simple post! Now that's leverage."
Mark Rashad is grabbing up leads on the fly. On his way out the door in fact. Check it out:
"I threw up a last minute post on my personal page for the Wed. Webinar the morning of because I had a personal family matter matter that was going to keep me busy all day."
And then BOOM 4 leads!
Great work Mark.
NEED HOPE? Do This…
If you're feeling like you need a little hope in your life (or a lot), and you want to know where to find it, then read Tiffany A. Smith-Davis' success post in the images below.
She'll let you know the exact video she watched that moved her to tears, and gave her new hope.
This was powerful: "I cried tears of joy because I know that I can. My five year old has seen me cry tears of utter despair asked me "mommy are you ok?" and told her "Mommy is crying tears of joy today and everything is going to be ok."
Tiffany will go on to do great things inside MLSP. Keep an eye on this girl!
Now you know what to do. Go comb through those success stories below and find the clues to success they're just giving away!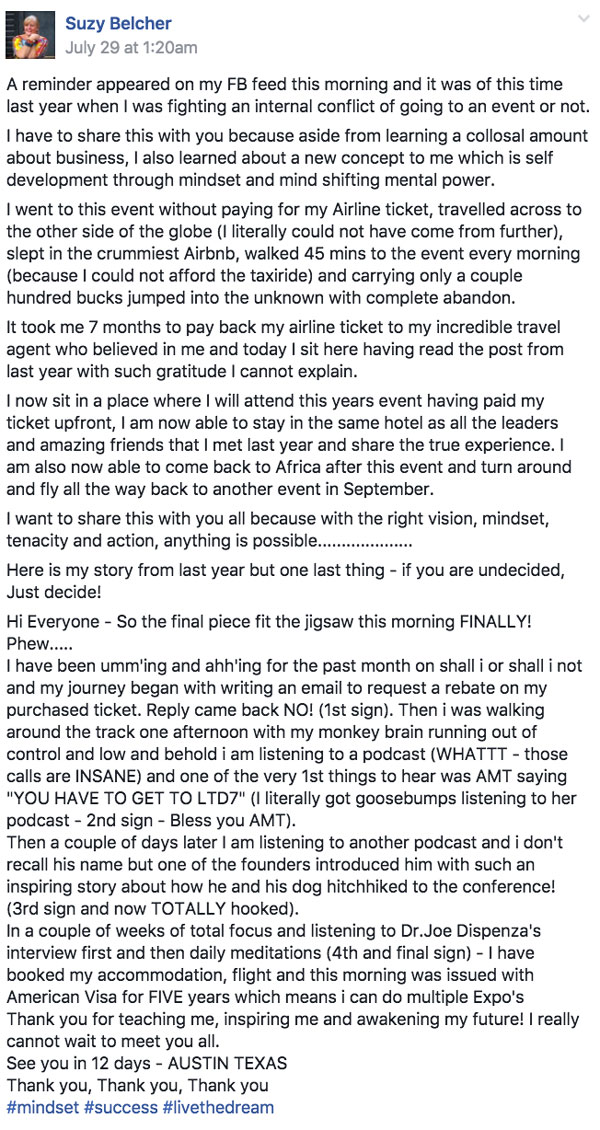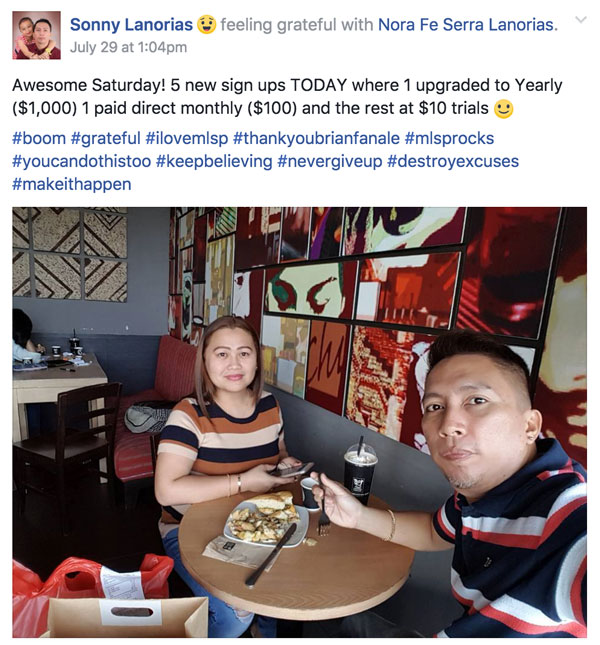 Got value from this post? Then we would LOVE for you to comment below and share on FaceBook…Research has shown that as you share this MLSP blog post & comment below, the universe will bring amazing things to your life. 😉