BOOM! New member Christopher John White is already smashing it out of the park when it comes to lead generation.
He's apparently doing something right when it comes to prospecting on Facebook!
This dude's already a lead machine!!
Great job Christopher!
Shoutout! 13 Sales on Her Own Product!
Look at Sole Martínez go! Not only did she just bang out 13 sales in a week (that lead to month subscriptions) but she also got a nice shoutout from super MLSP coach Steve Krivda!
Here's what Steve had to say!…
"Celebrating Sole Martínez today. We met a couple weeks ago to launch her product. As of this week, she put it all together and sold (13) Products so far, that lead into a month subscription!"
Awesome work Sole!
"She had 2 back to back sales almost immediately!"
Natalya Melnik is killin' it! She got a shoutout this week from Debora Rogers this week.
In less than 2 week she's already pulled in 2 sales!
But that's not all: "As of last night she has increased her followers by almost 500 — ALL ORGANIC!"
Awesome stuff Natalya!
"This week something huge happened. We closed our very first HIGH ticket client."
Miranda and Mikael Masters Van Gogh have been with MLSP for 15 months, and they've already achieved so much, climbed up the ranks, and dominated leaderboards.
And we're happy to let us help them celebrate their first HIGH TICKET client!
As always they had some inspiring words and great advice for the community!
"To all of you that are new or struggling. Build and engage your audience without expecting anything in return for at least 4 months. Focus on one strategy and crush it, because you look anywhere else. And you will see results.
You can't force it and you can't rush it. But you can take one step at a time and get better and better!"
Great advice from two people who are living results!
Great work guys! Congrats!!
"After using the tools in MLSP…I am now being offered a paid position by a Lawyer!"
Yes! Ian Tolson this week proved that attraction marketing works and that people want and need the skills taught her at MLSP!
He set up autoresponders, blogs, and capture pages, and a lawyer willing to pay noticed!
That's how it's done!
But that wasn't all this week…
"Just signed up my second MLSP Member!"
Look at this dude go!
Awesome job Ian!
Shoutout! "He's only been in MLSP for one day and he got a lead before he knew how to offer a link!"
Brand new MLSP member Robert Ritter came out of the gate running!
Can you imagine, he didn't even know how to offer a link, and still got a lead.
Here's what he said to Kati Stage!
"That's the first time someone contacted ME! Wow, this stuff works!"
By "this stuff" we're pretty sure he means Attraction Marketing!
Kati Stage gave him a big (and well-deserved) shoutout this week inside the MLSP Private community!
And now, we're giving him one here!!
Amazing stuff Robert!
Shoutout! She Sent Out a Broadcast and Got 6 Appointments Within 18 Minutes!
Tiana Knight got a big ole' shoutout from Antonio Thompson this week!
She's crushing it!
"Hey Antonio, how are you? My broadcast went out at 1PM today. As of 1:18PM I have 6 appointments…so far!"
Tiana was super excited, Antonio was excited and gave her a shoutout, and we're super excited as well!
Congratulations!!
"Yesterday I shared my first system campaign…I got a lead!!!"
New MLSP Member Latawanna Rachell Flake got some awesome results from her first share!
She had some great words to say to our community along with her success story post…
"Don't give up newbies! I was once a professional quitter and no turning back! Do whatever you need to do to get there. Ask questions. Watch the videos again, and again if you have to. I'm going to L7 so help me God!!"
You're off to an amazing start Latwanna!
"It's almost been a year since I joined MLSP & all I have is pure gratitude."
Anna Tossel is coming up on a year with MLSP and she's almost as full of gratitude to be with us, as we are that she's hung her hat with us! 😊
She's been a force to reckon with over that year, and we know that we see amazing things for her in 2019!
You'll want to read her entire post in the screenshots below. Tons of inspiration there!
Check Out the Screenshots from Inside the Private MLSP Community Below!!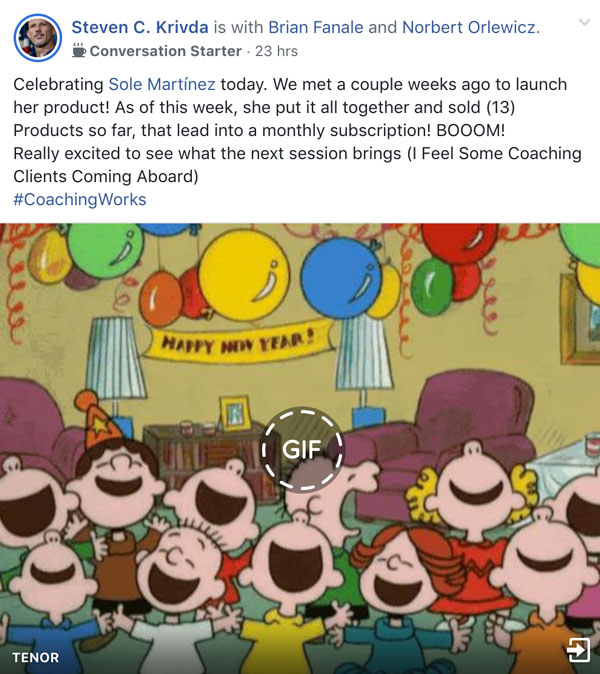 Got value from this post? Then we would LOVE for you to comment below and share on FaceBook…Research has shown that as you share this MLSP blog post & comment below, the universe will bring amazing things to your life. 😉