Jeimy Reyes is "learning so much more, crafting her skills, and getting better and better every single day."
That's what our members do here at MLSP! They get started, and ever single day they up their game, get more leads and sales, and rise in leadership!
Great job Jeimy!
Shout Out!  "Few days after her Strategy Coaching Session…9 Leads come flying in!"
MLSP Leader Steve Krivda had to give his coaching student Shatieya Tanay a shout out this week.
Not bad when you can start pulling in 9 leads right away. And not bad when you catch the attention of such an industry heavy hitter!
Great job Shatieya!
"Today I did my 1st coaching call on personal development. After 45 min session she is ready to go!"
Jaz Kaur has dipped into coaching and looks like she's doing pretty darned well so far! Jaz has been killing it inside the MLSP community. She's a frequent name we see here on the SSS Blog for a reason!
This girl takes action. We just had our coaching training last week, and she's already got clients, and getting them out there "ready to go".
"Sitting at a Mastermind focused on personal development…Got 1 new mastery member coming in and 2 people ask for my business card!"
Pretty awesome when you can pull in new customers and train in personal development at the same time.
Looks like Manny Rodriguez is spreading his message everywhere he goes. Here's what you should take away. Looks like the message he's spreading about MLSP is the message that people need to hear!
Who will you tell about MLSP today? Not a member yet? Starting to see how in demand the value inside is?
Great job Manny! Continuously killin' it sir!
Shout Out! "He has upgraded to mastery…and he's already go someone in the trial!"
Seth Cawley is wasting no time getting people into MLSP. So much so that Anthony Jackson felt compelled to give him a shout out.
And we're glad he did.
Keep going Seth! Starting out with a bang!
"I decided to give it a test drive last night by making one post thinking I would generate 2-5 leads…"
2 to 5 leads would be cool. Except Elaine Michaels "Woke up to more like 500+"
What did she put to the test drive by the way? MLSP's step-by-step tutorials right in the MLSP back office!
Just another example of how taking action is key.
Keep up the great work Elaine!!
"I'm LITERALLY living my dreams right now! #OMG"
Siobhan Caulfield has discovered that it never gets old seeing yourself on the MLSP leader boards.
Apparently she's been taking some heavy duty action over the past 30 days, and it's paying off in droves.
We love having you on those leader boards Siobhan! Nice work!!
"Facing fear brings out something in you."
Check out what happened to David Webb this week:
"10 minutes ago I said, "I feel fear about doing that video today"
2 minutes ago I said "Screw It!" lol Now it's done"
It's that moment you realize that facing your fear changes your life!
Fear is what holds way too many people back from their dreams. David understands this and is taking action despite his fears. He's feeling the fear and doing it anyway!
Congrats David!
"I finally got to 100 people solid on my list"
It felt like it took her "FOREVER", but Janae Jenkins hit 100 subscribers on her list. But according to her success post inside the MLSP community this week, she might actually start unsubscribing inactive list members.
What that tells you is that Janae is now absolutely confident that subscribers will keep coming into her business. Which means she's done the right things to create value and get traffic to her capture pages!
Great work Janae. 200 subscribers is right around the corner!
Shoutout! "Not only did she sign up 3 people into MLSP last week, she is now also signing up new customers in her primary business!"
Oh by the way, that was all within Michelle Connealy's 1st month. And like Lisa Reed says in her shout out…NOT BAD!!
Michelle came out of the gate running, and the results are showing!
Great job Michelle, and thanks for letting us know Lisa Reed!
"After several tweaks to my Twitter accounts, 4 leads in 2 days!"
David M Ellington just started with coaching and he's already pulling in some lead nice lead flow.
Coaching has proven to be one of the most powerful services we've ever released, and for us it's one of the most rewarding!
Results are flying in, day after day!
Want a coach of your own? Click Here to Watch This 8 Minute Coaching Video!!
"GOT MY FIRST LEAD WITH MLSP!!"
It gets even better for Trey Harrell though. He got in contact with his lead and they're starting the 10 day trial.
WINNING!!
Great work Trey! Keep going sir!!
You'll want t check out the success story posts below! These happen everyday inside the MLSP community! Will YOURS be next?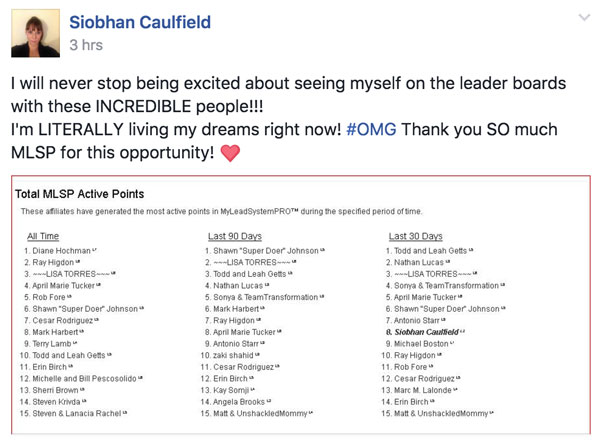 Got value from this post? Then we would LOVE for you to comment below and share on FaceBook…Research has shown that as you share this MLSP blog post & comment below, the universe will bring amazing things to your life. 😉