Angela Stafford is a massive success story in the making!
You'll want to read her entire post below, but here's the gist of it…
A year ago: Sick. Disabled. Unable to work. Broke!
Today:  "I may not be a 6-7 figure earner YET…but I am not on food stamps anymore…and not far away from getting that letter from SSDI saying 'you are no longer eligible for financial benefits due to making over the limit!"
This company thrives on helping people get their lives and freedom back, and if Angela's story isn't the epitome of that, then what is?
"I'm not the same person, I don't even recognize the person I was a year ago."
So cool to see this success story happening right before our eyes! This story alone will change someone's life.
Amazing stuff, Angela!
"There's no better feeling than having a cuppa tea, and handing your mum over her mortgage money." 
Kay Somji just did the kind of thing that everyone who gets into this business dreams of some day doing.
Helping someone you love! Here's the cool and inspiring part…
"Just 18 months ago I struggled to pay my own bills and had my electricity cut off, ruining all the food in my freezer."
And now he's helping his parents pay their mortgage.
You're going to want to go through his entire success story post below, because there's a chance that right now, YOU are exactly where Kay was 18 months ago.
You may be thinking that this thing is never going to work.
You may struggle with the techie stuff.
You may not feel like doing what you know you should.
And at one point you've probably wanted to throw your computer out of a moving car just like Kay wanted to.
Yet just imagine what thing can be like for YOU in 18 months? Who's that person that you'd love to be able to help with their mortgage, car payment?
What charity do you want to give it that you just haven't been able to do.
Keep pushing forward and all that is coming for you!!
"HOLY FREAKING MACAROONS!!"
Anna Andrea sounds pretty excited. And why wouldn't she be?
She's using the ManyChat Bot Strategy from Jesse James and the Facebook Ads Story training by Justice Eagan… and getting some amazing results.
"Results in less than 50 hours: Spent $10, 8.7K Reached, 95 Page Likes, 7 Subscribers, 1 Ready to Invest NOW!"
BOOM!
She's taking action and getting some awesome results. Great work, Anna!
"I committed to the mentorship program!"
Georgianna Garcia was celebrating her wins this week inside the private MLSP Facebook community.
This single mom knows what it takes to reach success.
"Fear was holding me back as a recently single mom of a 7 and 4 year old, but everything you want is on the other side of fear"
She's committed to creating a new future for herself, and we're glad to have her in the new MLSP mentorship program.
Great work, Georgianna! Looking forward to seeing what's in store for this awesome lady!
"MLSP is changing lives, and we're so stoked to play apart in that."
Steve Harradine got a great FB message this week, and couldn't help but share it inside the community. We're so glad he did, and YOU will be too.
Here's some of what the message said: "I cannot thank Steve Harradine and Samantha Janyne Jarradine enough. This Facebook challenge has totally changed my social media marketing in just 5 days. My PAGE likess have grown substantially…and we took over $1K in a single day"
Steve and his wife are most certainly changing lives. Great work, guys.
"Completed our first ever 5 day challenge today, and ALREADY have 6 people signed up for their mastery trial"
The Harradines are on fire this week. Samantha Jayne Harradine posted an amazing success story in the community this week as well.
She even updated it a little later, to let the community know that it went up to 12 people joining. BOOM!!  More great work. Is this a new MLSP power couple in the making?
"40 leads in less than a day!"
Porscha Winley is having a good problem this week.
She's having trouble keeping up with all of her leads!
"All I see are leads!! So in love with ManyChat!"
Pretty cool when you put a tool and strategy to work and you get results like this.
Great work, Porscha!
He Earned In a Day What's Equivalent to 2 Months Worth of Salary As a Regular 9 to 5 Employee Where He Lives!
When you make a sale in one day that's equivalent to months of earnings in your country, that's something to be celebrated!
That's exactly what happened to Sonny Lanorias and because of that he's feeling grateful.
The crazy thing. He had 3 separate posts this week with the same type of commission notifications. Insane!!!
Great work, Sonny.
"Hit 100 subscribers on my YouTube channel!"
Joseph Walker is one persistent dude. And it's paying off for him big time.
"I've been clawing, scratching, and biting my way for 1.5 years"
He calls it a "small milestone." We disagree. Because most people wouldn't keep fightin' that battle for even a month. Heck, most don't get through their first week.
This guy stuck it out for 1.5 years. There's plenty more coming to this guy for sure.
Great work!
Shout out! She's Bringing in Leads, 3 MLSP Members, and a Product Sale…BEFORE Her Onboarding Session!
Geez. Shea Hoskinson came inside MLSP like a rocket. Impressive stuff.
So much so that Valerie Lewis had to give her a big ole shoutout inside the MLSP community this week.
Way to take action, Shea!!! And thanks for letting us know, Valerie!
"I've made the leaderboards in a company I JUST started 4 days ago!"
Valerie Lewis had her own success story for the community this week.
"A year ago, I spent an entire YEAR spinning my wheels, trying to make this "online business thang" work (and making ZERO sales & signups in the process)."
Looks like she's figured it out.
Make sure you read Valerie's entire post below. It may just be the thing you need to see today!!
"First time I got an MLSP sign up WITHOUT talking to the person!"
Actually Manny Rodriguez doesn't even know the person, or even prospected him.
"The great feeling of Commission notification while I'm at racquetball practice"
Manny is experiencing residual income at it's true essence, and he seems to be liking it!
And we love hearing about it. Great job, Manny!!!
"I just realized I hit the $10,000 dollar club two paydays ago!"
Roxann Joyce Roeder had been part of a club that she didn't even know she was in for weeks.
And this is a great club to be in.
Nice work, Roxann!!!
"On Sunday I generated over 100 leads in 1 day!!!"
Seth Grey Collett is trying to figure out what to do with all these leads. Not a bad problem to have right?
Here's what's amazing about Seth's success story…
He's only been with MLSP for about 3 weeks. And the entire time before his 100 lead day, he'd only generated 5 leads in total (actually, still not bad at all!)
Seth definitely has the right mindset for this business: "And I'm just warming up, this is just the beginning. Can you imagine?"
Nice work, sir!!!
There you have it! This is a typical week inside MyLeadSystemPro! Our community is not only the most helpful and supportive community that you'll find anywhere else online…
It's also the most inspiring, day in and day out!
Did you get inspiration from this post? Are you ready to start taking action on your future? Now's the time. Start today!!!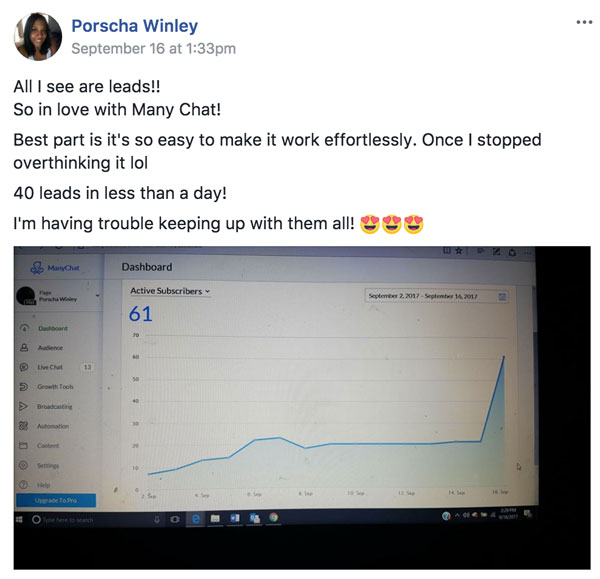 Got value from this post? Then we would LOVE for you to comment below and share on FaceBook…Research has shown that as you share this MLSP blog post & comment below, the universe will bring amazing things to your life. 😉