You'll want to read every word of Erin Birch's success post below, because it's a doozy.
Proof? Just check out what this amazing woman just recently did: "So 14 weeks ago I joined a new network marketing company. And in my first 8 weeks I PERSONALLY sponsored 65 people."
That's amazing! Especially when you think that most people in this industry never personally 65 people in their entire career. Erin did it in 8 weeks!
Here's what's even crazier: "I had ZERO marketing skills and ZERO tech skills when I came into MLSP only 2 years ago."
She now has several income streams coming in. Is in a position to start traveling at will, "Because the fact that hey, I have an online business!"
If LTD6 did that for Erin, what can the 'Live the Dream 8' Event do for YOU?
"Where there's a will there's a way!"
Lisbeth Graham certainly seems to have will, and is finding her way to the MLSP Live the Dream 8 event coming August 11th thru 13th.
Not long ago she posted inside the community that she'd bought her LTD8 ticket on faith that she'd find the money to get there. Which is very similar to our very own Brian Fanale's story about his first ever event.
Already, Lisbeth is halfway there: "Well, I've raised $250 selling things and I'm halfway there. Only $250 to go and my trip is paid CASH!"
That's a person who knows what she wants, and isn't afraid to do what it takes to get it!
Can't wait to see you at LTD8 Lisbeth!!
"I've never grown my list so fast!"
Thomas Andre Molvig watched a training inside MLSP on Facebook messenger ads…and went to work immediately to put it in action.
And with amazing results!
"150 commented and 350 like the post in 5 days!"
The best part. He goes into some amazing detail on exactly what he did. Wanna see. Make sure you read all of Thomas' success post below!
Great work Thomas!
He Found a Diamond in the Rough Through Tracking His Leads
Michael McDonald shared a little gem that everyone with a home biz should pay attention to inside the MLSP Private Community this week.
Tracking is vital to your business, for exactly the reason Michael says. Finding that diamond in the rough where nobody else is hanging out.
The cool thing is that a little post he wrote over a year ago, and planted it on a certain site, is still bringing him in leads.
He wouldn't have known that, and know to go back to this site without the tracking that MLSP offers!
Great job Michael!
 "I created a curiosity post that generated 50 leads so far."
Even better for Manny Rodriguez: "It did not cost me a dime."
But that's not all: "Had one person reach out tome cause they were already looking into the business and when they saw it way my primary they said they want to be on my team"
He thanked MLSP for teaching him the skill set needed to attract people to him.
We say THANK YOU Manny for being a great student who went out and took action. As well as always inspiring the community.
"Just had my first lead come through my first messenger ad!"
Looks like FB messenger ads are working like gang-busters for our members. We can all thank our main FB dude Jesse James for that!
Destrie Monis did in his success post!
Here's what we loved too: "See you guys in Austin!"  Just so happens that we can't wait to see you at LTD8  Destrie!
"It's official, going to LTD8!! Excited about this opportunity"
Another committed marketer ready to take the world by storm!
Congrats Chaz Jackson! We're excited to see you there!
"Yes!!! My plane and hotel tickets are booked for #LTD8"
Zak Shahid…another dude in it to win it!
Look forward to seeing you in Austin!
"First Mastery Signup from my FB Messenger Chat Bot!!"
Antonio Thompson thinks this is fun! And he's right! It certainly is!
Good work sir!!
"Plane ticket booked. Ticket purchased. Place to stay"
Anthony Jackson wants to know who he'll be seeing at LTD8. Will it be YOU?
What we do know is that we can't wait to see Anthony!
"Flights booked, rooms confirmed…mastermind group planning for LTD8"
Holly Fitch Stevens is ready to go! She's headed to Austin for 'Live the Dream 8' with her tribe.
Looks like it's the place to be August 11th thru 13th!
"Just generated 30+ leads in less than 30 minutes from 2 posts!!!"
Lavonda Thornton is pulling in a lead a minute! She's clearly on fire, and ready to take on the industry.
Watch out for this girl!
"WOW…It's been a crazy 12 hours! My new lead magnet has a 75% optin rate!"
Holy smokes! That's an incredible opt-in rate that Lisa Reed is getting.
Guess all that coaching she's been getting through MLSP is working! Read her entire post below, and you'll see ALL the awesome things happening for Lisa because of coaching.
Have you got your coach yet?
Amazing work Lisa!
"I got my ticket to LTD!!!"
If Lori Janine Thomas has her way, she'll see YOU in Austin!
She's committed and going as of this week! BOOM!
"Flight Officially Booked!"
Anna Andrea is on her way to Austin as well!
"OMG I can't waaaaait!!!"
Either can we. See ya there Anna! 🙂
"Boom! Just got my VIP ticket for Live the Dream 8, it's my 4th year I'm coming back to Austin to reunite with my MLSP family and friends!
Vitaliy Dubinin is easily one of the most dedicated and hardest working guys in this entire industry.
And to put the icing on the cake, one of the nicest you'll ever meet!
In fact, if for no other reason… YOU should head to Austin, TX just to meet this guy in person (although there ARE a ton of other reasons 😉
"MLSP holds a special place in my heart. This is the platform that serves as a springboard to my biggest breakthroughs online!"
Oh did we mention that Vitaliy is flying (for the 4th time) from Israel?
He's taken commitment and dedication to another level, and YOU should too!
Seriously do you want to miss this, and let all of these others have all the breakthroughs and fun?
GET COMMITTED and GET YOUR LTD8 TICKET NOW!!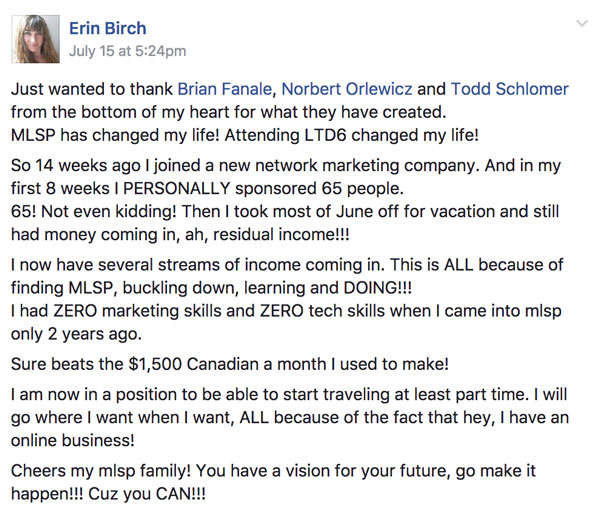 Got value from this post? Then we would LOVE for you to comment below and share on FaceBook…Research has shown that as you share this MLSP blog post & comment below, the universe will bring amazing things to your life. 😉