"I can't tell you how much MLSP has changed my life."
In 2012, less than a mile away from where the MLSP Live the Dream Event happens every year in Austin, Wonder Whit (great name) was living as a homeless single mom.
After discovering the home business space, Wonder was dead set to make it work. "There was no other option for me."
Like so many others, she struggled for over year in the beginning.
She then discovered MLSP in July of 2016 and started making great strides in her business.
"Since joining MLSP July of 2016 I've taken countless hours of training, created a consulting business, made priceless connections, made quite a few friends in this community & now because of my dedication & consistency: I'm now the creator of TWO online courses that have been picked up by another site! And I've got more in the works!"
If you're struggling in your life right now, and you know there's more out there for you, then you should read every word of Wonder's post below.
She's proof that you can overcome great struggles, and achieve great things no matter what your circumstances look like now.
And the MLSP community is a perfect place to do it!
We love Wonder's amazing story!!
"MLSP has literally saved my life."
Almost a year ago, in January 2017, Lisa Thompson got some scary news about her health.
She was diagnosed with Type 2 Diabetes. It's a frightening thing to hear your doctor say you've got this disease.
However instead of shrinking, Lisa Thompson used it to flourish.
"Here's where MLSP saved me. It was the mindset and attitude training I learned here. Ever since I became a member of MLSP in 2013, I've listened to the Daily Wake Up Calls, and been a member of Diane Hochman's Deep Abyss Mastermind since 2014!
The mindset training I learned here has taught me to view this disease as a blessing instead of a burden. And by blessed I mean building an audience to serve people who are fighting the disease to give them hope!"
In essence, and you should read Lisa's entire story below, Lisa has used her diabetes to attract prospects and build an audience. With a vision to serve people who are also fighting this disease to give them hope!
This community changes MUCH MORE than just your bank account. It changes your ability to look at the world in new ways, and to develop the winning mindset to achieve anything you want, and fight through any obstacle in your way!
Amazing stuff Lisa!
MLSP Changed My Life!
Jean-Serge Gagnon shared a sincere and grateful post this week inside the MLSP community, and we're so glad he did.
Because we know this dude works his butt off, and we love the fact that he's doing so darned well.
But also because posts like this inspire the MLSP community.
You'll want to read the entire post below, but here's a snippet:
"In the last 30 days, I've gotten 99 new leads in MLSP, 585 new Many Chat subscribers, and 256 new Aweber Subscribers… I now have 190 members in my biz (from 0 last month)!"
Jean is smashing it out of the park and we're lucky to get to watch it happen week after week!
"Had my first MLSP Mastery Member sign up today!"
Filip K Overas celebrated his first sign up this week, and now YOU get to celebrate with him.
The first one is always exciting, but it never gets old. They're all exciting!!
Great job Filip!
Shoutout! "With the help of the MLSP Mentorship program, Jill got her first 5 leads from Facebook LIVE!!!"
Anthony Jackson (aka Techy Tony) gave Jill Bean Davenport a shout out this week inside the MLSP community.
This girl is on fire!
"I just want to recognize Jill Bean Davenport for her hard hard work. She attended the level 2 Workshop, she was taught how to make a funnel using the MLSP Funnelizer – She was determined to get a result and she DID!"
Awesome stuff Jill!
"I am so overjoyed to be sharing my progress with everyone tonight!!!"
Selina Parker has had a big 3 weeks!
You'll want to read her entire story below. But bottom line, she lost her job in August of this year, and decided that would be her last job ever. And she may very well be right about that!
She got busy 3 weeks ago, went through the MLSP training, and went into action mode creating a Twitter strategy to attract prospects to her.
What happened since?
1483 Twitter followers
15-20 conversations with prospects a day
17 fresh leads (15 w/ phone numbers)
101 new Instagram Followers
Rebranded her social media
Launched a course on her blog
All that in 3 weeks, and she's only getting started.
Amazing to see. We'll keep our eyes on this one!
"You just gotta put in the work. These challenges work!"
Keysha Bass is collecting New MLSP Member Sign-Ups this week. As you'll see in her post screen-shot below, they're flowing in like crazy!
We're watching a Facebook Challenge flood once again!
Shoutout! "Bam! Just got her first Commissions!"
Miguel Fuentes was excited for Kore Quinn. Surely Kore Quinn was excited as well.
First commissions!! Great work Kore!
"8 New Members since yesterday and counting."
Boom! Lisa Torres Allen is at it again.
Pulling in new members left and right! This is so fun to watch!
"Look who just snuck into the 'All-Time' Category [MLSP Leaderboards]"
Staci Hall is over the moon with excitement. And she most certainly should be.
Staci is in on the list with the big dogs, and she deserves it.
She had some nice things to say about MLSP as well:
"Doing this online thing without MLSP is like wandering around with a blindfold on. Why would anyone do that? So grateful for my MLSP family!"
And we are grateful for Staci! Great work!
"Our 5 day challenge was a blast, and now we are rocking the 10 day challenge!"
Miranda Masters Van Gogh has been on a tear inside MLSP and this week looks like the same once again!
And if you're wondering about whether you should do your own Facebook Challenge, here's what Miranda has to say about it…
"If any of you are wondering if you should try it out, Go FOR IT!! There is an amazing training in the back office. Just jump into that and do your own 5 day challenge."
Good stuff!
There were some epic posts inside the MLSP private community, and we shared the exact posts below!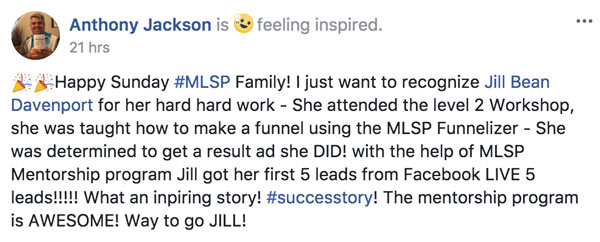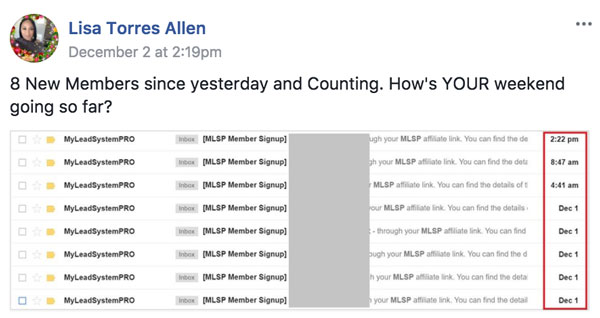 Got value from this post? Then we would LOVE for you to comment below and share on FaceBook…Research has shown that as you share this MLSP blog post & comment below, the universe will bring amazing things to your life. 😉