MLSP member Brian Garcia has certainly got that right!
Holy cow! We're only a week into 2017 and the community is getting lit up with Success Posts! Our members obviously were not slacking in the least bit over the holidays. In fact they turned it up a notch!
How do we know? Just check out what Brian went on to say…
"This means that my marketing promotion in November/December is working!…Who else is getting commissions early this new year?"
We say it here almost every week, and we don't see that we'll stop any time soon.
The MLSP community is the BEST! We've got go-getters goin' and getting' every single day!
"My best day to date for leads! Very exciting"
97% of the industry would kill to have 8 leads in a day! Even inside a month would be a windfall for most!
Kirsten Liwanag didn't have to kill though. She just did what MLSP teaches and now look! She went on to say: "8 so far and just keep coming in."
You can see her post below where she shares a screenshot of the notifications. It's great to see!
It's going to be a great 2017 for this lovely lady!
"I got my first 3 leads without even setting up any funnels or doing anything different than…"
Than what? That's what you want to know right?
Victoria Fuller goes on to say "Without doing anything different than just sharing me and what makes me happy!"
Doesn't get better than that. You'll want to check out her Success Story post below because there's a lot of gold in that one post for you!
Keep up the great work Victoria. We're watching!
"Got my first lead today and I am overjoyed with excitement!!"
BOOM! We get absolutely giddy when we see these 1st lead posts!
Jodi Steinwart continued with some words that we expect are going to be VERY true: "2017 is going to ROCK!!!"
Keep doing what you're doing Jodi and it certainly is going to be. You're definitely in the right place right now!
100,000 FB LIKES ON THE MLSP PAGE!
Hey it's 'Success Story Saturday' and so we've got to pat our entire community on the back here! You did it!!
This is a MAJOR MILESTONE!
You can see the dandy graph from the day we did it in the story roundup below. We want to thank everyone that helped make this happen. It's YOU sharing and caring every single day inside the community.
It's YOU who gets the word out, helping struggling business owners know where to go for help!
Want PROOF!
Check out Susan Maghrabi's full post below.
But here's a little sneak peak that pretty much says it all. And it tells the story of what MLSP is about.
"Thanks to this community my end of year is so different to my beginning of the year"
We want everyone who wants it to Live the Dream! We want to see financial and time freedom in every household. Not beholden to bills, schedules, and stress. And that's what you guys are building.
Now go check out all these awesome 2017 success stories below!!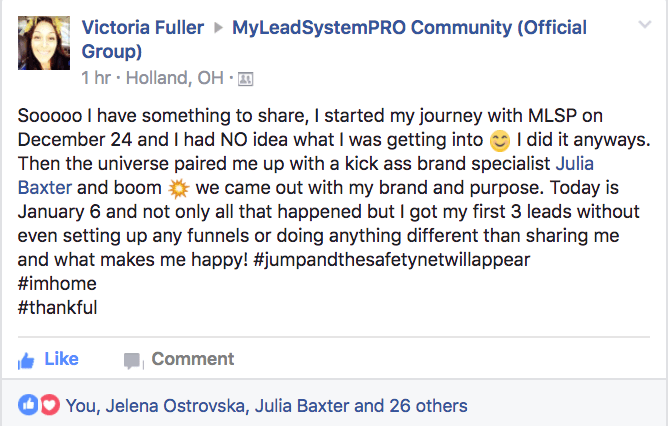 Got value from this post? Then we would LOVE for you to comment below and share on FaceBook…Research has shown that as you share this MLSP blog post & comment below, the universe will bring amazing things to your life. 😉