Whoa! 767 requests to be exact!
MLSP Member Lisa Reed smashed it out of the park, and she really is finishing 2016 off strong just like she suggests others to do!
Can it really be as simple as that though?
Just look at the images of the Success Stories from the past week below, and you can see EXACTLY what Lisa said in her post! How cool is that?
The secrets aren't as secret as you may think. The true secret is just willing to do what works. The Code has been cracked and Lisa is in a giving mood!
And there's plenty more like it inside the members ONLY community where tons of stuff is posted every single day!
"I have generated my 1st lead!!! FOCUS!"
Some pretty handy advice given at the end of that Success Post from member David M. Ellington!
We love first leads, and it's great to see that David understands WHY he got that lead. He focused on 1 strategy.
The first lead doesn't always come right away. You can't just plant a seed in the garden and expect a veggie the next day can you?
David stayed the course, and now things will start moving. Because leads can be like dandelions! One pops up and before you know it they're coming up from everywhere!
That won't be his last lead, and 2017 should look pretty good for this guy! Keep focusing sir!!
"I already generated 5 leads from this ad!"
Chidanand Jagannath is "liking this Facebook Ads thing", and he should.
When 5 leads flow in, you do exactly what Chidanand said…and let that baby run and see what happens.
That's a good way to start the New Year. Looks like he's in New York. Maybe by the time the ball drops on New Years Eve he'll have 5 or 10 more!!
"Woohoo!"
We get a lot of Woohoos inside the Private MLSP community!
It's great to see when someone is woohoo'in because of something that they've applied to their business! Because that's when breakthroughs happen.
Chondra Rankin went on to share "Just recorded my first screensharing 'how to' video – to use in my blog post today, and also include in my YouTube channel!"
That's an awesome reason to celebrate, and the fact is that this breakthrough she had will likely be serving her well residually for quite some time!
You'll want to read the rest of Chondra's post below to see exactly which 'MLSP Wake Up Call' inspired her to act, and then go hunt that one down while it's still available inside the MLSP Back-Office!!
Some great stuff to end 2016 inside the MLSP Community! Enjoy your night as we kick off into 2017, where things are about to get really insane in MLSP land!!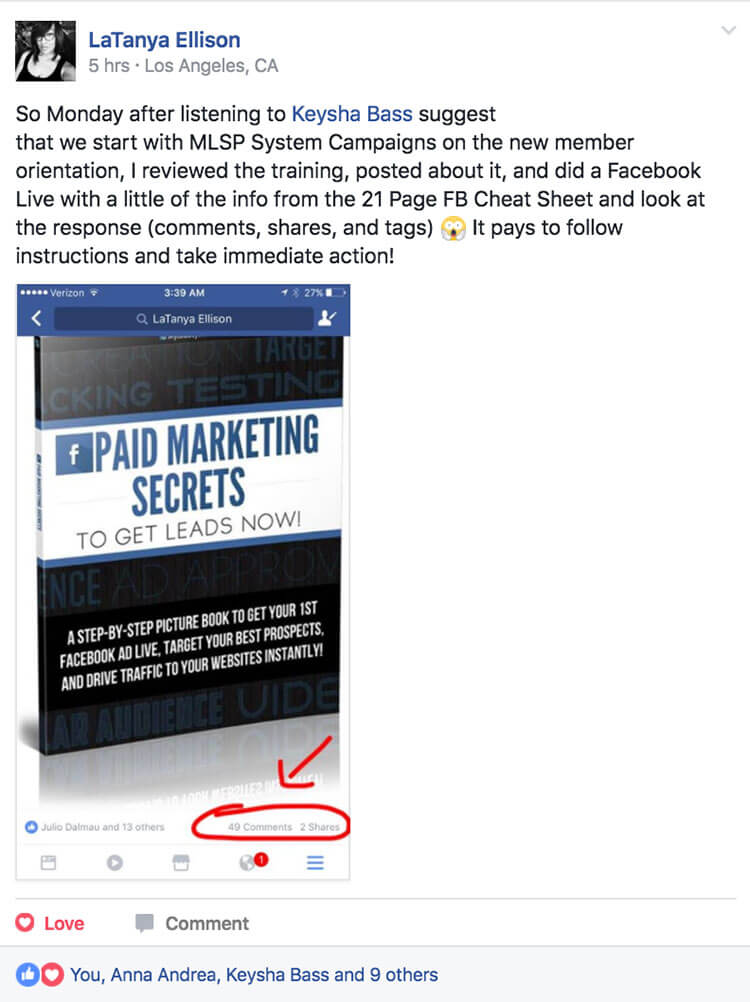 Got value from this post? Then we would LOVE for you to comment below and share on FaceBook…Research has shown that as you share this MLSP blog post & comment below, the universe will bring amazing things to your life. 😉