Sonny Lanorias had a really great day this week!
He was feeling grateful, and who wouldn't? $1400 days are good days.
As you'll see on his Success Story post below, he got multiple sales in one day…and one big chunky one. Great job Sonny!
"I Can't Tell You How Pumped I Am and How MLSP Is Changing My Business"…
This week, Sam Hull did something most people don't do…and therefore they don't see the success that she saw this week.
What did she do? She simply implemented the training that she'd watched and in her own words "I have leads already!"
But not just leads.
You'll see what happened after she watched a Ray Higdon training and implemented THAT too!
By the way, all this training she speaks of is right inside the 'MLSP Training Library' for MLSP members.
If you're not a member – guess you know what you better do now. 😉
"I Got a New Lead…A New Team Member…& A Commission"
Now that's a cool success story no matter what!
However it gets even cooler when you consider the fact that Pat McKeon had just started with MLSP 24 hours prior.
She's on fire right out of the gate. We see huge things for this go-getter.
You can see exactly which marketing method she used… and you'll understand why she thinks it "Rocks!" Great work Pat!
"I did it. I finally did it."
What did she do? Valerie Lewis "took a deep breath and set up her first webinar."
Of course she used the training from webinar expert Steve Jaffe!
Valerie is on a tear, and we can see huge amounts of leads and sales coming down the pike for her biz!
Speaking of "LIVE" video marketing…
"Had my biggeest live audience of 194 people and it's up to 1.8K views!"
MLSP member Sherri Brown had a huge accomplishment happen this week.
Her Live FB video did the best any has ever done for her! She's been sticking with it for a month and now she's enjoying the fruits of that. Her audience is growing and that's the name of the game!
You'll be hearing a lot more about Sherri Brown very soon!
We've got TONS of success stories this week! Check them out below. Get inspired. And then GET BUSY!!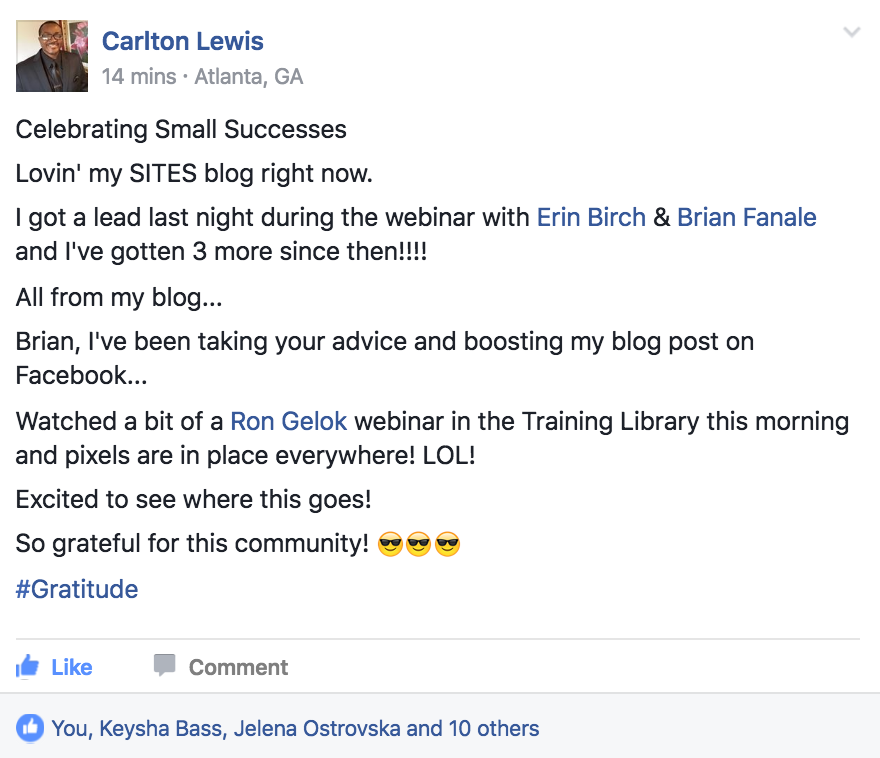 Got value from this post? Then we would LOVE for you to comment below and share on FaceBook…Research has shown that as you share this MLSP blog post & comment below, the universe will bring amazing things to your life.