Ever wonder what it feels like to go from no leads to consistently getting as many leads in a day that most in our industry get in a week? (and that's being kind)
Even while you're sleeping?
Well Sabrina Beckham discovered that feeling this week, and it was so good that she had to tell someone! In fact, she told our awesome private MLSP FB group! "I love this community!" she said. So do we!
Sabrina's on her way to becoming a highly sought after leader in this industry, and we're going to love watching her journey. Great work!
"It's Time to Celebrate a Small But Huge Victory For Me!"
First of all Joseph Wright there are no small victories. They all count!
Especially when it's a victory of consistency that will pay dividends for a long time to come. 10 straight days of blogging is much rarer a streak than you might think, so congrats!
Here's the best line: "Celebration over. Time to get back to work!" That's the attitude that's necessary, and this dude's got it! You are on your way sir.
"12 Leads, 1 Mastery Level Sign-Up. I think I'm gonna like this…"
Oh, that quote above from Angela Brooks? That's her celebrating this success while STILL in her trial period. 6 days in!
She caught L6 Lisa Torres' attention who shared her success story inside the group.
She Signed Up, Sent Out 2 Links, and Boom!
It's amazing when you simply expose what's offered at MLSP to those who are desperately looking for it.
New MLSP member Jenni Harris saw how quickly that can work this week. You'll see her story below, but she signed up and in just a couple of days… and only 2 links shared…got a new mastery member (and nice commission!)
The key? She shared the darn links! Will YOU be sharing yours this week?
"I Wrote This a Few Months, and Now…It's a Reality!!"
It seems that Elizabeth Mallory Oliva has figured out the secret to achieving goals.
* Write 'em down…
* Say 'em out loud…
* And feel it like it's already happened!
She did it and well…it seems to have worked as you'll see below. Wait until you see what her number was that she's definitely going to be boosting now!
What's YOUR Goal?
So the question for you this week? What's your goal? Where will you write it down so you can see it every day, and follow the steps that Elizabeth just proved works like crazy to make it become reality?
Let us know in the comments. No better place to exclaim it to the world than here!!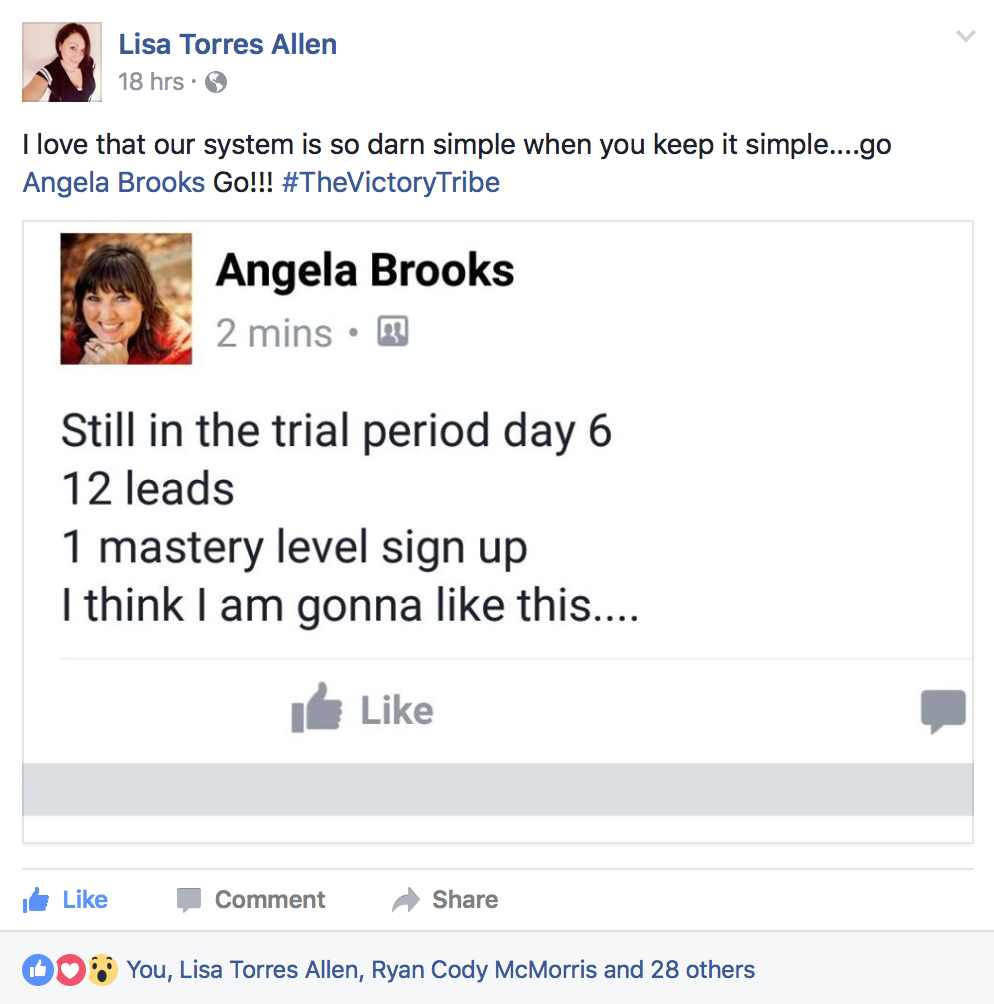 Got value from this post? Then we would LOVE for you to comment below and share on FaceBook…Research has shown that as you share this MLSP blog post & comment below, the universe will bring amazing things to your life. 😉