Margaret A Edwards had already posted inside the MLSP private community, excited that she had pulled in 7 leads within an hour of watching a training in the MLSP back-office.
She then had to update it the next day with her news of getting 61 MORE LEADS overnight.
"I'm in the process of connecting with them all!"
Looks like she's going to have a lot of connecting to do!
Great job Margaret!
"So let's see…54 leads in 3 days, 3 subscribers to MLSP in 1 week, 1 point away from L1, over $300 in commissions, on 4 leaderboards"
Shaundyll Rogers is absolutely KILLING IT!!
What the heck is going on with this amazing lady? We'll have what she's having!
She's feeling blessed, and we're feeling blessed to have her in this community!
Huge Congrats Shaundyll!
"$2,950 today and about $60,000 over the last few months paid out from MLSP."
David Sharpe (yes that David Sharpe) is proof that it never gets old to receive payouts.
MLSP just proudly paid this dude $2,950.
The coolest part is that he left some world-class advice for our community…
"Here's a tip that could be worth at least $10,000 to you in the next 90 days:
Believe in the value that YOU can provide as a leader and believe in the value that the PRODUCT you are selling provides to the customer.
And selling the $1,000 yearly membership will become no different than getting someone to take a $10 test drive!"
There ya go! Some FREE advice from one of the top earners in this profession!
"Just another day at the office…people wanting to start a business, learn how to generate leads, and my real estate client has people looking to buy homes!"
Antonio Thompson is having his usual day of leads pouring in, and good news from coaching clients!
This guy is getting it done as usual! Great work Antonio!
Shoutout! "Kudos for stepping way out launching her coaching program. Has her first "consultation" funnel set up, and it looks fabulous."
Coach Steven Krivda was super excited to see his client get results. As he always is.
Ennie Gonzaga is stepping up to the plate, and getting things done!
As Steve says: #CoachingWorks!
Congrats Ennie!!
Shoutout! "Can I get a whoop whoop for my friend…Setting up her first blog and domain name!"
Rebecca Wilson is doing all the right things it looks like.
She got a big shoutout from rockstar Camille Tyler who's no doubt having some awesome influence on her friend.
Gotta love this amazing and supportive community!
"Just got my first 5 leads in the last 3 days!"
David Hernandez says he's celebrating the "small wins".
But we call this a BIG win. The first leads are the most difficult and this guys pulling them in now.
Many more to come sir!
Great work!
"Since morning I have generated over 10 targeted leads."
Sameela Bibi shared someone else's story, and still pulled in 10 leads.
"Storytelling is very powerful" She's absolutely right!
And that's a huge tip for YOU and your business right there! Whether you're prospecting on social media, on your website, or in emails….people love stories!
Thanks for sharing that result Sameela! Awesome stuff!
Shoutout! She Got Her 1st Customer in Her Primary!
NICE! Rose Hall just did it! First customers require a happy dance. Celebrating this one, and the many more to come!
Gotta thank Daria Jackson Legagneur for letting the MLSP community know about this one!
Congrats Rose!
Shoutout! "Boom digity for cranking up on her fanpage and adding over 2,000 new fans!"
Another awesome shoutout and shared success story from Steve Krivda! (And it was a boom digity shoutout at that!)
Shari Roberts is killing it with her fan page! But that's not all she's doing.
Here's the rest of the shoutout!: "She was consistently receiving commissions and adding a new person to her MLM last week!"
Nice work Shari!
"I just posted what you taught in a couple of groups. In a matter of minutes I had 40+ responses"
Linda Addington took action on the training that top MLSP affiliate and rock star Aron Parker did on Wednesday Night!
And she got some immediate results. And that was from free training! Pretty amazing what's going on in this awesome community!
Great work Linda!
"For a $5/day ad, 531 likes, 432 comments, and 81 shares for a cost of $0.03 per engagement!"
Whoa! Lisa Thompson is smashing it out of the park with Facebook Ads.
And to imagine she said this: "I have to admit I'm a little late to using FB ads!"
Bet she'll never stop now. 🙂
Those weren't her only results either.
"I did a 2 day boosted post for just $10 total spend, and wound up with over 3.6K views and cost per result…$0.0004. Best part is I have had over 15 people reach out to me wanting to know more about my products and business."
Whaaat? Boom! Amazing stuff Lisa!
"Holy smokes. One post yesterday and I have 100 leads so far in less than 24 hours!"
Sheesh! Camille Tyler is not messing around.
This girl is on fire, and getting some huge results.
It's really no wonder… she's the epitome of action taker!
Awesome work Camille!
"Feel blessed being able to generate leads while I am sleeping!"
Janet Burton is experiencing that amazing feeling of leads while you snooze!
Not much better than waking up to fresh targeted leads!
"Glad I said "Yes" to this opportunity and joined this beautiful MLSP community!"
We're very glad she did as well. Looks like she's got what it takes to be a huge success, and a great inspiration!
Great job and thank you for being a go-getter!
"Just made my first commission in MLSP!"
Catherine Mwasha Mulubwa just did it! She broke through with that first successful sale, and now can look forward to many more to come!
Congrats Catherine!
"A quick call to help me with my MLSP campaign ad and got a lead within 2 hours! Totally Stoked!"
Suzanne Welsh gave a shout out to Antonio Thompson for the help with her ad!
She's taking action, and luckily has some of the best minds in the world right here inside the MLSP community to go to when she needs help!
Nice job!
"Wow, 5 leads within one hour just sharing our link for Wednesday night webinar"
Chris Myers believes that with MLSP he's going to have thousands of leads for his business.
We believe so too. However…it's because he's taking action on what MLSP teaches. Don't forget that part Chris!
Congrats on the leads sir!
Check Out All the Actually Posts Inside the MLSP FB Community Below Now!
There's gold in the screenshots below.
You can see exactly how they're getting those results, and see what's possible for YOU!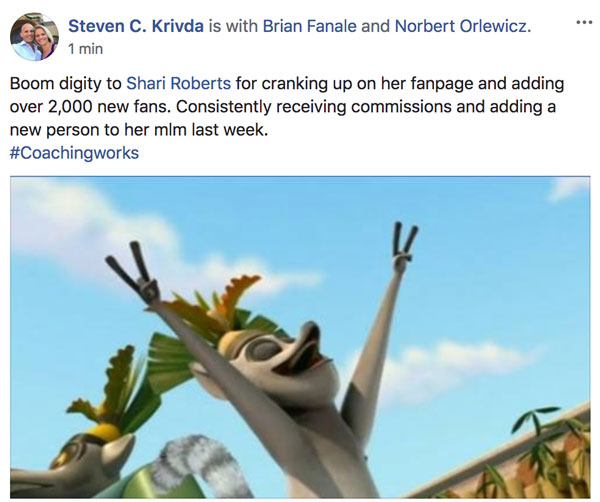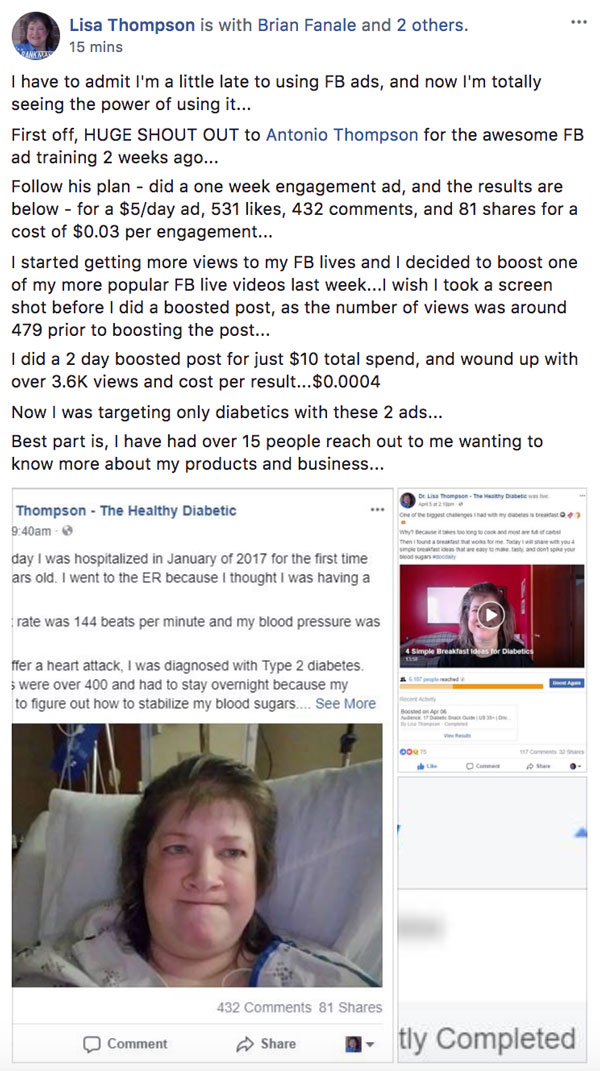 Got value from this post? Then we would LOVE for you to comment below and share on FaceBook…Research has shown that as you share this MLSP blog post & comment below, the universe will bring amazing things to your life. 😉