Paul Kroone went on to say "It is great when things come together. He's right about that. This new member went into action mode right away, and we're not surprised at all that things started coming together for him. The dude's a go-getter!
How'd he do this? "Followed Aron Parker's training step 4"
You can find that in the back-office of MLSP right now!
Awesome stuff Paul. Many more leads to come!
"Going through the getting started training and it's been great so far!…Have my first 3 leads in 2 min after applying the training!"
Looks like JoAnna Sagrero is another new member who's not wasting any time getting started and taking action.
She's grabbing up leads on Instagram already, and she's not even through the training yet.
"Love all the value that MLSP offers. Can't wait to finish the training!"
Way to go JoAnna!
"I made ONE SMALL TWEAK to my messaging, and in less than 24hrs, I've already added FOUR new prospects to my private group, and had TWO others reach out!"
Tina Maddox is a new member, and taking action right away. (A lot of that going on this week 😉
Another who hasn't even completed the "Start Here" training in the MLSP back-office.
Tina's killing it, and is barely getting going. BOOM!
Great work!!
"Started at 8:34 this morning and 4 leads already. This is the fastest working system."
BOOM! Glen Murray is a brand new member and is already killing it. Four leads on the first day isn't typical, but we have been seeing a lot of newcomers smashing it out of the park in short time.
Awesome stuff Glenn!
Shoutout! "She's already hitting the leaderboards…Just 3 days in #OMG!"
Well Joy Ekeoma didn't wait around at all to be introduced to the MLSP private community. She just immediately started taking action and getting results.
And got a big shoutout right away inside the group from Valerie Lewis
Way to go after it Joy!!
"Buy a dress for Live the Dream Gala…CHECK — Off the list!"
Jen Johnson is ready to go and dance the night away at the Live the Dream Gala in just a couple of weeks. She's got her gown and ready for the ball.
It's gonna be huge, and Jen and Baxter the Badger will be cutting the rug!
Can't wait to see ya there Jen!
"This community and Brian Fanale's WUC's and webinars, and his way of being saved my life, and by extension. my child's life."
Angie Frontera is ready for her breakthrough. She's on the edge, she can feel it, and so can we!
Why? Because she's making moves. Doing the things that create breakthroughs. They don't just come, you have to create the opportunity for them to come, and that's exactly what Angie has been doing.
No matter what you do today, you'll want to take 2 minutes and read her entire post below. It's touching, and it's true feelings of someone who's doing what it takes in real time.
The MLSP coaching is breaking down walls for Angie:
"I have 1 week remaining in my MLSP coaching package…my coach Ryan has been nothing short of amazing…I say all that to say this:I can feel it in my heart and soul a HUGE breakthrough is coming!!"
The "all this" part is what you'll want to read below. But most importantly Angie is expecting her breakthrough at LTD9, and that's half the battle won!!
Congrats Angie!!
"Guess what?! I know more than I realized thanks to MLSP!!"
Stevie Noah DeMasson is learning some awesome things about herself this week, and we're lucky to have her share them in our amazing community.
"I've decided to get out of my comfort zone & do face-to-face meetups so I can learn public speaking & start workshops for attraction marketing. Last night was my first one & although I had 8 on my list, only 1 showed up. That's okay for not, till I get rid of the jitters!"
Awesome attitude, but here's the most important part of her post…
"So I put in 100% on that 1 lady and helped her take the next step in her business…AND she was totally blown away, so we planned one for next week toooooo!!"
BOOM! When you care more about others success than your own, great things start to happen. Other people start to realize your awesome value, and so do YOU!!
"I also found out that I LOVE to teach. I was literally on a high last night when I got home after helping her!"
BOOM! Way to go Stevie!!
"I did this LIVE last Sunday…No Facebook ads, and it has over 1.3K views and I've had people reaching out to me daily asking me about my products and services."
Lisa Thompson is killing it once again.
The awesome thing is that she took a negative (getting diagnosed with Type 2 diabetes a year ago) and turned it into a positive as she's been helping other people through their diabetes struggles.
And how she's using attraction marketing and Diabetes to do exactly that.
"Attraction marketing WORKS especially when you follow the MLSP formula."
She's now built an audience of engaged people where she can do a LIVE, get 1.3K views, and change other's lives and her own.
"Now here's where it gets even cooler. I have friends and family that aren't interested in my products or business who are referring their friends and family to my Fan Page and business.
Just keep building and serving your audience without any emotional attachment to the outcome and you'll have more leads and people reaching out to you than you know what to do with — thanks MLSP!"
Great work Lisa!
"These are a couple of the ladies who are in the The Triple Play preview group who are crushing it after just a few week!"
Diane Hochman's been on fire this past few weeks, and so are the people who are following her 'Attraction Marketing Triple Play' training!
Mindee Rosen and Subria Folami popped up on the leaderboards after just a few weeks.
Attraction Marketing works like gangbusters. Especially when the legend herself is showing you how it's done! 😉
"My very first MLSP coaching call BLEW ME AWAY!"
Ricky Borrows is seeing things more clearly now because of his first MLSP coaching call!
"It was like being handed the recipe for the most amazing sandwich of your life, and all you've got to do is buy the ingredients and make this happen.
Huge shout out to the lovely Erin Birch for discovering my hidden potential and helping me 'nail down my target audience'. I couldn't figure this one out before our coaching call"
So looks like Ricky is about to make himself a big ole success sandwich!
"This is my first time on the leaderboards!"
Audra Annika James just found herself on the leaderboards this week.
"Thank you Diane Hochman!"
Great work Audra. Keep it up!
Check Out All the Awesome Success Story Posts from Our Private Community (from Just This Past Week) Below!…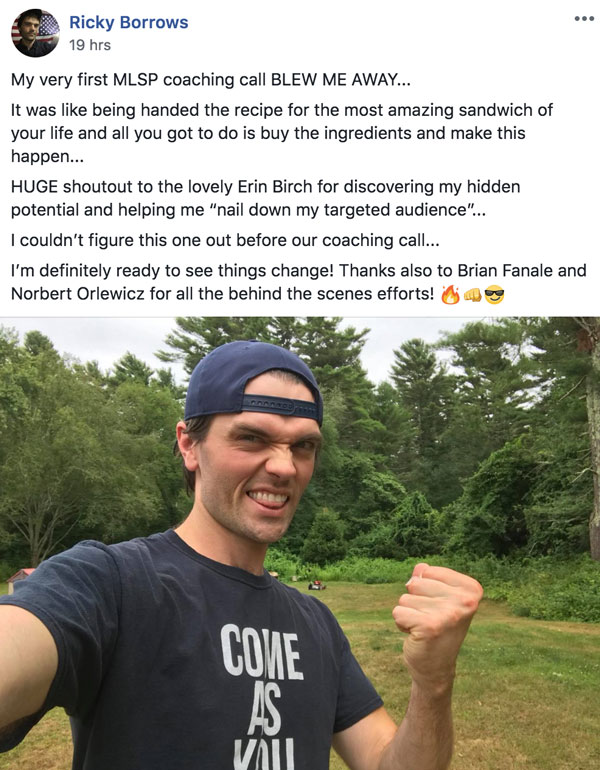 Got value from this post? Then we would LOVE for you to comment below and share on FaceBook…Research has shown that as you share this MLSP blog post & comment below, the universe will bring amazing things to your life. 😉