Danny Young seems like he means it when he says "MLSP ROCKS!"
He also said this which gets us very excited for him and for you: "I love it when you put a strategy into practice, so a couple tweaks here and there and then suddenly BANG!…you get results like this!
You can see inside his Aweber account in the success images below!
That's huge! Amazing work Danny!
"1 for the money, 2 for the show…3 leads in less than 5 minutes…and GO WILLY GO!"
Seriously what more can we say that Will Stauff hasn't already said perfectly?
Great job sir! And amazing post.
"Just rank advanced in my company again this month"
Tracy Rose claims she used to be "the most scaredy-cat person when it came to approaching people" for her home business.
Looks like she's busted through that obstacle. Great job!
If you have a fear of rejection stopping you from approaching people, let Tracey be your inspiration, right here right now!
Great job Tracy! Killin' it as always!
Shout Out: She Hit a Major Rank in Her MLM, Grabbed Up a $1000 Bonus, and an Additional $7200 Bonus On Top of That!"
Antonio Starr wasn't about to sit around and let his "MLSP affiliate and MLM Sideline partner" Jasmine Branford go unnoticed this week.
No way! So he shouted it out to the always supportive, always cheering-for-you MLSP community!
And Jasmine even had something nice to say about us: "My MLSP training is what helped me knock this next level out"
Great stuff Jasmine! Congrats on the shoutout, and thanks for your shout out about MLSP. 🙂
"I've gotten more leads in the past week than in the last 16 months with my MLM"
Lisbeth Graham had this to say. "This system works if you work it and watch the trainings. I promise it works"
The keywords there "if you work it!"
It's vital that you realize that point above. Nothing happens by chance with a home business. With ANY business for that matter. Heck, with anything you ever want to achieve.
You've got to take action, and put in the work. There's no magic pill here. Those people you see killing it, are working their behinds off NOW so that later they don't have to work nearly as hard.
Looks like Lisbeth is working it!
Great job!
"I just got my first lead! Woohoo!"
L5 Leah Getts sent a huge shout out for Jeremy Sandidge this week.
Jeremy grabbed up his first lead after only a few days inside MLSP. Here's what Leah had to say…
"Just a few days in and already generating leads! This is what happens when you take action!"
Hmm where have we heard that ACTION word before? 😉
Great job Jeremy. Plenty more where that came from.
Shout Out: "HOLY SMOKES!!!"
That's what MLSP member Manny Ramirez had to say about the 39 leads that Kerry K. Robinson was able to generate using MLSP's Funnelizer and FB.
The best part? Kerry didn't even realize it! That's a great surprise!
Great job Kerry, and thank you Manny for shouting it out so we can all be inspired!
Shout out!: "Not even 2 weeks into her 1st month of MLSP and she's got her 1st sign up!!!"
Catherine Martinez got a nice shout out from fellow MLSP go-getter Lisa Reed this week for that first sign-up.
Lisa went on to say something that you'll want to pay close attention to.
"Follow the system and the system works!"
Too many people stray from the breadcrumbs laying right in front of them. The way for success is laid out in the system here at MLSP.
Simply follow it and you almost can't help but succeed.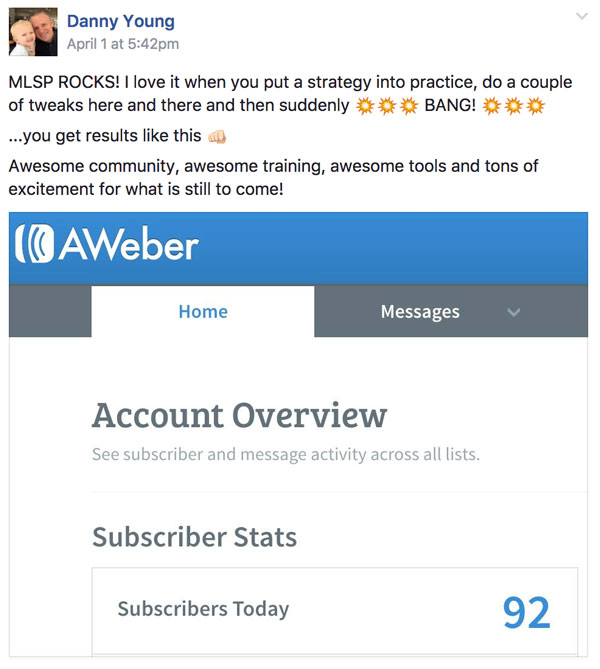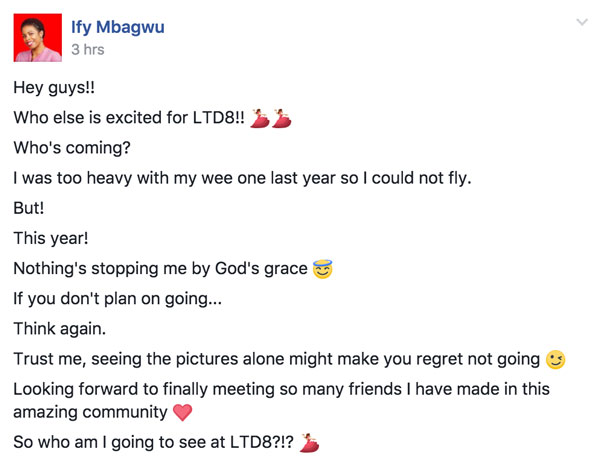 Got value from this post? Then we would LOVE for you to comment below and share on FaceBook…Research has shown that as you share this MLSP blog post & comment below, the universe will bring amazing things to your life. 😉