Shoutout! "Congratulations for creating your first $2497.00 coaching client. You're truly impacting lives!"
Boom! Catherine Ann Clayton just got a big huge shoutout from Super MLSP coach Steve Krivda this week.
She just landed her first coaching client at $2497.00 which is insanely awesome!
Amazing stuff Catherine!
"Omg, I never imagined I'd be on a leaderboard!"
Elaine Michaels grabbed a spot on the MLSP leaderboard this week.
Very cool when you realize she didn't even know what a lead was not very long ago.
"So glad I took the leap into the MLSP Mentorship Program…when I didn't even know what a lead was. I still have a long ways to go…however, if you follow what they teach, and apply, you WILL get there."
Congrats Elaine! Big things coming for this gal!
"I just want to say I am amazed by my results my first full commission came through today since 3-19! ($33)"
Becky Rivas is seeing her hard work create results for her business.
She pulled in a $33 commission this week.
Becky's most certainly #gettingbetterandbetter every single day, learning new things, taking new actions, attracting targeted prospects, turning those prospects into leads, and turning those leads into sales. She's now seeing her results.
There will be plenty more commissions coming her way for sure! She's a go-getter in our community and one to keep an eye on!
Great job Becky!
Shoutout! "Congratulations! You made the leader board in your 1st month! What a rock star"
Dean Murray got a nice shout out from Terry Braid this week.
Making the leaderboards in just a month is certainly no small task.
This means Dean is using the awesome attraction marketing skills he's learning at MLSP and doing amazing things!
Great work Dean! Rock star in the making?
Shoutout! "Your first 2 leads! You rock!"
Wei Perez also got a shoutout from Terry Braid this week.
This is what happens when you take action. You start generating leads for your business, and eventually they keep flowing right in.
Congrats!
Shoutout! "Our dear friend and team leader here at MLSP just sold her FIRST product through the MLSP Business Center"
Valerie Lewis is now in the business of creating and selling her own products. And at $97 a pop, that's going to turn into some nice paydays.
The MLSP business center is changing lives and businesses left and right here inside MLSP and we love watching it.
Awesome stuff Valerie!
"I have my FIRST call set up for this afternoon with a potential MLSP member! Doing the happy dance!"
We're doing the happy dance right along with Virginia Wright this week.
She spent the weekend at our sold out Level 1 Workshop in Austin this week, learning social media marketing and lead generation from the best in the business
"I learned so much and finally after years of trying to figure it out…my 'target market'!
She's crushing it and it's amazing to watch! Great work Virginia!
There's Plenty More Success Stories Where Those Came From (Inside the Private MLSP Community) Below!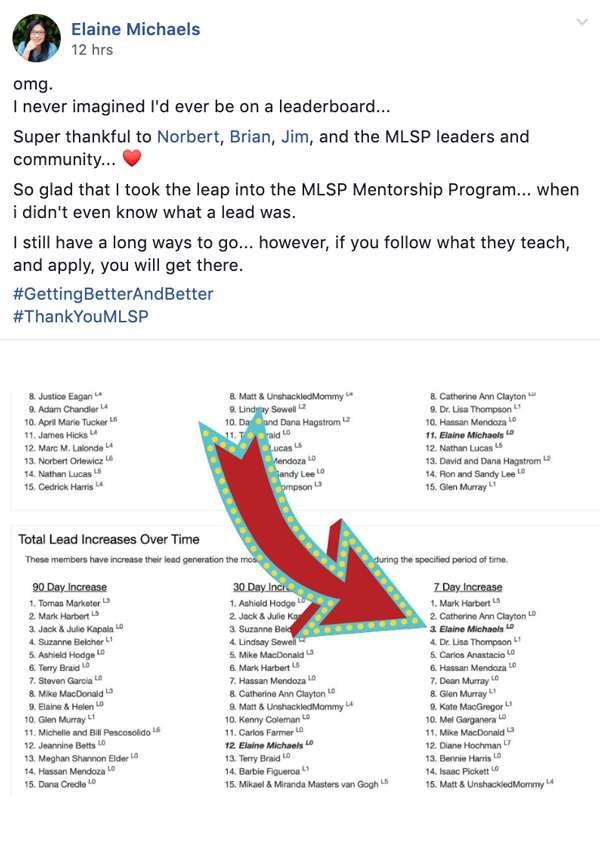 Got value from this post? Then we would LOVE for you to comment below and share on FaceBook…Research has shown that as you share this MLSP blog post & comment below, the universe will bring amazing things to your life. 😉