Sheesh! Talking about taking something and running with it.
Apparently that's exactly what Jolene Miller Williams did.
And Lisa Reed just HAD to shout it out to the community!
Great job Jolene, and thank you Lisa for letting us know it happened!"I had someone email me personally asking me to help coach them in their business!!"
23 Days, 18 Sign Ups, 8 Sales, and 2,050 leads!
Holy smoke! Linda Bomba is the bomb (sorry, had to!)
Just wait until you see the earnings that she posted in the group this week as well.
Great job Linda! This lady's killin' it week after week!!
Turns out that when you're simply honest with your marketing, good things happen.
Nicole Marie Cook not only confessed this week to the MLSP Private Community that she hasn't been consistent with emailing her list…she did what many would think is the unthinkable.
She emailed the same confession to her list.
What happened next was eye opening, and something YOU can surely learn from. She got positive responses. Someone asked her to coach them.
"Be vulnerable, tell your story, & people will relate to you. I have been making this so much more complicated than it actually is."
"Just got my very 1st sale! Yeah! I'm excited!"
Nothing like getting that 1st sale. No matter what the amount, it's one of the best ones you'll ever get. We're so glad that Frances Wages got to experience it.
Looks like she's gonna be living up to that last name pretty well! 😉
"I added roughly 30 people to my tier 1 on my team in my primary business over the last 48 hours…"
That's not all that Manny Rodriguez is doing that's cool!
He's also coaching the Mayor of the city he lives in, and a former St. Louis Cardinal player.
How cool is that? He goes on to say: "Thank you MLSP for teaching me!"
Great job Manny!! And Thank YOU for applying what we've worked so hard to teach you. 🙂
"YES YES YES!!! Webinars really do work"
Daz Baldwin just got a ton of MLSP leads from a Webinar he did this week!
He followed Brian Fanale's copywriting course, Steve Jaffe's webinar training, and listened to his coach Paul Maynard!
Recipe for success soup right there!! Great job Daz! (And cool name 😉
You might want to check out the image of all Daz's lead notifications. Imagine yourself getting all those in one night?
The training is in the backoffice for you to do just that!!
"I have created my 1st Training Product!"
She's woohooing and for very good reason.
Most people talk about creating their first product forever, but never actually do it.
Valerie Lewis is not like most people. She just completed hers, and now: "Can't wait to see how many people get value and get results from this! Thanks to MLSP, I'm building the skill set & the confidence to impact the planet!"
Great work Valerie! Great things coming YOUR way!!
"Look what just happened. 14 days ago I had said I wold reach L1 in March and it just happened!"
Speak it to the universe! That's what Nurul Chowdhury did, and well…it worked!
People who say they're going to do something and do it are some of our favorite kinds of people here at MLSP. 😉
Great work Nurul! We're watching.
Shout Out! 80 Leads in 24 Hours (During Her 10 Day Trial!)
Jaime Donnelly did a huge shout out this week, and we're so glad he did.
Because Jill Migone deserves a shoutout! 80 leads in 24 hours and now on the MLSP leaderboards, ALL during her 10 day trial.
What's that word we talk about each week? Oh yes…ACTION!!
Jill took it, will YOU?
Ready to commit to those actions. Tell us in the comments below what you're going to do!!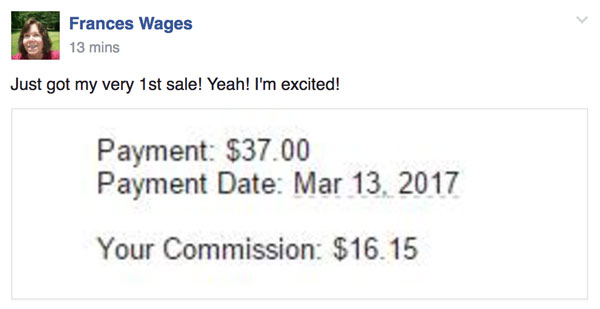 Got value from this post? Then we would LOVE for you to comment below and share on FaceBook…Research has shown that as you share this MLSP blog post & comment below, the universe will bring amazing things to your life. 😉