We've been watching LaVonda Thornton inside the MLSP community, and here on the Success Story Saturday blog!
Wondering how she did it?
"Ran my version of the bootcamp all the way to six figures with our company! Next, I will run the bootcamp to produce other six-figure earners. It was so important to become a non-traditional six-figure income earner, who made it without solely relying on home parties!"
That's exactly why MLSP was built, and we're so glad to be able to watch LaVonda leverage this system for exactly that.
Tons more huge stuff to come for this awesome lady and her family!
"I've been able to use the skills I've learned here to build several businesses. Most of them are outside of the MLM realm."
Antonio Starr is a man on fire. He's killing it within MLSP of course…
"MLSP is responsible for about $75,000.00 of my income outside of my MLSP commissions over the past 16 months."
BOOM! But that's not even close to all.
He's created a clothing line that's still rocking 2 years after launch:
"My clothing line First Generation Millionaire…Almost two years after launch and it's still selling majorly. The great thing is I learned how to retarget and continuously monetize my customers as well as the window shoppers from MLSP!"
Antonio also just launched his third book, and in less than 12 hours was in the top 15 on Amazon!
"All of that came from marketing to my list. I haven't even started running ads yet!"
You'll want to read his entire post in the screenshots below to see just how much this dude is up to because of the things he's learned through MLSP!
"1 post generated over 30 plus leads. MLSP Rocks!"
Nevar Moore Harris is making it happen, and pulling in leads like a rock star!
Great work Nevar!
Shoutout! "11 New MLSP trial members yesterday (on a Sunday) and already more piling in this morning!"
MLSP CEO Brian Fanale gave a big shoutout to Mikael and Miranda Masters Van Gogh this week.
They've got a raging team growing over in Denmark, and they're still killing it with Facebook Challenges!
Great work guys!
"I did a Facebook LIVE video, my FIRST EVER! WOW! The response was amazing."
Emily Kolar isn't kidding when she says the response was amazing!
117 views

234 minutes watched

30 comments

15 leads

1 new affiliate

2 new SALES!!

7 FB Page Likes

30 new followers!
She finally hit the button and did that first Facebook LIVE… and the results were well worth it.
Are you waiting to hit that LIVE button? Isn't now the time?
"I went LIVE for the first time in my life today…and I survived"
Henry Yu lived to tell about it.
You will too!
Go LIVE!!
"Because of this company [MLSP], for the first time in 14 years I get to meet my son!"
So there are stories about getting more leads, earning more money, etc.every single week. But then their are the most important types of stories. Those about family.
Anthony Jackson (Techy Tony in these parts) had "the biggest one EVER" for himself!
There can be very few things better than getting to see your son for the first time in 14 years. That's life changing stuff, and Tony has done tons to make that happen!
Go read the entire story from inside our private community within the screenshots below.
So glad to hear this awesome story Tony!
"I sponsored over 100 people last month!!!"
It's no wonder with the awesome conversion rates that Aron Parker is getting.
"After 1 month…25% conversion rate on my hits to leads! Even better, I'm also getting a 25% conversion from leads to sign ups in my business! Sponsored over 100 people last month!! Thank you MLSP for helping make this possible! FUNNELIZER ROCKS!"
BOOM! This guy is a rockstar through and through. Always killing it, and always helping our community kill it with his strategies.
"I got my first sponsor from a blog post"
Jed Kobernusz is building his business with a proven blogging strategy, and the results are starting to happen!
"This is only the beginning, but I've been working for this for a while and it has happened! Thank you so much for all of the great mentoring MLSP has to offer!!"
Awesome stuff Jed!
"I just generated over 100 leads off of one post just by knowing groups my target market is hanging out"
Looks like Georgianna Garcia has gotten prospecting on Facebook down. When you know where your audience is hanging out, and you give them value that attracts them, the rest becomes pretty simple!
Great work Georgianna!!
"Started my Facebook ad last night…and 8 new leads this morning."
Julius Campbell is seeing some quick results with the Facebook Leads Strategy he's been implementing.
"I have never gotten this kind of result before. This community rocks!"
We agree. We love the MLSP community that our members have created, with tons of support and dedication to other's success!
Go Check Out All the Awesome Success Story Screenshots Below!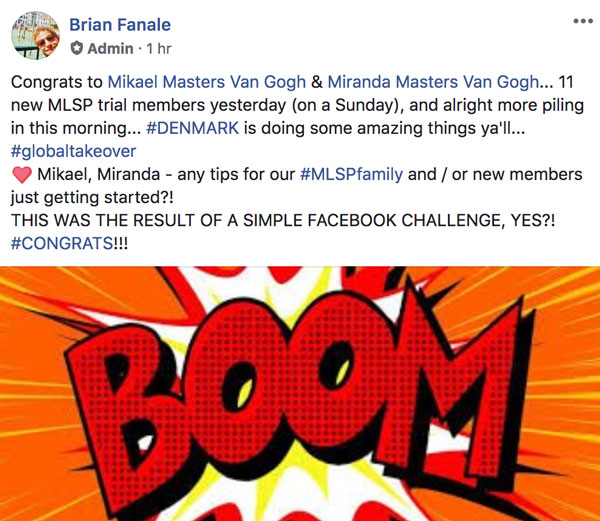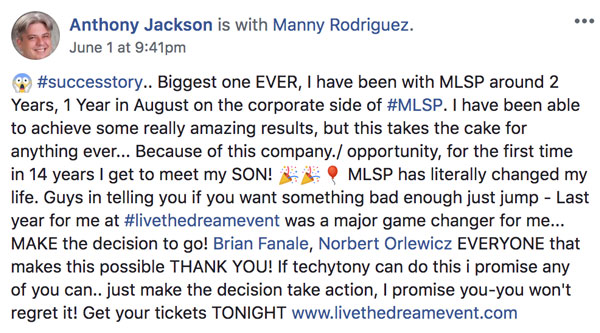 Got value from this post? Then we would LOVE for you to comment below and share on FaceBook…Research has shown that as you share this MLSP blog post & comment below, the universe will bring amazing things to your life. 😉