BOOM! Stacey Hall is grabbing up some massive leadflow with Facebook Ads this week.
Not only that. She's also leveraging the MLSP training and all those leads to schedule appointments.
"I am grateful for Erin Birch's training on how to reach out through messenger and book appointments! I have already scheduled 7 appointments!"
Stacey Hall keeps crushing it. No wonder she's the MLSP April Member of the Month!
Awesome stuff!
"When your page growth blows your mind!"
Check out the latest stats for Anna Tossel's Facebook Page:
Post Reach: 145.3K
Post Engagements: 34.4K
New Page Likes: 646
She gave some extremely valuable advice for those trying to grow your Facebook page and building their dream business from social media…
"Brian [Fanale] always says as your audience grows the percentage of people who will buy your stuff will grow as well.
It's true…but.. you have to realize that people are on social media to connect, share, and be entertained. They are not scrolling with their credit card in hand.
Be yourself…genuinely connect with people..
80% of your page should be content that will help your audience, 20% should be subtle offers.
Hope this helps!"
Anna is getting some awesome results, and the advice above is crucial to anyone looking to do the same!
Amazing stuff Anna!
"Whoop Whoop. I just booked my first two paid coaching calls. Level one workshop really works!"
Camille Tyler is winning! She was recently at the MLSP Level 1 workshop, and that investment in herself is paying off bigtime!
Now she's got 2 paying coaching clients, and we're absolutely positive there will be tons more in her future. She's a go-getter and always getter better! We love seeing this happen before our eyes!
Great work Camille!
Shoutout! "After just our second coaching session, she generated 50 leads and signed up 2 new members in a 10 day period."
Shyla Gonsalves Japec received a well-deserved shoutout from Kay Somji this week inside the Private MLSP Facebook Group!
She took the action on the advice from her coach! And look what happened. Results!
Kay is right when he says: "Coaching will drastically speed up your progress!"
Especially when it's action takers like Shyla getting that MLSP coaching!
Congrats Shyla!
Shoutout! She Got 233 Comments with ONE Post!
Check out Jennifer Harbaugh, not only getting tons of engagement from just her post, but also getting a shoutout from Erin Birch!
Here's what else Erin had to say about Shyla's achievement…
"That is 233 people she can now reach out to, friend, build rapport with, find out what they need, and make an offer. Win win for both parties!"
When Erin Birch talks about social media marketing, everyone's best bet is to listen closely!
Great job Jennifer! Smashin' it big time!
"I've been with MLSP for 2 weeks now, and have seen clear results of my efforts in building my audience and networking with others!"
New MLSP member Christopher Williams is following the steps inside MLSP and getting results. This is only in his first 2 weeks.
Which means there are some big things to come for this guy!
"All I can say is follow the steps provided, and you'll be surprised and encouraged by how effective the strategies given are!"
He's kickin' butt and taking names!
Great work Christopher and welcome to the family!
"I hired Diane Hochman for $25!"
Wouldya look at that! Terri Landrath made a great move this week.
And yes! You too can hire the Queen of Attraction Marketing, our top affiliate ($1 Million is MLSP commissions alone) for just $25.
That $25 will get you inside The Deep Abyss Mastermind, where she divulges her biggest secrets of success, passed down to her directly from the Masters!
Plus you get access to 4 years of past Deep Abyss mastermind meetings that will transform your mindset into one of success mindset!
Nice move Terri!
"Between yesterday and today, I have booked as many 15 minute strategy calls as I can handle!"
Kody West has been a busy dude.
He's got 15 minute strategies booked up and it's keeping him moving forward with his business!
"I haven't had time to do any videos since I have spent so much time getting back to people!"
That's certainly a good problem to have right there!
Great work Kody!
Check Out the Screenshots of Those and MORE Success Stories Below Taken Straight from the MLSP Private Members-Only Facebook Community!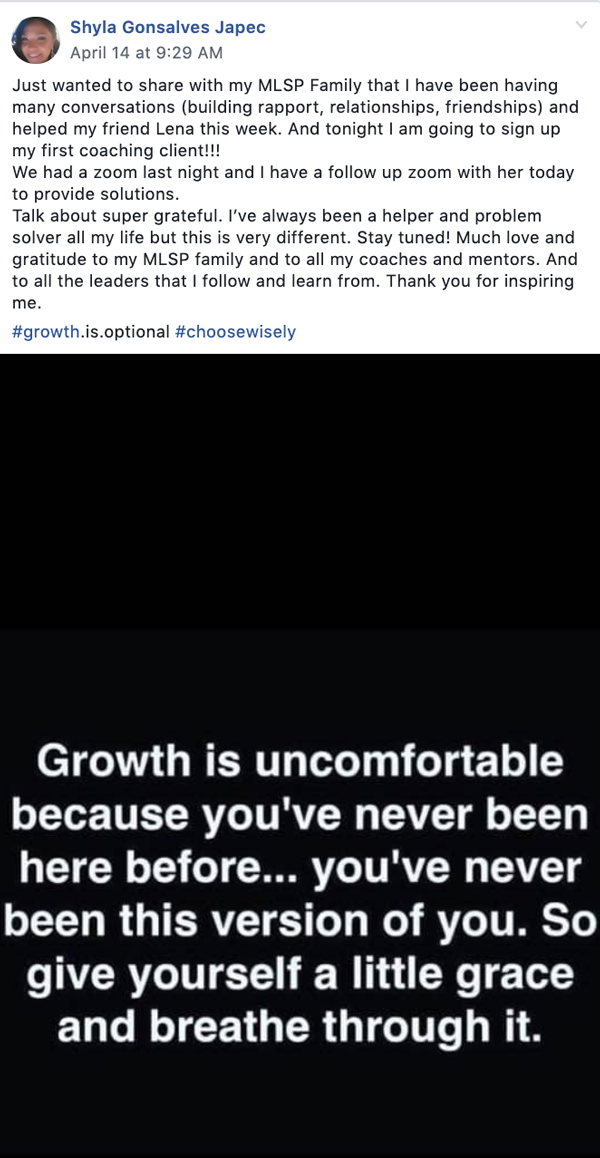 Got value from this post? Then we would LOVE for you to comment below and share on FaceBook…Research has shown that as you share this MLSP blog post & comment below, the universe will bring amazing things to your life. 😉