Well that didn't take long for brand new member Becky Rivas to start grabbing up leads in her business.
6 leads within just a couple of weeks is awesome! And she's got many more coming we're sure!
And she followed Aron Parker's awesome training in the "Get Started" section to do it! All right inside My Lead System Pro!
Great work!
"I got my first paying lead to my team"
Betsy Stevens was celebrating this week!
She's making things happen in her business and we love watching it happen!
"I am so excited and grateful for the help from Diane Hochman for showing the the way to executing and taking action. I am so looking forward to crushing it this year."
When you've got the Queen of Attraction Marketing Diane Hochman in your corner… you can't help but make huge strides.
Especially when you're an action taker like Betsy!
Way to go! Many more to come!
"Even though she is going through a rough time in her life at the moment…today she ranked up as a leader."
Tamilynn Hancock is a go-getter even when life throws her curve balls. That's the attitude you need and it's the attitude that gets you a big shoutout from MLSP leaders like Miranda Masters Van Gogh!
Congrats Tamilynn. Keep going!
"Brian Fanale said Live the Dream will change your life…and he was right!"
Anna Tossel was sitting reflecting on the last 6 months and "pure gratitude came over me!"
She expressed that gratitude inside the private MLSP group this week expressing that gratitude.
"LTD did something to me that I honestly can't explain. All I know is that the saying "getting better and better" really means a lot to me now. Just wanted to express my gratitude."
And we are extremely grateful to have Anna in the MLSP family and community!
Check out Anna's page growth in the Success Story screenshots below. Pretty astounding stuff.
"I just got my very first prospect. Yayyy! This works!!"
New Member Shantell Covington didn't take long to get her business moving in the right direction after joining MLSP.
How'd she do it?
"I'm SUPER PUMPED right now!! This morning I took the time to listen to and implement the training from Aron Parker on getting my first 10 leads in the quick start steps of of MLSP…AND I just got my very first prospect!"
Awesome stuff Shantell!
"I just doubled the number of leads I got yesterday, woot woot!!"
Timothy John Neyers had good reason to woot woot this past week!
Doubling your leads in one day is big! This dude's a rising star in the MLSP community and we expect that star to keep shining brighter and brighter.
Great work sir!
Shoutout! "Created two phone calls from her LinkedIn knowledge and closed both of them!"
Catherine Ann Clayton is showing her sales closing skills this week, and she got a big shoutout from MLSP Coach Steve Krivda!
That's what happens when you do what your coach tells you!
Nice!
Shoutout "It's been a good week. 2 MLSP members, 1 New Customer to His M.L.M."
Boom! Carsten F. Gotenboth also got a nice shout out from Steve Krivda this week for making some huge progress in his business.
Great job Carsten!
"A channel I started on Forex only a few months ago just hit 300 subscribers!"
Kassandra Keeton has been growing a new YouTube channel at a rapid pace
"It grew by 74 in the last 28 days."
How cool is that?  Congrats Kassandra!
"I just generated two prospects within 15 minutes"
Tim Olsen is crushing it with his Facebook marketing this week!
One of those prospects became a lead on his very first post. He simply followed a training in the MLSP back-office, posted some swipe copy in a spam group, and BOOM!. Leads!
It's all back there for YOU as well.
Great stuff!
"Implemented your training, and in just TEN minutes I got 5 leads…one of which became a sale."
Valerie Lewis followed Aron Parker's training in the back office and grabbed up 5 leads and one sale.
That's how you take action and Valerie is certainly an action taker!
Check Out the Success Story Screenshots from Inside the Private MLSP Community Below!…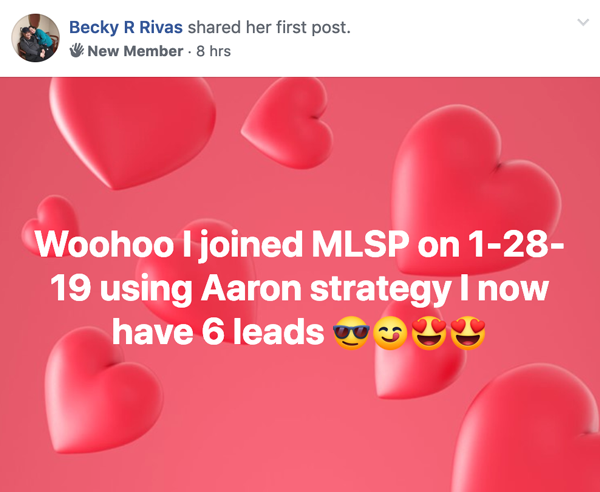 Got value from this post? Then we would LOVE for you to comment below and share on FaceBook…Research has shown that as you share this MLSP blog post & comment below, the universe will bring amazing things to your life. 😉